LibreOffice is a compelling office suite that permits you to create presentations, spreadsheets, and maintain databases in addition to word processing. This office suite is an open-source version of the
StarOffice
. LibreOffice is accessible in 115 languages and is utilized by millions of people worldwide. If you are searching for a Microsoft Office alternative that does not require a monthly subscription, LibreOffice is the right tool for you in this case.
LibreOffice suite includes a spreadsheet Manager "Calc", a drawing tool "Draw", a word processor "Word", a presentation maker "Impress", a database management system called "Base" and "Math" which is a formula generator. Want to try out these LibreOffice applications on Manjaro Linux? Follow our guide to know how to install LibreOffice on Manjaro using the Official repository and Snap store.
How to install LibreOffice on Manjaro using Official repository
The official repository of Manjaro also contains the LibreOffice package. So, in this section, we will show you how to utilize the official repository of Manjaro for installing LibreOffice. To do so, firstly update your system packages:
Now, execute the below-given command for installing LibreOffice on your Manjaro system:
$
sudo
pacman
-Sy
libreoffice-fresh
Wait for a few minutes, as the installation of LibreOffice will take some time to complete: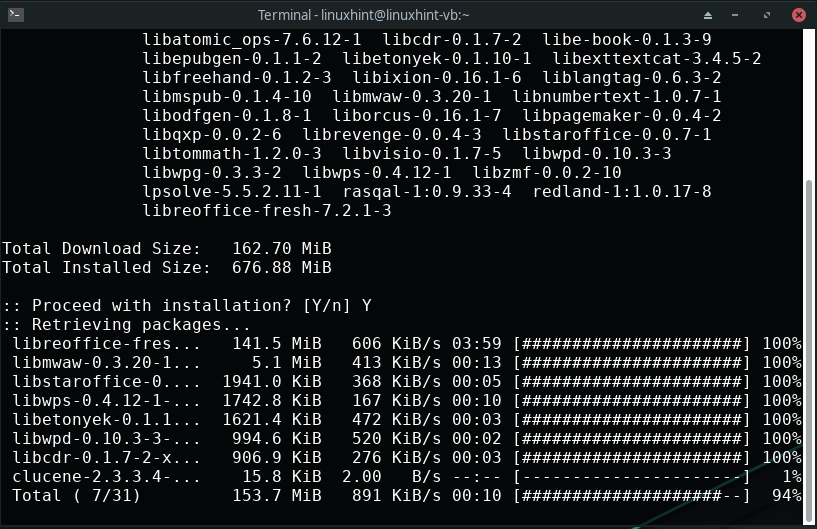 The error-free output indicates that LibreOffice is successfully installed on our Manjaro system.
How to install LibreOffice on Manjaro using Snap Store
Snap store is an applications store that has a large number of users. Each month, more than 3 million applications are downloaded from the snap store This store comprises applications packed with all of the dependencies that can be executed on all popular Linux distributions, including Manjaro. If you are a Manjaro user, then you can install LibreOffice using Snap Store.
To maintain and manage your Snaps on Manjaro, snapd background service is utilized. So, firstly, write out the following command for installing "snapd" on your system: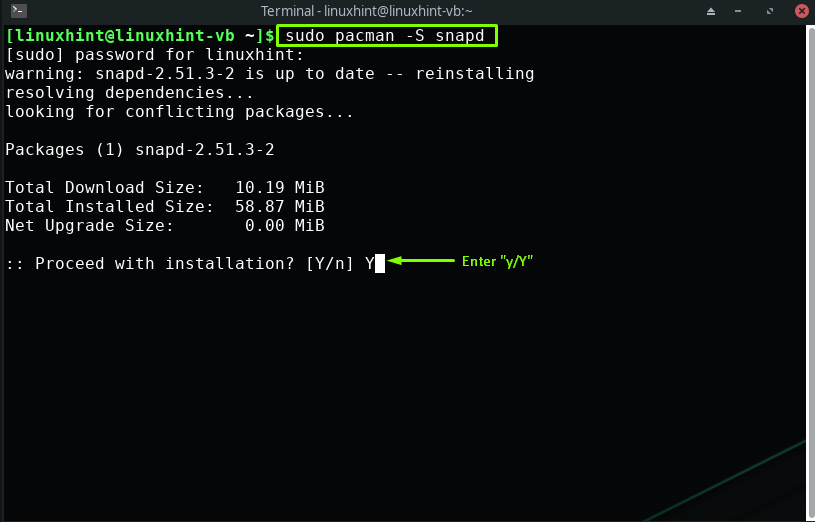 In the next step, we will enable the main snap socket communication:
$
sudo
systemctl
enable
--now
snapd.socket

Finally, install LibreOffice on your Manjaro system by typing this command:
$
sudo
snap
install
libreoffice

After completing the installation procedure, open up LibreOffice by searching it manually in your system applications:
On searching LibreOffice, you will find out its six different applications on your Manjaro system, which are:
LibreOffice Base: This LibreOffice application permits you to generate queries and manage databases.
LibreOffice Calc: You can use LibreOffice Calc for organizing your data in spreadsheets, similar to Microsoft Excel.
LibreOffice Draw: With LibreOffice Draw, you can create and edit flowcharts, logos, and drawings.
LibreOffice Impress: For creating and editing presentation slides, you can utilize LibreOffice Impress, an alternative for Microsoft Powerpoint.
LibreOffice Math: LibreOffice Math application is used for creating and editing scientific equations and formulas.
LibreOffice Writer: LibreOffice Writer lets you create and edit text files in a similar way you do in Microsoft Word.
After knowing the function of the LibreOffice applications, you can use any of them according to your requirements. For instance, we have selected "LibreOffice Writer" to create a text document: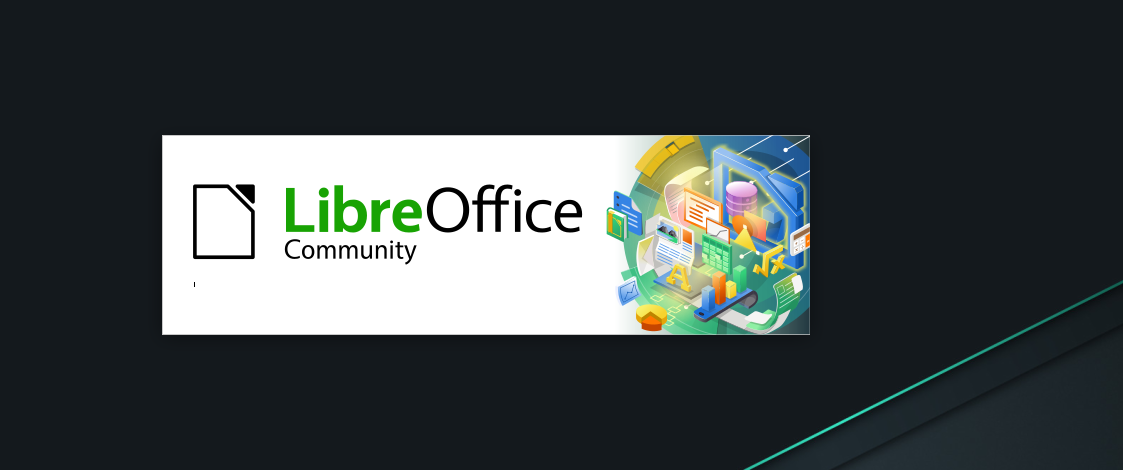 After opening the LibreOffice Writer, you are allowed to create and edit text documents, reports, letters:
How to uninstall LibreOffice on Manjaro
If you want to uninstall LibreOffice on your Manjaro system, then firstly execute below-given command to know about the installed LibreOffice version:
$
sudo
pacman
-Ss
libreoffice
|
grep
-i
installed

As we have, "libreoffice-fresh" installed, we will execute the below-given command for uninstalling it from our system:
$
sudo
pacman
-R
libreoffice-fresh
Conclusion
Are you worried about losing access to documents due to outdated software or tired of paying subscription fees? Go for the installation of LibreOffice on your system. LibreOffice offers all the office suite applications that do not need an internet connection to function. It comprises six different applications that can assist you in word processing, creating editing spreadsheets, logos, flowcharts, diagrams, and managing databases. This write-up showed you how to install LibreOffice on Manjaro using the Official repository and Snap Store. According to our experience, installing LibreOffice from the official repository is a quick and straightforward procedure.