Laptops are becoming an expensive investment – especially with the soaring prices due to supply shortages. Like any other investment, you need to keep it safe. If you travel often, then chances are, you need your laptop everywhere you go. In such a situation, having a military-grade laptop case will be extremely beneficial because it will keep your laptop safe from accidental falls.
Buying a laptop carrying case isn't a hard job. You just need to know what you're looking for, and if you do, you will find a laptop bag worthy of your money in no time. To save you from all the research and hassle, we have come up with the top 5 military-grade laptop cases that can be of service to you.
Take a look and see which one best suits your needs.
1. Thule Gauntlet 3.0 MacBook Sleeve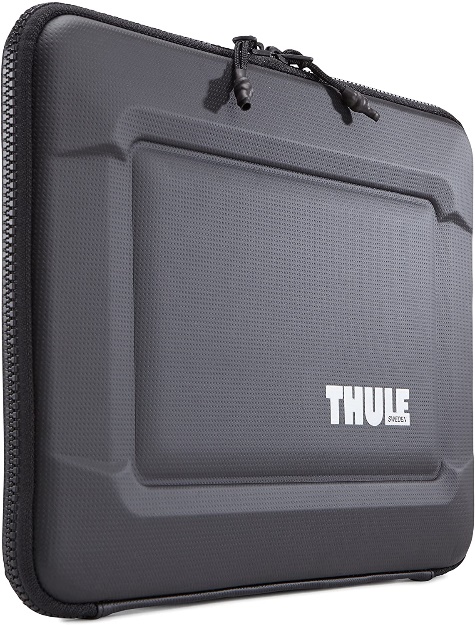 Looking for a minimal design military-grade laptop case? Check out the Thule Gauntlet 3.0 MacBook Sleeve. The laptop case comes in various colors and has a few significant features to keep your portable laptop protected at all times.
We love the clamshell design. It allows the user to work on his laptop while keeping the sleeve still on. It provides additional protection to your laptop and will go well with people who live under harsher scenarios. It can be a very useful feature if you have to work, and it's raining outside.
The Thule Gauntlet 3.0 MacBook Sleeve offers incredible resistance against drops and impacts. The sleeve is made out of an incredible combination of a rigid exterior and padded interior. The reinforced edges and corners will effectively absorb accidental shocks, while the padded interior is going to keep your laptop scratch and bump proof.
Considering the small dimensions of the Thule Gauntlet 3.0 MacBook Sleeve, it will only work well with a small MacBook pro. However, there is a larger size available as well that you can get for a bigger laptop.
Buy Here: Amazon
2. Nacuwa Protective Laptop Case
When it comes to finding a laptop carrying case, the market is pretty diverse, and you're going to come across a wide range of options. Take a look at the Nacuwa Protective Laptop Case designed to carry smaller laptop models and features a very sleek design.
The exterior of the laptop case is made out of a damage-proof shell and is accompanied by a sturdy zipper. It has a very unique and slim design, not to mention its lightweight to carry, so you can easily carry it on the go.
The Nacuwa Laptop Carrying Case is one of the most durable, rugged laptop cases you can ever find. There are four protection layers between the laptop and the outside world, so it will ensure your gadget doesn't suffer at the hands of unavoidable accidents.
It is compatible with most Dell and Apple laptops. It delivers impeccable protection against weather elements and is going to protect your laptop in case you end up accidentally dropping it. If you travel often, you may have to face rigorous situations; the Nacuwa Rugged Laptop Case will prove to be your best friend in any scenarios in such cases.
Buy Here: Amazon
3. Pelican 1495 Laptop Case
Don't want to compromise on the durability and shockproof aspect of your laptop carrying case? The Pelican 1495 Laptop Case has got you covered. This is a heavy-duty laptop case that features a sling belt making it easier to carry.
This specific model isn't just light and waterproof, but it's also damage-proof. Pelican 1495 promises industrial-grade quality and ensures that your laptop will be protected no matter what kind of circumstances you may run into.
Military personnel, hunters, and construction workers will benefit a lot from this rugged laptop case. It is highly convenient and performs way better than any regular laptop carrying case you may want to buy. To make sure your laptop rests easily, you will find a padded interior in the case that will fit the laptop snugly.
There are also extra perforated cubes in the bag so that you can adjust the fit according to your laptop's size. As far as compatibility is concerned, we don't suppose you will have any trouble because the pelican 1495 Laptop Case will conveniently fit any laptop as big as 17″.
Buy Here: Amazon
4. TOMANTEK Laptop Case
Those who like a sleeve-like military-grade laptop case should take a look at the Tomantek Shockproof & Water-Resistant Laptop Case. The case is crafted to deliver maximum efficiency when carrying your laptop through difficult situations yet doesn't feel bulky at all.
It is compatible with almost every laptop as long as it is under 15 to 16inches. The Tomantek Laptop Case features a 3-layered high-density shockproof material that keeps the laptop safe and delivers incredible performance.
At first, you will find a solid PU surface that is waterproof. Then there is the slow-recovery sponge, and lastly, the velvet cushioning keeps your laptop safe against scratches and cracks. There are also different sizes available for Tomantek Laptop Case if you want it another smaller or larger size.
We should also mention the zipper integrated into this laptop case is made out of water-resistant material, so you won't have any trouble walking through the rain while carrying your laptop. Despite all the added protection, the sleeve still feels lightweight and features an added sling belt so you can carry it conveniently.
Buy Here: Amazon
5. Urban Armor Lightweight Laptop Case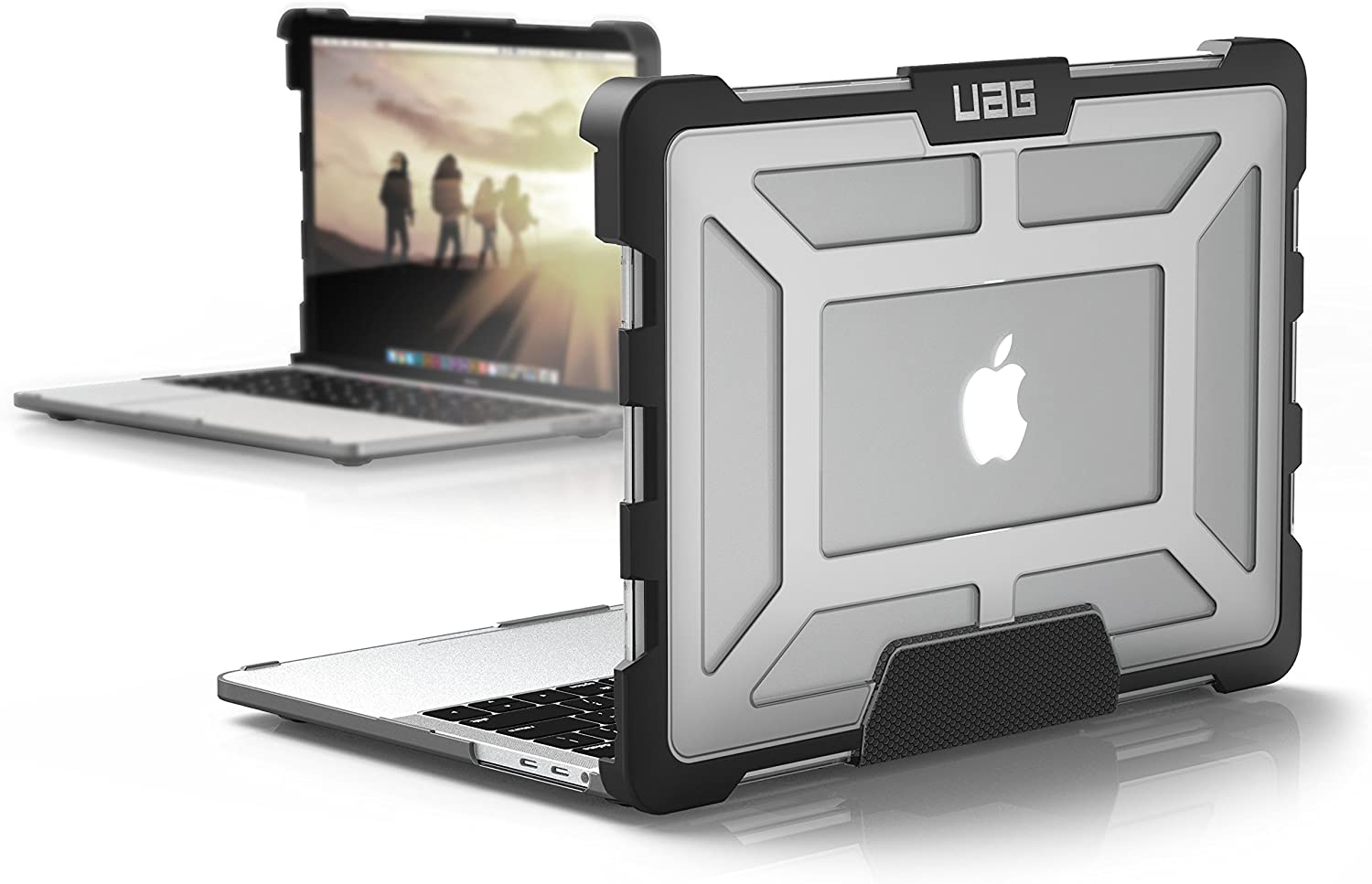 Urban Armor Feather-Light Rugged Ice Military Laptop Case is an exclusively designed laptop for military use. It is shock and damage-proof and can help you keep your laptop safe even during the toughest circumstances.
The case perfectly complements the style of MacBook Air and Pro. The corners and edges on this laptop case have been reinforced with bumpers so that your laptop doesn't sustain any damage in case of an accident. You won't believe that Urban Armor Military Laptop Case is durable and powerful enough to let your laptop survive a 4ft fall not once but many times.
This laptop case is effective because its shell armor construction has been tested rigorously to meet military standards of use. And even though it offers incredible shatter and shockproof performance, features a heavy-duty build, the case doesn't feel bulky or heavy at all.
While keeping all the aspects in mind, Urban Armor kept the design as thin as possible, so it wasn't difficult for the user to carry. It also features tactile grip technology that provides a firm grip so it won't slip off accidentally.
Buy Here: Amazon
Buyer's Guide for the Best Military Grade Laptop Cases
Never buy a military-grade laptop case before double-checking it. Rugged laptop carrying cases or military-grade laptop bags are far more different than regular laptop carrying cases.
If you often travel and have to go through unusual circumstances or, in more accurate words, if you live on the edge and would like your laptop to be alongside you, you need a case with enhanced overall protection.
Since you have already gone through our recommendations above for the best military-grade laptops, here are a few additional features we would like you to keep in mind when buying a rugged laptop case.
Damage proof
The very first thing you need to consider when buying a military-grade laptop case is that it should be hard to break. Military personnel usually have to tackle hard scenarios where their bags are prone to falling off, like when you run through the woods.
So, make sure the laptop carrying case you have opted for yourself should be solid and hard enough. It shouldn't break or get crushed in the first fall.
Water-resistance
Having a water-resistant laptop carrying case is a plus point. You will not have to worry about your laptop sustaining water damage in case you're camping. There are also certain water-resistant laptop sleeves available that you can keep on while working when it's rainy.
Compatibility
Always check the size of your laptop before you buy yourself a laptop bag. You don't want your purchase to go to waste if your laptop doesn't fit well in the case. There are exclusive laptop cases designed for specific laptops but if you're getting a universal bag, make sure the compatibility is on point.
Comfort
Ok, so this aspect should never be overlooked. The laptop bag you're buying should not only be powerful and durable, but it should also possess the comfort you will need when carrying it. Rugged laptop cases usually come with sling straps so that you can wear them as cross-body bags. Also, ensuring the case doesn't feel heavy will also help you figure out if it will be comfortable to carry or not.
Final Thoughts
So, this is everything we had on the best military-grade laptop cases. We hope we were able to share some insight regarding this purchase. Military-grade laptop cases tend to be durable and more damage-proof than regular laptop bags. They offer incredible support to the user and ensure your laptop's maximum safety. Be sure to go for an appropriate bag listed above when making a choice.