Chrome OS is a multiuser operating system which means many users can sign in on a single Chromebook. But to allow some other users to use Chromebook, you need to sign out from your account because your account contains information that cannot be shared. We will further discuss it in this guide.
Primary Account Vs Guest Account
The primary account is the first user's account on your Chromebook, and if you want to change the primary account, then simply sign out from your Google account and add a new account to use. The primary account has more access to the Chromebook.
The temporary account on the Chromebook is a guest account that others users can access. In the guest mode, you can't change any other Chromebook's profile. Up to 5 users can be added to your Chromebook
How to Sign out of the Guest Account on Chromebook
Signing out on a Chromebook is very easy, and to sign out, simply follow the steps mentioned below:
Step 1: Click the display time option:
Step 2: Select the sign-out option: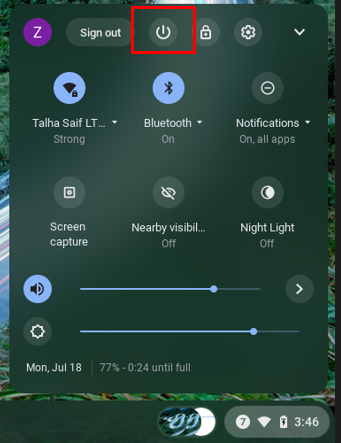 After signing out, the Chromebook will restart, and now you can sign in to another account.
How to Sign Out of the Primary Account on Chromebook
You can sign out or remove your primary account on your Chromebook to use another account by following these steps:
Step 1: Login your Chromebook Account on any other device rather than Chromebook:
Step 2: Click on the Security option and select the Manage all devices option; you will see all the logged-in devices:

Step 3: Now click on the highlighted button in front of the Chromebook device name: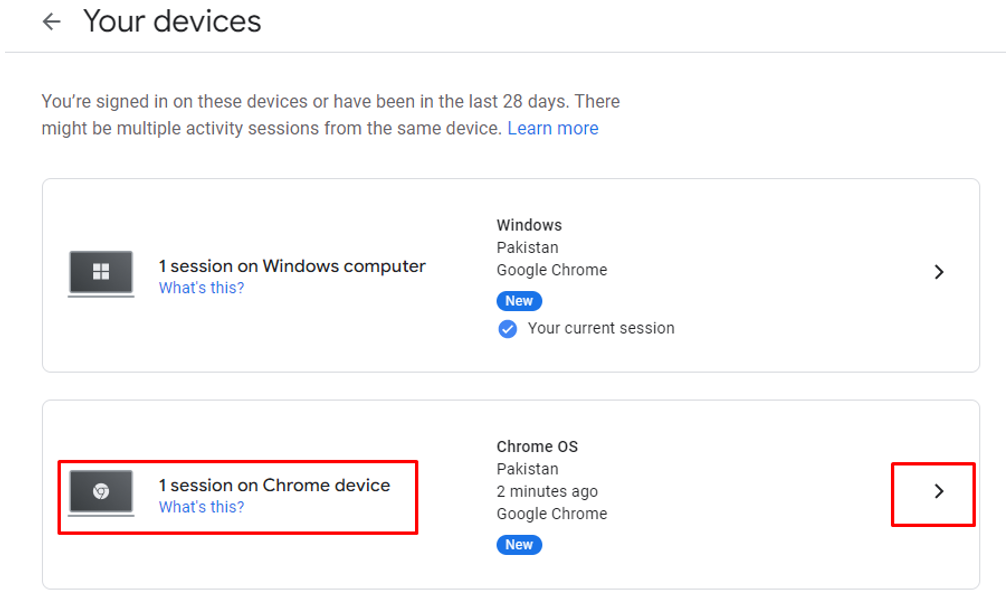 Step 4: Select the Sign out option:
Step 5: A pop-up will appear confirming it by clicking on the Sign out option: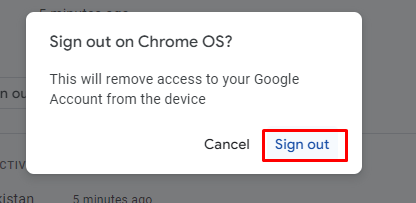 A pop-up will appear with the message " Successfully signed out":

Step 7: Now, open the Chromebook, and you will see the login error: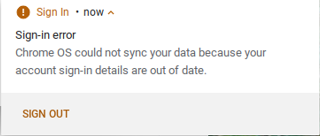 After this popup message, you can click o the signout button to sign up with a new or an existing account.
Note: If you want to remove your primary account and haven't added another account, then you can't sign out of your primary account. Add a new user account by signing out of the logged-in primary accounts in the Chromebook.
Is Chrome OS good at Protecting Your Privacy?
Chromebook is better in terms of privacy protection as you can let multiple users use your Chromebook without disturbing your privacy and data. The security standard and maintenance of Chrome OS are on a higher end. Adding multiple users feature is very useful when more users at your home or office use the same Chromebook.
Conclusion
Signing out of a Chromebook can be a bit tricky for you, but it helps you a lot in terms of privacy also. If your Chromebook is used by multiple users, then after usage, you can sign out of your account to keep the privacy of your searches and history, and the next user can sign in as a guest account. To sign out of your Chromebooks, follow the above-mentioned methods.