If you're a programmer and Linux user, a laptop can be your best friend or the worst enemy, depending on how well you choose. Select a capable machine, and you'll be rewarded with a reliable companion that you can take with you anywhere and use it to turn your ideas into full-fledged projects. But if you choose a laptop that's not fully compatible with Linux, you may soon regret your investment. To help you make the right choice, we've put together a list of the best Linux laptops for programming that you can buy in 2022.

Before reading about Linux Laptops for Programmers, watch this video below which is a message from Todd Weaver, the founder and CEO of Purism, the maker of the Librem branded Linux Phones and Laptops:
Buy a Librem 14 Laptop Today Direct from the Manufacturer
How to Select a Linux Laptop for Programming?
There are several factors that you should consider when selecting a Linux laptop for programming:
Performance: To write code, you don't need a powerful laptop. In fact, you could write an entire application on an old typewriter if you didn't value your time and wanted to earn a few likes on social media. However, programming isn't just about writing code. It's also about prototyping, debugging, testing, and optimizing. All these activities are much easier to perform if you have plenty of processing power, which means getting a minimum of 8 GB of RAM and an Intel Core i5 processor or its equivalent.
Screen size: Do you want a portable laptop that you can easily carry with you for the entire day, or are you looking for a desktop replacement? If the former, you should focus on laptops that don't have a screen larger than 14 inches. Of course, resolution matters as well since a 15-inch Full HD screen can display the same amount of information as a 17-inch Full HD screen.
Graphics card: Most programmers can get by without a dedicated graphics card. You should purchase a laptop with a dedicated graphics card if you're developing games or just software applications that benefit from hardware acceleration. A graphics card can also be used to perform certain computations, such as those used in machine learning.
Ergonomics: You'll appreciate a laptop with a comfortable keyboard and a responsive touchpad after coding for 8+ hours. The sad truth is that even high-end laptops that cost over $1,000 often leave a lot to be desired in this department, so don't simply assume that a steep price tag equals excellent ergonomics.
Battery life: The biggest advantage of laptops over desktop computers is their portability. Ideally, you should select a laptop that can get you through a day of school or work with plenty of battery power left. Keep in mind that battery life decreases over time, so a laptop that can last 8 hours on a charge when brand-new may last only 4 hours after several years of daily use.
Top 7 Best Linux Laptops for Programming
| | |
| --- | --- |
| Pros: | Cons: |
| ·        Privacy and security features | ·        Not a low price option, but premium |
| ·        High End Specs | |
| ·        Dedication to Linux | |
If you use Linux because you believe in open-source software and the principles it embodies and are also looking for a high end laptop without compromises, the Purism Librem 14 is just the right laptop for you. This unique machine was designed chip-by-chip to respect your privacy and freedom without standing in the way of your productivity. This high end machine features Intel Core i7 with 6 cores and 12 threads and up to 64 GB of ram elegantly packaged in a premium metal laptop form factor with a full size backlit keyboard. High powered Intel graphics can support 4K video for 2 displays.
For added security, these folks take security seriouslly, the Purism Librem is equipped with two physical hardware kill switches. One of the switches lets you deactivate the entire webcam/microphone module, while the other switch turns off Wi-Fi and Bluetooth connectivity. The Librem has unique Open Source boot system PureBoot, to ensure security and can be purchased with a Security Key Card called a Librem Key. And you know also, that open source and security is so fundamental to this product and company that they have their own secure version of Linux supported by the vendor with your laptop called PureOS with is a debian like distro.
The Librem is designed and manufactured in California, United States of America, but ships globally at reasonable rates. Get yours directly from the manufacturer today.
| | |
| --- | --- |
| Pros: | Cons: |
| ·        Long-lasting battery | ·        Expensive |
| ·        Great performance | |
| ·        Premium design and build quality | |
| ·        Vivid display | |
You won't find another 13-inch laptop that's more suitable for programming on Linux than the Dell XPS 13. It's also one of only a few laptops from a major manufacturer that you can get with Linux (Ubuntu) preinstalled.
There are many things that make the Dell XPS 13 a great buy, and its vivid InfinityEdge display is definitely among them. The display has an impressive 80.7% screen-to-body ratio, allowing for 13.3" screen in an 11-inch form factor. Its 400-nit brightness and 1500:1 contrast ratio make it easy to work outside even when the weather is sunny.
The Dell XPS 13 is powered by a 10th generation Intel Core processor, and it has up to 2 TB of solid state drive storage and up to 16 GB of memory. You might think that having so much processing power in such a compact laptop would make it difficult to keep its temperatures under control, but that's not the case. Unless you really push the laptop for hours on end, you should be able to easily get by without a cooling pad.
When it comes to running Linux on the Dell XPS 13, you can expect a completely problem-free experience right-out-of-the-box with most Linux distributions.
| | |
| --- | --- |
| Pros: | Cons: |
| ·        Fantastic keyboard | ·        Heavier than many other laptops on this list |
| ·        Steady performance | |
| ·        Hot-swappable battery | |
The Lenovo ThinkPad T480 is one of the most frequently recommended laptops for Linux users who are interested in programming. Why? Because it prioritizes functionality over aesthetics, although there are many Linux users who love its utilitarian design.
The Lenovo ThinkPad T480 comes standard with built-in Power Bridge technology, which lets you swap out the battery and replace it with a fully charged one while the laptop is running. If swapping out batteries doesn't sound too appealing to you, you can get a 6-cell 72 Whr battery for up to 29.0 hours between charges. The ability to hot-swap the battery and easily replace it with a larger one comes at a price, however, and that price is the laptop's above-average weight.
As you may know, higher-end Lenovo laptops are known for their fantastic keyboards, and the Lenovo ThinkPad T480 is no exception. Coding on the laptop is a delightful experience, and the red TrackPoint that sits in the middle of the keyboard helps you keep your hands in the optimal typing position. Besides the quality of the keyboard, this laptop will also impress you with its selection of ports, which include the lightning-quick Intel Thunderbolt 3 port and full-sized RJ45 Ethernet connector.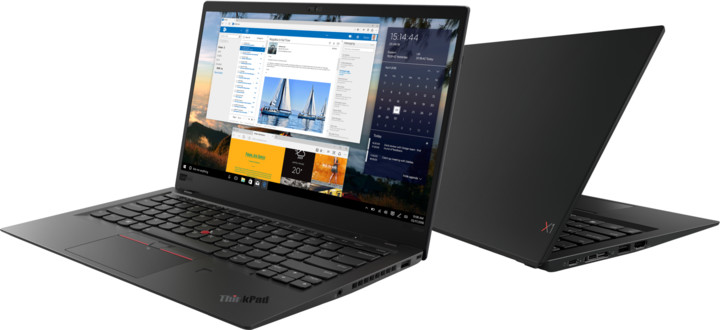 | | |
| --- | --- |
| Pros: | Cons: |
| ·        Excellent portability | ·        Shorter battery life with 4K display |
| ·        Impressive port selection | |
| ·        Privacy shutter for the webcam | |
| ·        Fantastic keyboard | |
ThinkPads have a reputation for being bulky and not exactly aesthetically pleasing laptops. While we agree that some ThinkPads (especially older models), aren't for everyone, the Lenovo ThinkPad X1 Carbon is anything but ugly. By successfully blending portability with durability and performance, Lenovo created what can only be described as a software developer's dream laptop.
The latest version of the Lenovo ThinkPad X1 Carbon comes with a 10th generation Intel Core processor, up to 16 GB of RAM, and up to 512 GB of PCIe SSD. All models have a 14-inch display, but they differ in terms of resolution and brightness. The most affordable model has a Full HD display with 400 nits, the top model has a 4K display with 500 nits, and the model between them has a 2K display with just 300 nits.
Even though the Lenovo ThinkPad X1 Carbon has a fairly large battery, the 4K display can deplete it fairly quickly, especially on maximum brightness. Fortunately, the RapidCharge technology provides 80% capacity after just one hour of charging.
Regardless of which model you decide to buy, you'll always get a 720p front-facing camera with a physical privacy shutter and a match-on-chip fingerprint reader, whose operation is isolated from the host operating system for added security.
| | |
| --- | --- |
| Pros: | Cons: |
| ·        Nearly borderless display | ·        Glossy display |
| ·        Touchpad also works as a number pad | ·        Average battery life |
| ·        Good performance | |
| ·        Elegant design | |
The Asus ZenBook 14 is an elegant laptop with a nearly borderless display an innovative touchpad. The laptop has an aluminum body that meets the ultra-demanding MIL-STD-810G military standard for reliability and durability, so you can be sure that it's not just an expensive showpiece that doesn't hold up to daily use. The Full HD 14-inch display has a screen-to-body ratio of 92%, and it looks just as impressive as it seems on paper.
The display has a special lip at the bottom, which automatically tilts the keyboard to a more comfortable typing position when you open it. By slightly elevating the rear part of the laptop, Asus has also managed to optimize system cooling and deliver superior audio performance.
As impressive as the display is, the highlight of this compact laptop is the touchpad. With a single tap, the touchpad lights up and turns into a fully functional numpad that you can use for speedy data entry. Unfortunately, Linux users can't enjoy this cool feature just yet because there are no drivers that support it. The good news is that the touchpad itself works great, so at least there's that.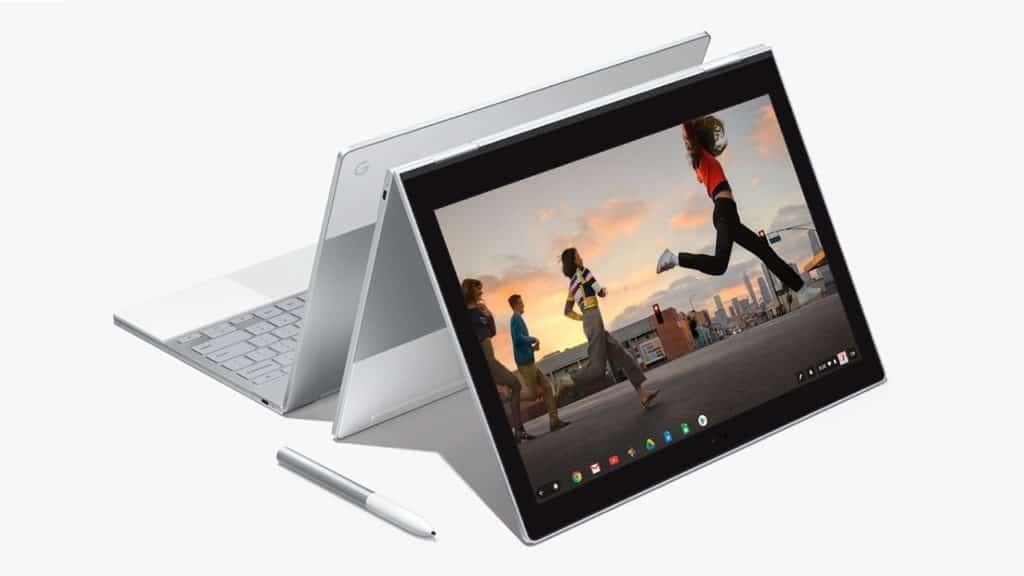 | | |
| --- | --- |
| Pros: | Cons: |
| ·        Thin, elegant design | ·        Expensive |
| ·        Surprisingly comfortable keyboard | ·        Sub-par audio quality |
| ·        Stylus support | |
| ·        Pixel-dense display | |
The Google Pixelbook is the best Chromebook ever made. Whereas most other Chromebooks on the market are suitable mostly for casual users and use cases such as web browsing and document editing, the Pixelbook features 7th generation Intel Core i5 processor, 8 GB of RAM, and 128 GB of storage, allowing it to easily handle even more performance-demanding tasks.
With its 12.3-inch display, the Google Pixelbook is the smallest laptop featured in this article, but it uses its compact size to let you work in four different modes: laptop, tablet, tent, and entertainment. If you plan on frequently using the Google Pixelbook in the tablet mode, you should consider buying the Pixelbook Pen for natural drawing and jotting.
Just like all newer Chromebooks, it can run sandboxed Linux applications alongside Chrome OS applications, allowing you to enjoy the best of both worlds. Just know that Android Studio is not yet supported, including Emulators and USB debugging, and the same goes for hardware acceleration. Google has promised to fix these issues, and we have no reason to question its promise considering how much praise the company received for enabling Linux applications on Chromebooks.
| | |
| --- | --- |
| Pros: | Cons: |
| ·        Priced competitively | ·        Thermal throttling |
| ·        Gorgeous display | |
| ·        Great battery life | |
| ·        USB Type-C and Type-A ports | |
Huawei may be known mostly for its smartphones, but the MateBook X Pro deserves the attention of all Linux users who are looking for a new laptop for programming. It features a truly impressive display with a 3:2 aspect ratio, 100% sRGB color gamut, 450 nits maximum brightness, 1500:1 contrast ratio, and a remarkable 3000 x 2000 resolution. A display like this is perfect for productivity because it lets you see far more information at the same time compared with display with a more cinematic 16:9 aspect ratio.
We should also mention that the display is touch-enabled, allowing you to comfortably navigate with the tough of your finder. Thanks to its anti-fingerprint coating, smudges aren't as big of a problem as you might expect them to be. What's also not a problem is performance because the Huawei MateBook X Pro comes with a powerful 8th generation Intel Core processor.
On a single charge, you can expect the MateBook X Pro to last up to 14 hours when programming and up to 15 hours when browsing the web. When you're done programming and want to relax for a while, you'll appreciate the quad speakers, which deliver surprisingly deep bass, crisp highs, and detailed mids, making both movies and music sound great.