When it comes to adding fun and dynamism to boring and drab pictures, image processing apps come into play. Numerous image editing applications are available to bring life to your black and white photos and patch your torn photographs. If you are a Linux user and searching for the best image editors, thanks to the open-source group of developers, there are plenty of them.
We can prepare a list of the top ten best image editors that can be used on the Linux distributions after extensive use and testing. The detail of each application is given below:
1. Krita
Krita is another multi-platform program. If you are an experienced or a newbie to image editing, Krita would be your first choice because of its robust image manipulation functionalities and support of a range of third-party plugins. Some essential features of this image editor are:
Comes with tons of image manipulation tools.
Supports HDR editing.
Supports widgets built with Python Scripting.
Pros:
The interface is quite easy to use and customizable. Apart from image editing, Krita provides drawing and animation functionalities.
Cons:
Expect lag while working with large files.
Download:
2. GIMP
GIMP is one of the highly recommended programs for image editing because of its professional functionalities like color adjustment, noise reduction, and other automated image enhancement tools. GIMP took second place in the top ten image editors list for the Linux operating system because of its extensive use and professional image processing tools. GIMP is a popular image manipulation app and not less than any premium application like Photoshop and Lightroom.
Significant features of GIMP include image retouching, compositing, and illustration creating. We can do transcoding between various image formats as well. Besides, the formats supported by GIMP are JPEG, .psd Photoshop, and .psp Paint Shop Pro.
Pros:
GIMP is a lightweight image editing application with a customizable user interface, rich image editing tools, third-party plugins, and tremendous support from the community. To boost the functionality, Gimp comes with third-party support of plugins.
Cons:
Limited CMYK support.
Download:
3. digiKam
digiKam is a professional image sorting and editing program and holds the third position on our list. It is a multi-platform free image manipulation application that enhances images and organizes large collections of images. The primary reason for digiKam's admiration is its support from the community and access to new updates.
It provides rich post-processing features to modify and enhance images. Provides histogram view, color correction, side-by-side preview, and Raw camera image support.
Pros:
digiKam comes with various image editing features, such as color correction, curves, levels, and photo sharpening. It can easily handle large picture collections and sort them and come with features such as labeling and recognizing the face.
Cons:
A little complex user interface for image editing.
Download:
$sudo apt install digicam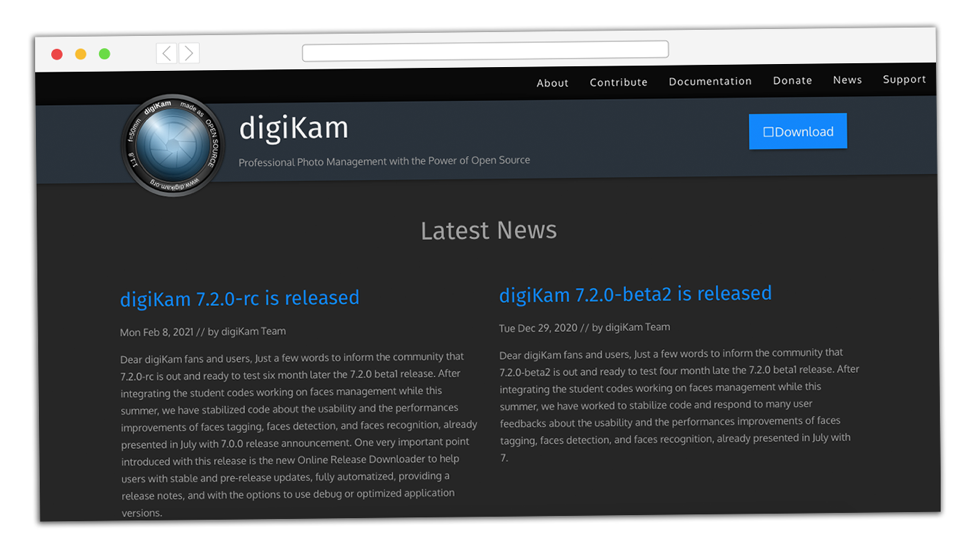 4. Pinta
Pinta is another program for free image editing and ranks fourth on our list. It is less complex to use and learn compared to GIMP or Krita. It is fairly new and a lightweight program but still a very powerful editing tool. Pinta has all of the primary image editing functionalities, such as editing, drawing, and transforming images, like any other good image editor. Though Pinta is used on the Linux operating system, it is also compatible with both Windows and macOS. Pinta is probably the only application that supports 55 languages.
Pros:
Pinta has a lot of effects and features which correct the images automatically. Also, it makes unlimited "undos" and comes in several languages.
Cons:
It is still being developed, and hardly any support from third-party plugins.
Download:
$sudo add-apt-repository ppa:pinta-maintainers/pinta-stable
$sudo apt update
$sudo apt install pinta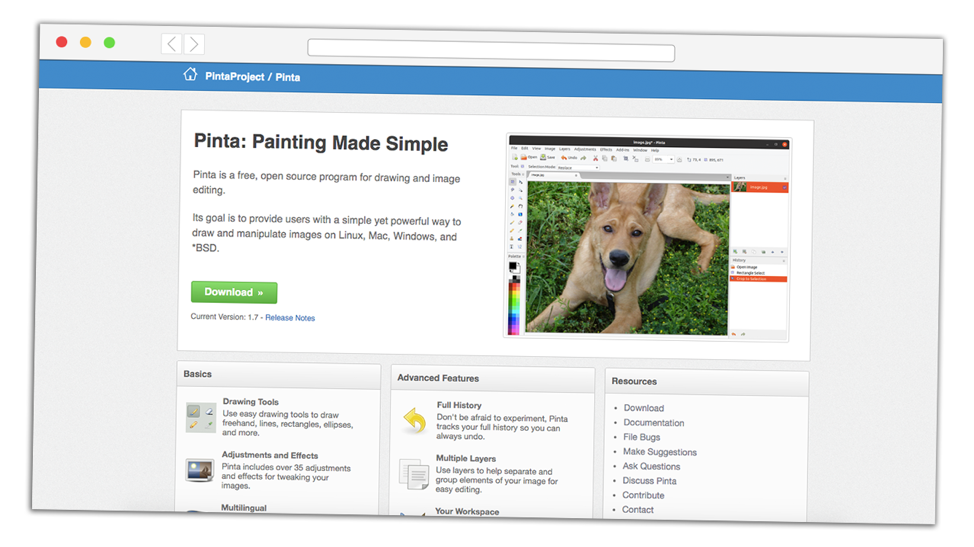 5. RawTherapee
RawTherapee is another image processing application developed to manage raw images from various digital cameras. If you are an experienced photographer and searching for a powerful image processing application, RawTherapee is for you.
As described on the project homepage, it has many features, including:
Support numerous cameras.
Comes with the support demosaicing algorithm.
Automated ghost masking feature.
Advanced color correction feature.
Editing of Metadata.
Pros:
RawTherapee has the rich raw photo-editing power as many other premium paid applications. And two demosaicing algorithms can be used at a time.
Cons:
The user interface is a bit intimidating for a new user.
Download:
$sudo apt install rawtherapee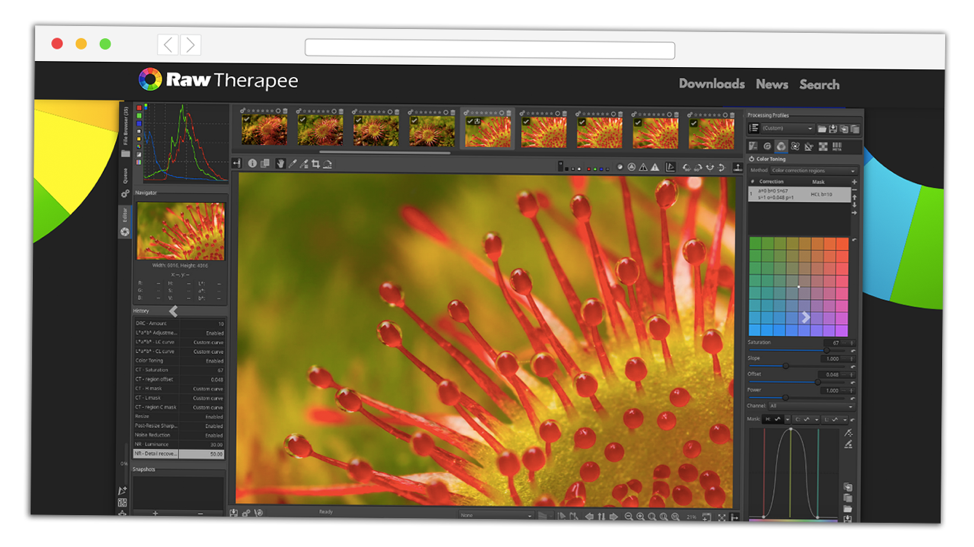 6. Fotoxx
Fotoxx is a photo editing and management application that is free and open-source and in a seventh-place like other programs. It is designed for committed photographers who need a photo editing tool that is quick, easy, and simple. It provides photo collection management and a simple thumbnail viewer to navigate through the collection folders and subdirectories:
The notable features of Fotoxx are:
Coverts images with a single click.
Comes with the ability to retouch images in several ways.
Artistic transformation of images using filters.
Access to Meta-Data.
Pons:
Fotoxx has many tools that are beyond basics, and images with problems like blurriness, uneven lighting, and fog can be brought back.
Cons:
Complex user interface.
7. Pixeluvo
Pixeluvo is a beautifully crafted Linux and Windows image editor that supports Hi-DPI displays and various camera raw formats. You need a commercial license for Pixeluvo to use, which costs $34 and covers all future changes and updates.
A variety of features like non-destructive editing with the usage of adjustment layers and color correction tools are available from Pixeluvo. It also features practical drawing tools sensitive to pressure and a range of filters for image enhancement.
Pros:
Features like fixing perspective distortion and quick color filters make this application stand out.
Cons:
A paid license is required and not available for mac users. Crashes while working with multiple files.
Download:
$wget -O pixeluvo.deb <a href="http://www.pixeluvo.com/downloads/pixeluvo_1.6.0-2_amd64.deb">http://www.pixeluvo.com/downloads/pixeluvo_1.6.0-2_amd64.deb</a>
$sudo apt install ./pixeluvo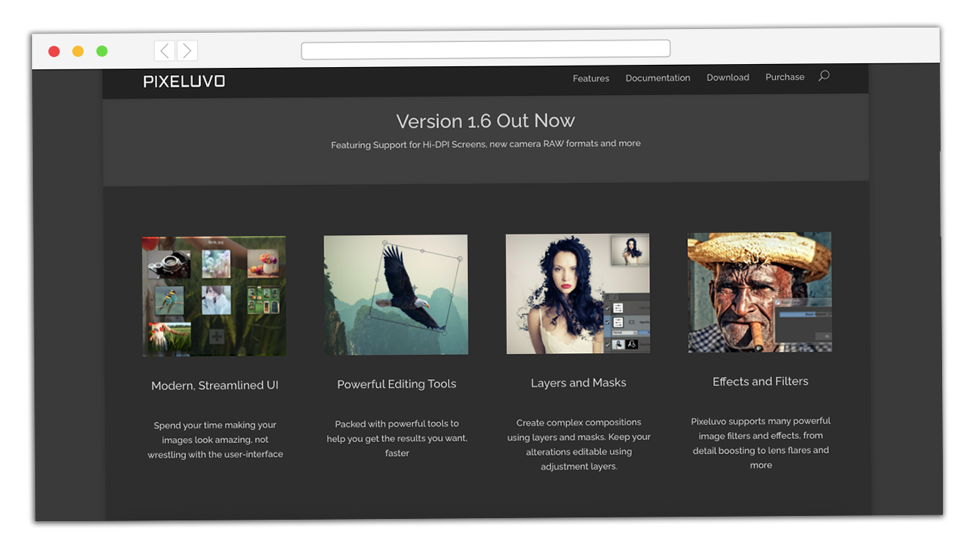 8. Photivo
Photivo is a multi-platform photo editor with professional denoising tools and advanced algorithms. It supports various raw formats and bitmap images as well. The noteworthy aspect of Photivo is its integration with various image editing apps.
To function well, it needs a rather strong machine and is not suitable for beginners since there may be a rather steep learning curve.
Pros:
A feature-rich program with color correction, channel mixer, texture contrast, and gamma adjustments.
Cons:
Difficult to learn for beginners.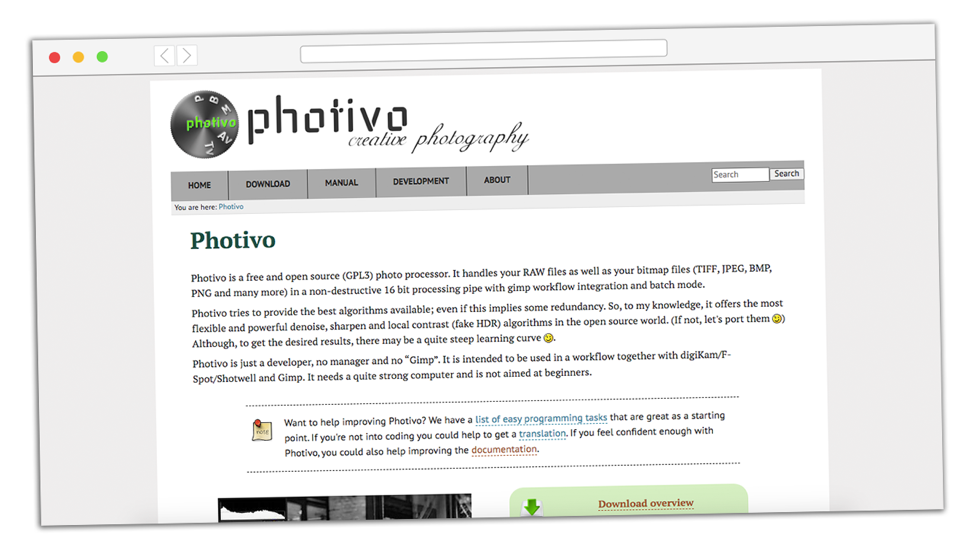 9. AfterShot Pro
AfterShot is a simple but efficient commercial and proprietary, cross-platform RAW image processing program. It helps to learn professional photo editing quickly by making it easy to make corrections and changes and apply adjustments with batch processing tools to multiple images at once.
AfterShot Pro comes with a swift workflow, powerful image management system and batch processing, and so much more. The noteworthy feature of AfterShot is its quick integration with Photoshop.
Pros:
This is a much faster image editor than Adobe Photoshop and works quite smoothly with the support of tools like blemish remover and noise reduction.
Cons:
AfterShot is a paid program. It has a complex file management system with limited online sharing support.
10. Darktable
Darktable is a versatile application of photography workflow and raw developer, developed by photographers for photographers. Darktable has the following features:
Support GPU accelerated image processing thanks to OpenCL.
Multiplatform supports most of the distribution of Linux.
Robust filtering and sorting feature.
Support several raw and bitmap image formats such as JPEG, HDR, CR2, NEF, RAF, and PFM.
Supports tethered shooting.
Editing with "Darktable" is non-destructive and only works for view on cached image buffers, and only during export is the full image converted. Its internal architecture allows you to easily plug in all sorts of modules to enhance its default features.
Pros:
A brief and uncomplicated manual makes it easy to learn.
Cons:
Tools organization is not done properly, and it has many things to be improved in it.
Download:
$sudo apt install darktable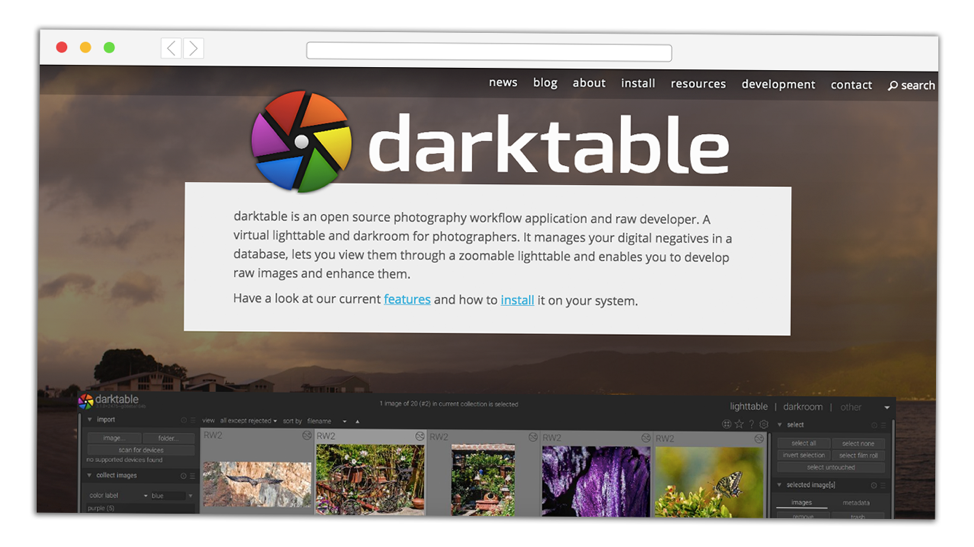 Conclusion
There are many image processing apps for Linux, and every app is different in terms of the tools they are offering and the complexity of learning it. In this post, we tried to discuss different image editors according to their capability and stability we rank them. Krita stands first because of its versatility. The editor likes digiKam, and Fotoxx has an image sorting feature that sorts collections of images and comes with powerful image editing tools. Most of the editors described above open-source and free to use, but Aftershot Pro and Pixeluvo are paid; features these editors provide can easily be found in freemium editors, but paid applications are well organized by the developers and keep software up to date. This list is by no means the final list; if you want to recommend us your favorite editor, leave a comment.