Linux is an open-source and best-known OS (operating system). It sits under all the other software on a computer, receives requests from particular programs, and relays these received requests to the system hardware. Linux OS has multiple distributions that contain different software options, which makes Linux incredibly more customizable. Moreover, new Linux distributions are becoming handy for executing older systems without maximum memory and an additional core or more than one. However, these distributions may not deliver on performance.
This post will talk about the most commonly used top lightweight Linux distributions.
Top 7 Lightweight Linux Distributions
To overcome previously stated problems, multiple lightweight Linux distributions are available to reincarnate older machines. Some of them are listed below:
Linux Lite
Linux lite is Ubuntu-based lightweight Linux distribution, which is specifically developed to make Windows users more comfortable. Each version has a five-year support period, indicating that developers will offer major updates every five years. During that period, the OS will continuously receive multiple minor updates.
Key Features
Linux lite distribution has multiple characteristics, which are stated below:
It is Ubuntu-based lightweight Linux distribution. Therefore, it has long-term support, which is supported by Ubuntu's repository.
Linux lite comes with basic applications, such as Firefox web browser, Thunderbird for emails, Cloud storage Dropbox, VLC media player, and Gimp for image editing.
This distribution is specially developed for Windows users willing to enter the world of Linux because the apps it provides are similar to the Windows OS, and Windows users are familiar with them.
System Requirements
The required system requirements for this particular distro are as listed below:
1 GHz process for CPU
768 MBs RAM
8 GB Storage
1024×768 VGA screen resolution
Drawbacks
Not the most demanding distribution out there.
antiX Linux
Another lightweight Linux distro is known as "antiX", based on Debian. antiX is the best choice for those machines that have few resources. It utilized the Rox and IceWM file manager with millions of applications. The best part of antiX is it utilizes its own described repositories. antiX Linux contains the "metapackage" Synaptic manager installer that makes this distro more efficient for newbies.
Key Features
antiX has some fantastic features, which are provided below:
antiX is available for 32-bit and 64-bit hardware systems and provides four different flavors to their users.
It is freely available for the system and contains the custom kernel, its own repositories, and customized scripts to improve the user's experiences.
Enable users to install kernels from multiple sources, such as siductions, liquorix, Debian, aptosid, and many more.
antiX contains a package installer, which makes it easy for users to install their desired applications.
System Requirements
The system requirements for installing this particular Linux distribution are:
Pentium III (PIII) Central Processing Unit
256 MBs RAM
5 GB memory space
Disadvantages
It is not visually appealing.
Xubuntu
Xubuntu is the most popular lightweight Linux distribution, a flavor of Ubuntu, and a free OS, which is based on the Xfce desktop. As compared to the other distributions, Xubuntu is slightly more heavy-weight. However, it can be installed and run on an old PC though.
Key Features
The characteristics of Xubuntu are:
It executes well on old machines because it consumes minimal system resources and focuses on lightness.
Contains lightweight tools and software for multimedia, office, internet, Gnome player for videos, drawing with MTPaint tool, Chromium web browser, and many more.
Supports the Ubuntu repository, which allows multiple additional software installation packages.
System Requirements
The required system requirements for the Xubuntu distro are provided below:
64-bit AMD, or Intel processor
PAE for 32-bit Xubuntu
512 MBs RAM
8 GB of free memory on a hard disk
Disadvantages
Xubuntu is not gaming-friendly
It does not support Windows programs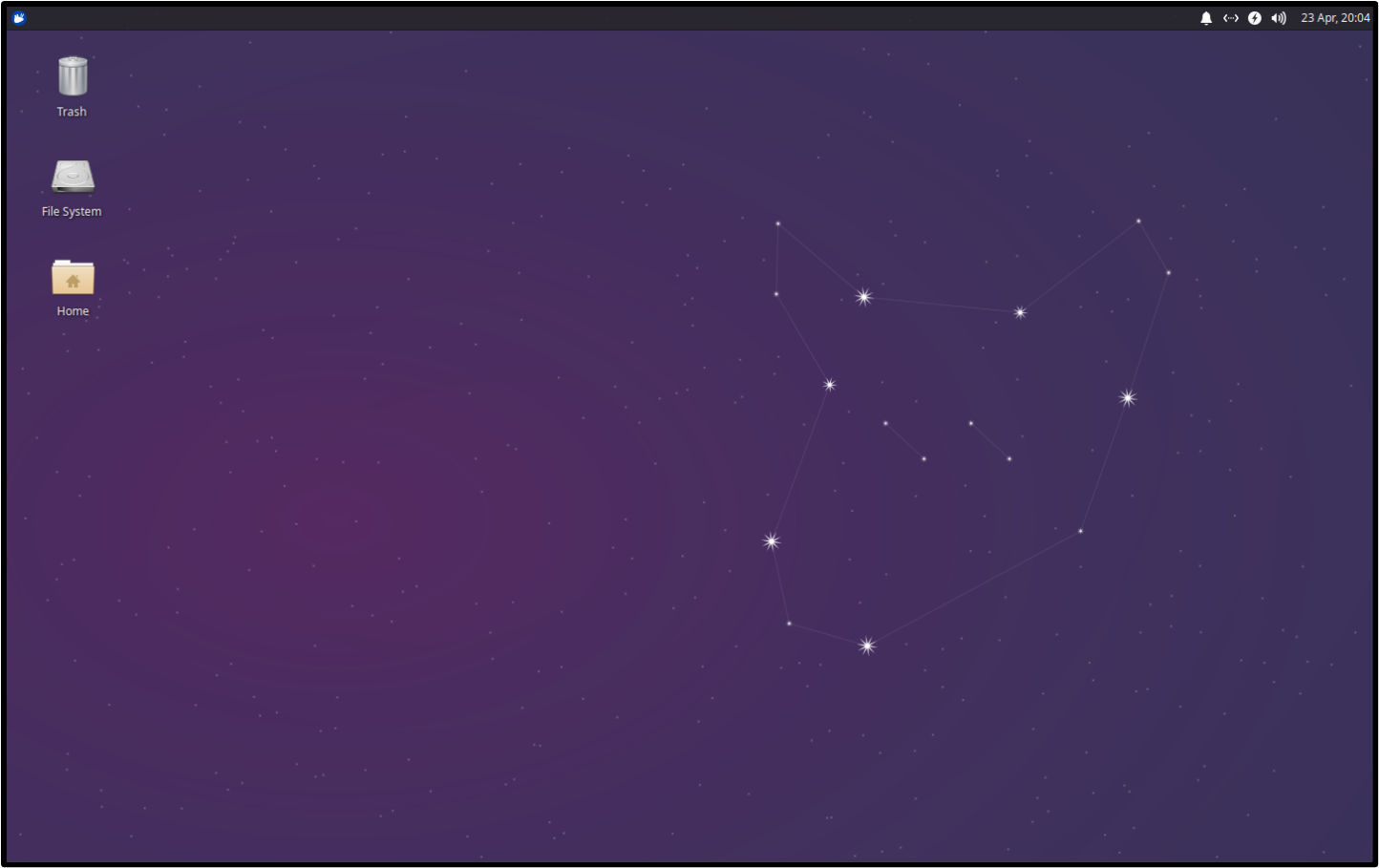 Lubuntu
In Lubuntu, the "L" stands for lightweight, which is for those users who are searching for an operating system that consumes fewer resources than most modern distributions. However, it does not force users to compromise on their favorite applications. Basically, it is designed for older systems. Lubuntu utilizes the lightweight LXQt desktop compared to the Gnome 3 environment with a huge variety of services and helpful tools.
Lubuntu is one of the most popular official versions of Ubuntu. It traditionally uses the LXDE interface. But starting from Ubuntu 18.10, it will change to LXQt. Both are lightweight interfaces, but the latter is more modern.
Key Features
Let's have a look at some key features of Lubuntu:
It contains office suits graphics and multimedia apps
Utilizes the LXDE interface
Uses fewer system resources as compared to the others
Supports Ubuntu's software repository
System Requirements
For the installation of Lubuntu, the following are the system requirements:
512 MBs RAM
3 GB hard drive free space
Available in both versions, such as 32-bit and 64-bit
Disadvantages
Lubuntu is not best for high-performance personal computers (PCs)
Tiny Core
As compared to others, the tiny core is the smallest Linux distribution which provides different versions, such as "Core", "TinyCore" and "CorePlus". The "Core" has the smallest lightweight version only "11MB" of files. The other is "TinyCore" with "16MBs" files that enable both FLWM and FLTK desktop environments. The last minimum size version is "CorePlus" which is "106MBs" that supports different desktop environments.
Key Features
Now, check out the following effective features of Tiny Core distribution:
Tiny Core is the perfect choice for old systems
It gives access to users to a repository featuring multiple useful apps
System Requirements
Minimum system requirements for Ting Core are:
i486DX Central Processing Unit
46 MBs RAM
Disadvantages
Tiny Core does not have applications
Puppy Linux
Puppy Linux is the perfect lightweight operating system for old machines. It is an independently designed Linux distro that, by default, utilizes Openbox and JWM window managers. It is easy to boot straight from a CD or flash drive.
Key Features
Puppy Linux features are as follows:
Easily bootable through the CVD/CD or flash drive
Has some essential apps, such as Gnumeric for spreadsheets, Abiword for word processing, and multiple software for media playback and graphic editing.
Its versions are accessible to the Ubuntu software repository for installing required apps
System Requirements
The required system requirements are:
333MHz CPU processor
64 MBs RAM
Disadvantages
Puppy Linux has a few hundred MBs in size
It comes with a limited number of applications
Bodhi Linux
Bodhi Linux is Ubuntu-based the tiniest distribution which utilizes the Moksha desktop and offers 4 different versions in its newest release 5.1, such as the "Standard" forum standard for desktops and also for workstations computers made in the last decade, the "HWE" released version for workstations as well as for desktop. It also pushes kernel updates from time to time for users. The next one, the "Legacy" release is the 32-bit version that is also suitable for old machines. Last, "AppPack" can be utilized as a completely featured live base install.
Key Features
The most important features of the Bodhi Linux distro are:
Executes well on older systems
Contains a few applications, like a text editor, graphics apps, Midori web browser, and many more
Millions of free software are accessible because of Ubuntu repositories
System Requirements
The system requirements for installing this particular Linux distribution are:
500MHz processor
512 MBs RAM
5 GB free hard drive memory
Disadvantages
Bodhi Linux distro does not contain built-in programs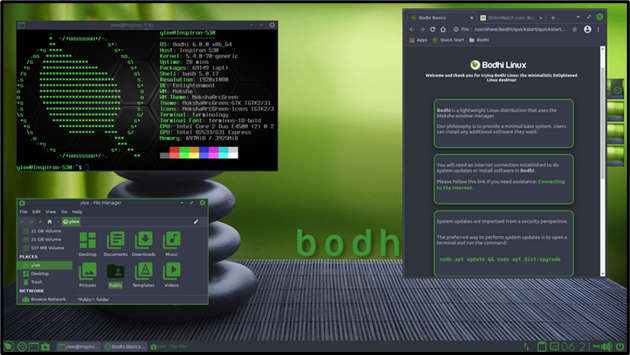 That's all! We have elaborated on the top 7 lightweight Linux distributions.
Conclusion
The top 7 lightweight Linux distributions are "Linux Lite", "antiX Linux", "Xubuntu", "Lubuntu", "Tiny Core", "Puppy Linux", and "Bodhi Linux". In this era, multiple computer users and developers want to have Linux on their devices. But the problem is some newer Linux distributions do not run on older machines and become very difficult to manage for users due to consuming more hard drive space as well as processing power. For this issue, Linux introduced multiple Linux lightweight distributions. This guide illustrated the top seven lightweight Linux distributions.