GNOME is a very popular desktop environment. GNOME extensions take the experience of using the GNOME desktop environment to another level. We have thousands of extensions to choose from; these extensions help us tweak the GNOME desktop environment as per our requirements.
Today, we will have a look at some of these useful extensions. These extensions will not only help you tweak the GNOME desktop environment but also add more functionality to it. All the extensions that are listed here are tested on Ubuntu 22.04 LTS edition.
1. Dash to Dock
Switching between applications is not that simple in GNOME but with the help of Dash to Dock extension, you can not only switch between apps faster but you can also add your favorite applications to the dock for quick access.

This dock is highly configurable. You can put it on any side of your screen like at the top, bottom, left, or right side of the screen. You can also custom its themes and perform size adjustments.
2. Notes
Everyone of us use sticky notes on the Windows platform. The notes extension for GNOME tries to replicate the same on Ubuntu. You get the pen logo on the top of the desktop screen once you install this extension. You can click on this logo to show/hide the notes.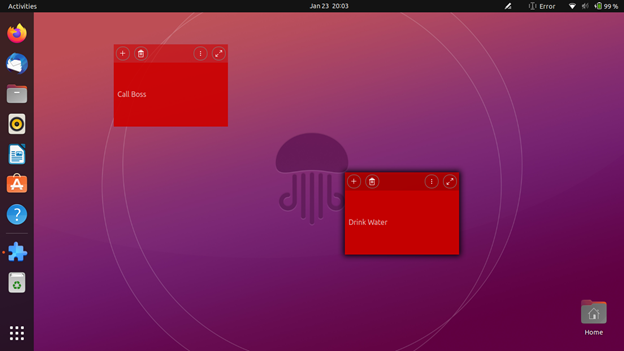 Similarly, you can use the plus button to add more notes, and click on the settings to change the color and tweak the preference according to your need.
3. Caffeine
Isn't it annoying when the Operating System goes into sleep mode? To prevent this while you are working on something, use the Caffeine extension. When you add the Caffeine extension, you will see a mug icon.

An Empty mug means that normal rules are applicable like going to sleep. But when the mug is full, it does not go to the screenshot screen or sleep mode.
4. Net Speed Simplified
This is a great GNOME extension to keep track of your internet connection data. It shows all the relevant and necessary data at the top of your desktop screen.

It is user friendly and offers an easy way to monitor your connection speed.
5. Vitals
As the name suggests, this extension offers a glimpse into your computer's temperature, voltage, fan speed, memory usage, system resources, and many other system and storage related stats.
It is a great extension to monitor your system's health and performance.
6. Clipboard Indicator
The Clipboard Indicator is a useful extension for GNOME users that will help them add up to 50 entries on the clipboard that can be used in future. It also helps to cache the clipboard history.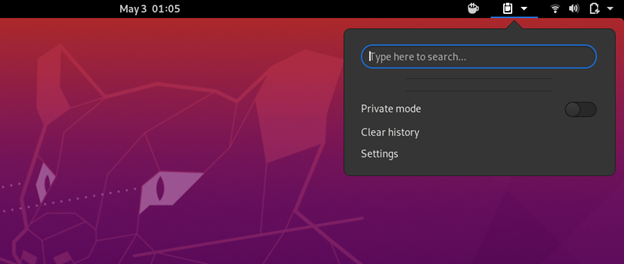 7. Workspaces to Dock
This extension helps you transform the GNOME Shell's overview workspaces into an intelligent dock. In simple words, you can thumbnail all your currently running activities overviews into a small dock for quicker access.
8. EasyScreenCast
This is great extension for those who need to record the screen for work. EasyScreenCast helps you record your GNOME shell screen and audio at the same time. This is a great GNOME extension for video tutorial creators on YouTube and other platforms.
9. GSConnect
The GSConnect extension helps you connect your Android phone to the GNOME desktop so that you can access the messages, calls, and other data between both devices. You need to install the KDE Connect App on your Android phone for integration. You can see how we connected our phone to the GNOME shell in the following screenshot:
10. Emoji Selector
Emoji selector is a great GNOME extension that copies the selected emoji to the clipboard. Then, you can paste it anywhere like in email, chat, etc.
Fonts like Twitter Color Emoji and JoyPixels Color are recommended to be installed on your system for better visual output.
11. Screenshot Tool
The Screenshot Tool extension helps to conveniently capture, copy, save, and upload the screenshot in just one click. We find this extension very useful because of so many options that it offer as you can see in the following screenshot:
12. Appfolders Management Extension
Another cool extension for the GNOME users which helps organize various applications in the folders of your choice. Isn't that a great function to have on GNOME shell? Once you install this tool, you just have to right-click on the app icon in the application tray and click on "Add to Folder".
13. Apt Update Indicator
This is one of the best extensions that you will find for GNOME shell. The Apt Update Indicator directly notifies you from the notification bar at the top if there is any Apt package update that is available for your installed packages.
14. CPU Power Management
In short, this GNOME extension helps you manage your CPU's frequency scaling driver. This extension gives you freedom to choose how much amount of your computer's resource are used at a given time.
You can make your profile of your own preferences or use one from the various presets.
15. Auto Move Windows
If you work on various virtual desktops, this extension is going to make that experience more convenient for you. Using this extension, you can set any application to automatically open on virtual desktop which is assigned by you to the application.
The process is very simple: once you do it, that application automatically opens on the desktop of your choice the next time you use it.
16. CPU Power Manager
We find this extension very useful especially while working on laptop. This extension gives you control of how your computers resource are going to be used at any particular time. This eventually improves the performance of the system.
For now, this extension is only for computers having Intel CPUs on board. Extensions like these should be made available for all machines.
17. Extensions
Extensions is a great GNOME shell extension which lets you manage all your extensions like enabling/disabling or changing the extension setting right from the top panel on the GNOME desktop screen.
This saves the time of going into GNOME Tweaks and then extensions to tweak your extension.
18. OpenWeather
OpenWeather is another great shell extension that helps you keep track of all the weather information at your location or any location of your choice across the world.
As you can see in provided screenshot, it looks quite attractive and you can make some tweaks, too, as per your need.
19. Panel OSD
Panel OSD is quite an interesting extension. Using this extension, you can customize the location of your desktop notification. You can set it to appear at your preferred location on the desktop.
20. Refresh WiFi Connections
There is no option to refresh the WiFi connections on Ubuntu and other Linux distro's but this great extension adds this much needed option. You can now connect easily to any available WiFi network.
21. Drop Down Terminal
The Drop Down Terminal is a must have extension and we recommend this extension to every GNOME user. This Terminal is a kind of app that everyone needs on Linux. With this extension, it is really easy to access the Terminal on GNOME by just using the drop-down menu or using the keyboard shortcut. The keyboard shortcut to open or close the Drop Down Terminal is the key just above the Tab key on the keyboard, i.e. ~ Key.
22. Activities Configurator
Activities Configurator is another cool GNOME shell extension. It lets you customize the activities button as well as the panel appearance. You can tweak and add many features to enhance your desktop functionalities. You can also change the background color and adjust the transparency.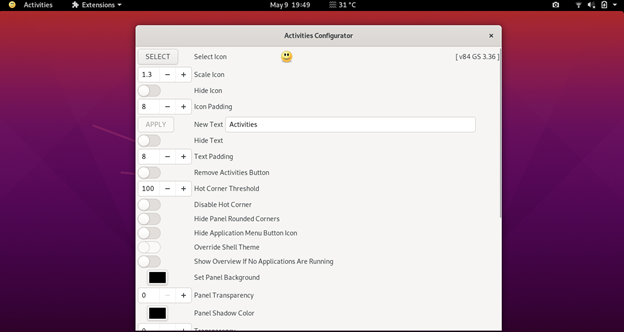 23. TopIcons Plus
On the GNOME desktop, it is not that easy to use some apps like Telegram, Drop Box, or Skype which heavily rely on system tray because the app tray is hidden. The TopIcons Plus GNOME system puts the icons back where they should be. You can also customize the size, style, and position of icons by going into the extension settings.
24. Applications Menu
Appications Menu adds the traditional Start Menu to the GNOME desktop and features some of the most used apps. This extension is quite useful as you can launch your favorites directly but there is some limitation where this extension cannot be customized.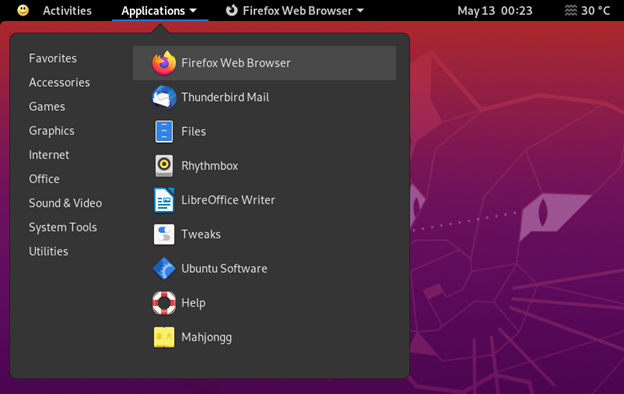 25. Section To-do List
The Selection To-do List is simple yet quite a useful extension for GNOME users. You can simply add your to-do entries and even sub-entries in this drop-down extension. It doesn't have so many features that you might expect but we still find this quite useful.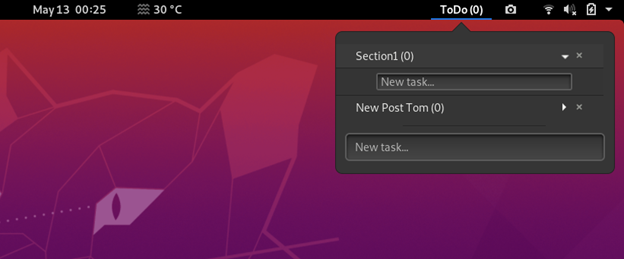 26. Internet Radio
If you love listening to music or radio while working, this is the must-have extension for you. This lets many internet radio streams at one place. It has buttons to play/stop, title notifications, and volume adjustment which makes it very easy to use.
27. You2ber
You2ber is a GNOME shell extension for popular YouTube downloader, youtube-dl. This extension helps you simply download the video and audio media content from YouTube. It also offers some customize options before downloading like the video quality, audio quality, and destination to save the audio/video file. It also has subtitles download option.
28. NetSpeed
NetSpeed is a simple extension which shows the internet speed in the drop-down from the top bar on the GNOME desktop. It shows both the download and upload speed. If you right- click on it using the mouse, it displays the sum of the download and upload speed.

29. Time ++
Time ++ is an amazing extension which offers multiple functions under one single extension. It features the alarm clock, stopwatch, time tracker, pomodoro, and todo.txt manager.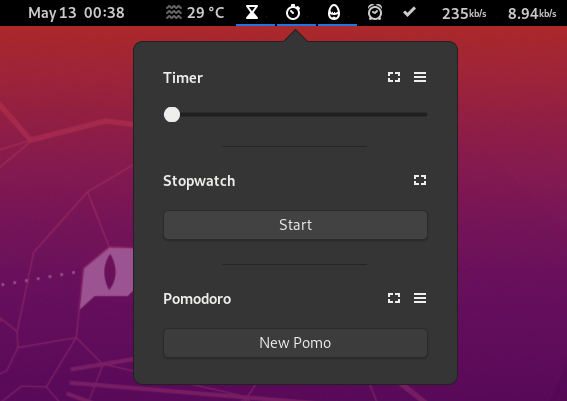 It is one of the most useful extensions for GNOME users.
30. Desktop Icons
There are no desktop icons available on GNOME by default, but this extension overcomes that limitation. Using this extension, you will feel at home especially for the Windows users.

These are the 30 best GNOME shell extension which will improve your overall GNOME desktop working experience and productivity. You can use these extensions on Ubuntu 22.04 LTS and older releases.