Image editing apps are essential tools when it comes to adding fun and vibrancy to dull and drab images. There are numerous image editing applications available to add life to your black-and-white images and fix your torn photographs.If you are a Linux user, then you must be wondering if there are any alternative image processing applications available for Linux. There are a lot of these applications, thanks to the open-source developer community. As a user, it is necessary to choose the best performing image editors compatible with the Linux operating system.
After looking at the wide array of image editing software available for the Linux operating system, we have prepared a list of the top five best image editors that can be used in Linux. Each software is discussed below in greater detail:
1. GIMP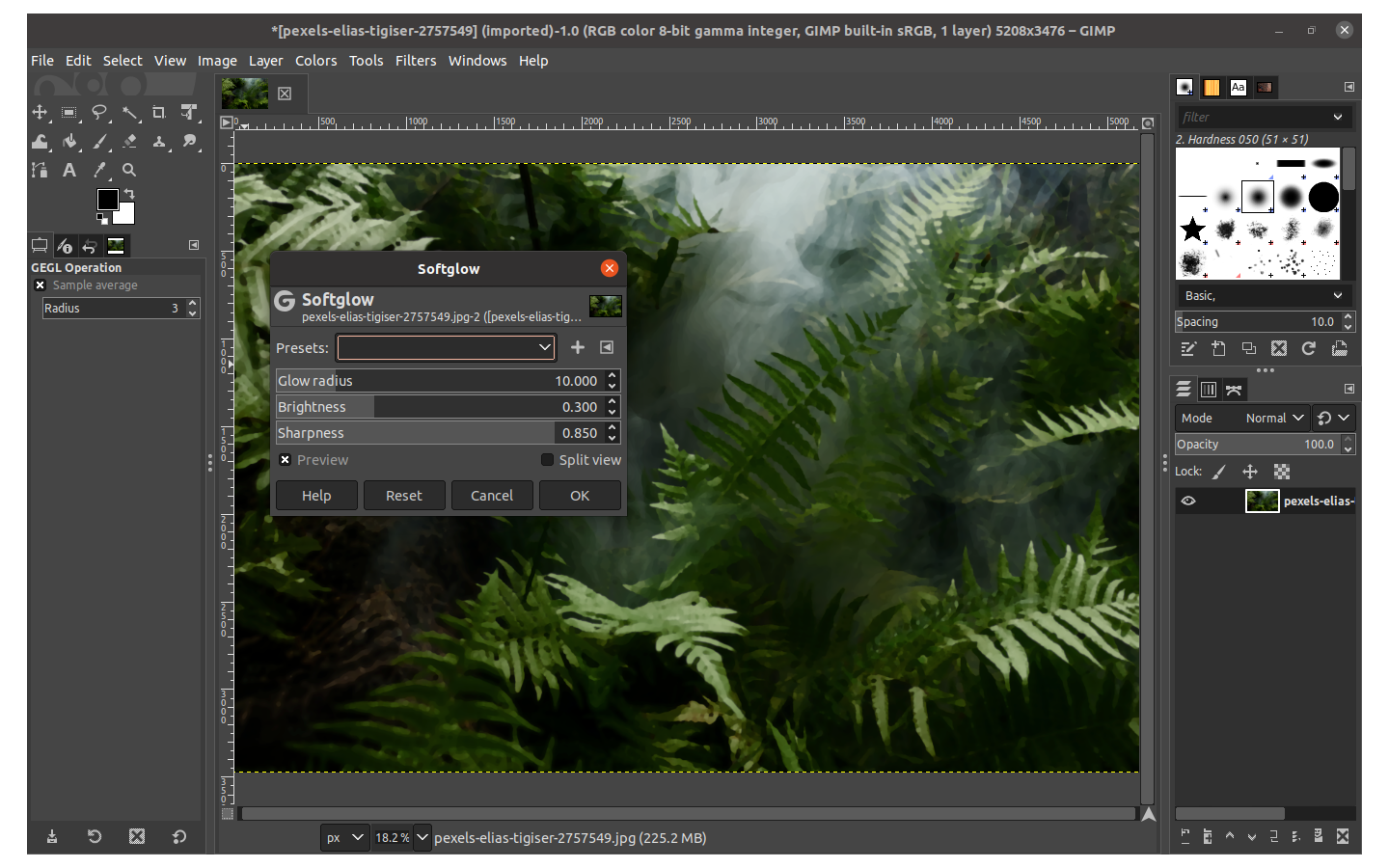 GIMP is one of the most highly recommended image editing applications out there. Due to its extensive usage and the wide array of features that it offers, GIMP has taken first place in our list of the top five image editors for the Linux operating system. It would be unfair to GIMP to give it any place other than the first spot since it is a very powerful and robust photo editing app. In fact, the functionality provided by GIMP is no less than that provided by premium apps, such as Photoshop and Lightroom. GIMP is a multi-platform application that you can download for free.
You can use GIMP to perform various tasks, such as retouching images, compositing, and making illustrations. You can also perform transcoding between different image formats. All these tasks and more are possible in GIMP because it contains professional features.
Moreover, formats such as .jpeg, .psd (Photoshop), and .psp (Paint Shop Pro) are supported by GIMP.
Pros
GIMP is a lightweight application with a customizable user-interface, powerful image editing tools, support for third-party plugins, and support from a large online community. GIMP also supports third-party plugins to enhance functionality.
Cons
GIMP does not have full support for CMYK, and the option for 3D design is limited.
2. Krita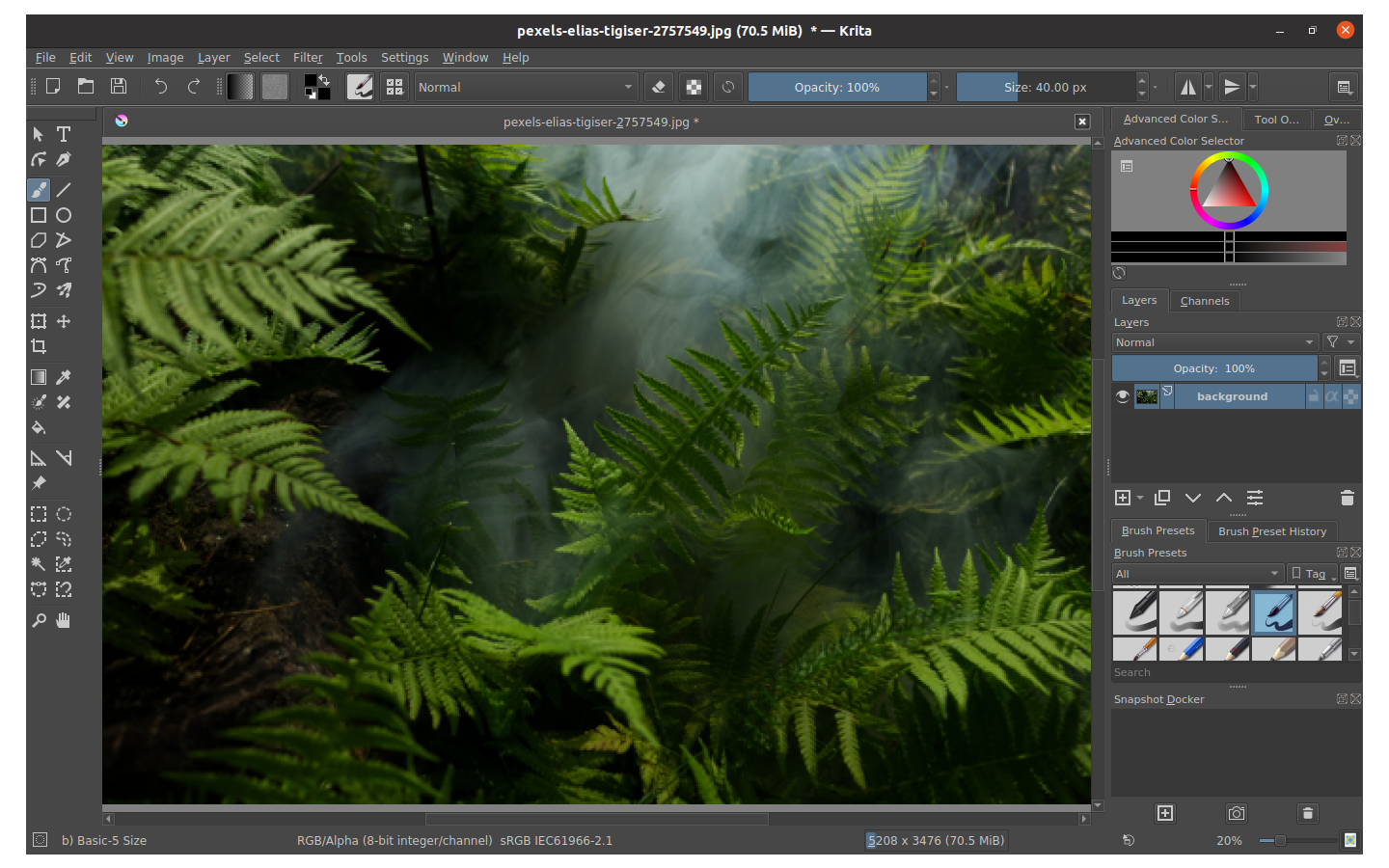 Krita is an open-source program that can be accessed on various platforms. It takes the second spot on our list. Krita has become a first choice for many Linux users because it is considered a complete package that allows you to perform editing, image manipulation, and animation all in one place.
The primary function of Krita, when it was first developed, was for digital painting and 2D animation. But, this program can be used for texture and matte paint finishes, and to create illustrations and comics. Some significant features of this image editor include the following:
Allows you to set limitless canvas size.
Comes with a huge library of brushes.
Provides HDR editing.
Includes support for Python Scripting, allowing users to develop custom widgets.
Pros
Karita has a vast and diverse library of brushes with color pallets and layer management features. The user interface is easy to use and is also customizable according to user convenience and need. Krita also comes with animation functionality included.
Cons
The documentation of Krita needs a lot of improvement. Moreover, expect lag when editing large files.
3. Inkscape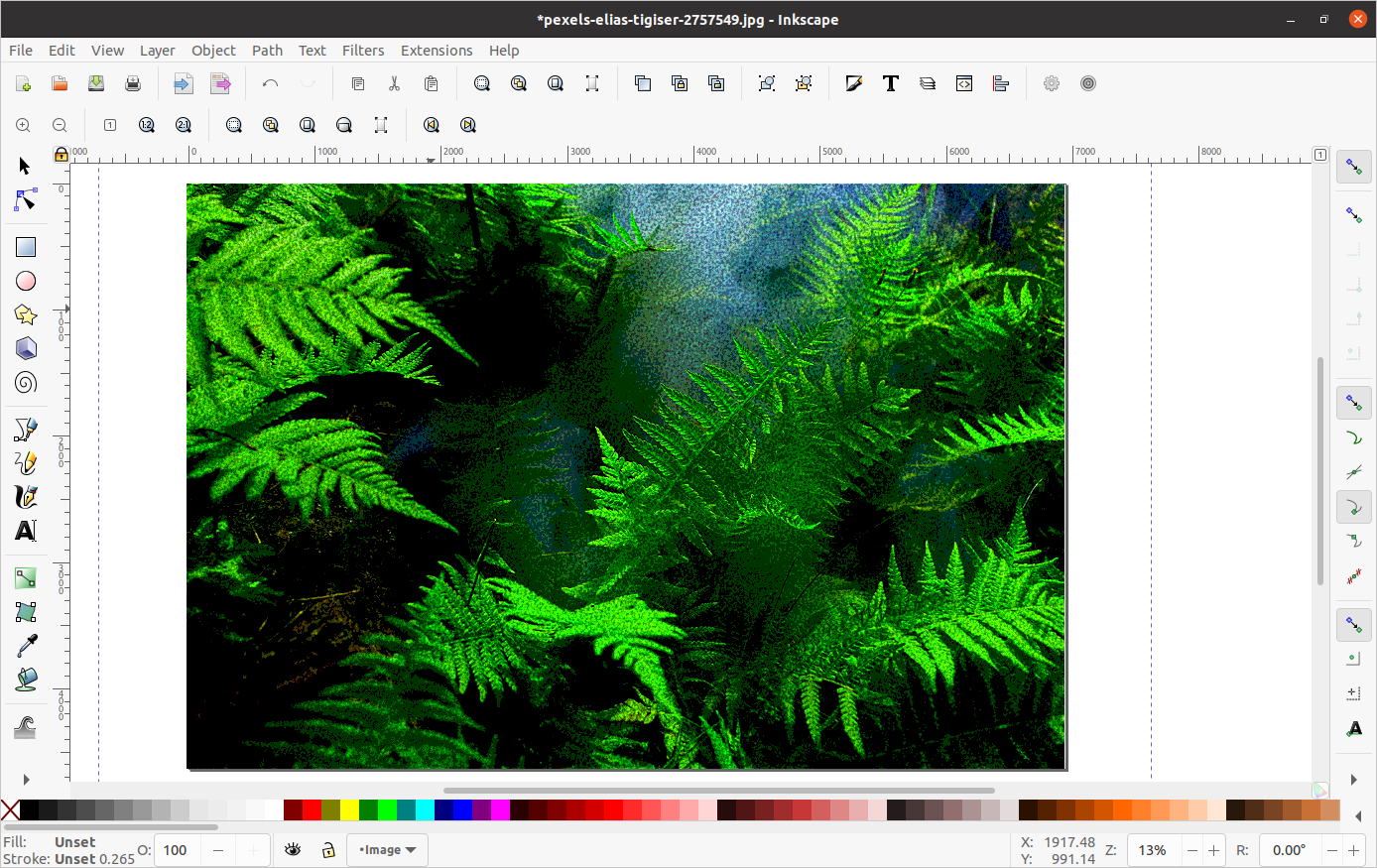 Inkscape is a vector-based multi-platform graphics editor that comes in third on our list. This software is free, open-source, and is the best alternative to Adobe Illustrator and Coral Draw. Inkscape can be used to generate and manipulate vector graphics easily and professionally. The advantage of Inkscape is that, along with vector art, this program also allows you to edit raster images.
Inkscape is a user-friendly app that comes loaded with all the same features offered by premium software. This program includes various tools, including a pencil tool for drawing, a pen tool for writing, a calligraphy tool to create calligraphy, a text tool, and a clone tool to create clones of existing images. Inkscape supports several different formats, including Open Document Drawing, PNG, DXF, EPS, PDF, PostScript Export, and many more.
Pros
Inkscape is free and comes with features like node editing, compatibility with many formats, bitmap tracing, path simplification, and SVG editing. Transferring edited images into another app is also a seamless experience with Inkscape. Along with vector graphics, Inkscape also allows users to edit raster images.
Cons
Inkscape tends to lag when working with large files, and its user interface is quite difficult to navigate.
4. DIGIKAM
DIGIKAM is another image sorting and editing app that holds the fourth spot in our list. This program is one of the finest free applications, and it comes with the features like arranging and editing images. DIGIKAM is convenient to use due to its user-friendly interface. The primary reason for the popularity of DIGIKAM is its community support and frequent access to new updates.
DIGIKAM can be used to edit photos and organize them chronologically into different folders according to your requirements, sorted by folder or by custom collection layout. DIGIKAM also provides the function of tagging images. With the help of this tagging system, users can find any image more quickly and efficiently. Apart from that, DIGIKAM also comes with powerful editing features to transform and polish images.
Pros
DIGIKAM comes with various image editing features, such as color adjustment, curves, levels, and image sharpening. This program can easily handle and sort large image collections, and it comes with features like tagging and facial recognition to better sort your images.
Cons:
The image editing functionality included in DIGIKAM is very basic.
5. Pinta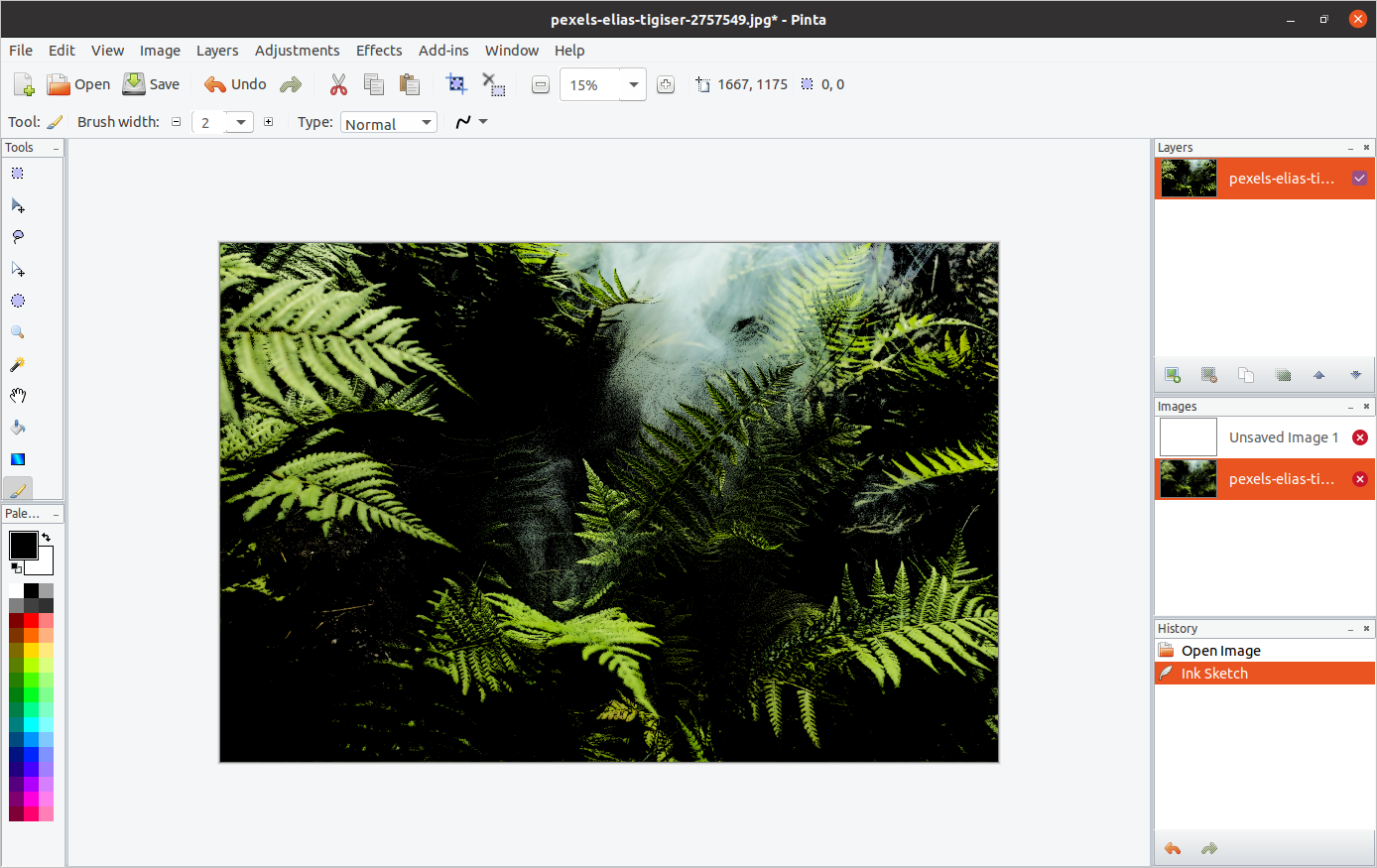 Pinta is another free image editing application that holds fifth place in our list. This program is an open-source and multi-platform application that is easy to understand and simple to use. Pinta is a relatively new and lightweight application compared to GIMP or Krita, but it is still a very powerful app for editing images. The user-friendly interface of Pinta is like the Windows Paint application. Like other image editors, Pinta has all the basic features, including editing, drawing on, and transforming photos. Although Pinta is used in the Linux operating system, it is also compatible with Windows, as well as macOS. Pinta is also the only program that is available in over 55 languages.
Pros
Pinta comes with a lot of effects and a feature that automatically corrects images. Moreover, Pinta also allows for unlimited undos and even comes in various languages.
Cons
Pinta is still in development, and there is no function for adding third-party effects.
Conclusion
Though many image editors have native support for Linux, all of them have various advantages and shortcomings. In this article, we tested different image editors and ranked them according to their capability and stability. Krita stands first due to its rich features, and GIMP takes the second spot. Though GIMP is a very popular application when it comes to image editing, there is no comparison between Krita and GIMP, as GIMP still lacks CMYK functionality. Inkscape, coming in third, is not only a vector graphics software but can also be used to edit, transform, and rater images. DIGIKAM is in the fourth spot; along with editing images, it also manages collections of images and sorts them to make them easier to search for in one place. Finally, Pinta is a lightweight application that suits users who just need basic editing tools, and the most notable feature of Pinta is its unlimited undos.