WPS Office is a productivity suite that includes a word processor, spreadsheet program, and presentation software and is available for multiple platforms, including Windows, macOS, Linux, Android, and iOS. The suite is known for its compatibility with Microsoft Office file formats and its wide range of features and tools. So, if you are looking for an adaptable, free and easy office suite for Linux Mint then try the WPS office suite and for its complete installation guide read this article.
Installing WPS Office on Linux Mint 21
In addition to the core features like word processor, spreadsheet program, and presentation software, WPS Office also includes support for cloud storage, real-time collaboration, and support for multiple languages. It is often used as an alternative to Microsoft Office, particularly for those seeking a more affordable or lightweight office suite. There are primarily two ways to get this free office suite on Linux Mint and those are:
Through Deb Package
One way to install the WPS office is by downloading its deb file from its official website and then install it through dpkg package Manager, here are some steps that one has to perform to get this application on Linux Mint:
Step 1: To get the WPS deb file visit the download page of its official website and afterwards click on the Deb Package, next the file will begin to download:
Step 2: Next, once file is downloaded go to the directory where the file is present and afterwards use the dpkg package manager to install it by executing:
$
sudo
dpkg
-i
.
/
wps-office_11.1.0.11664.XA_amd64.deb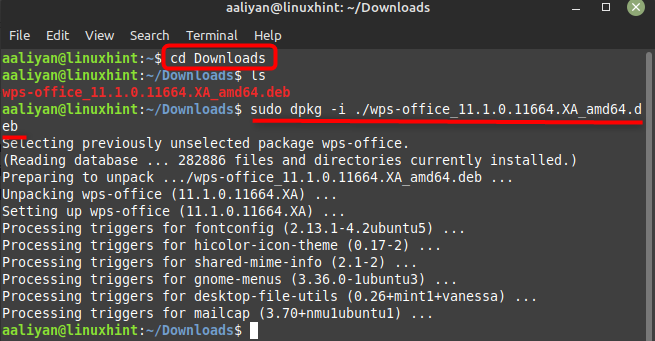 Now run the application through terminal of Linux Mint by executing:
To remove this software completely from Linux Mint in case you no longer need it then right click on the WPS 2019 and afterwards select uninstall it: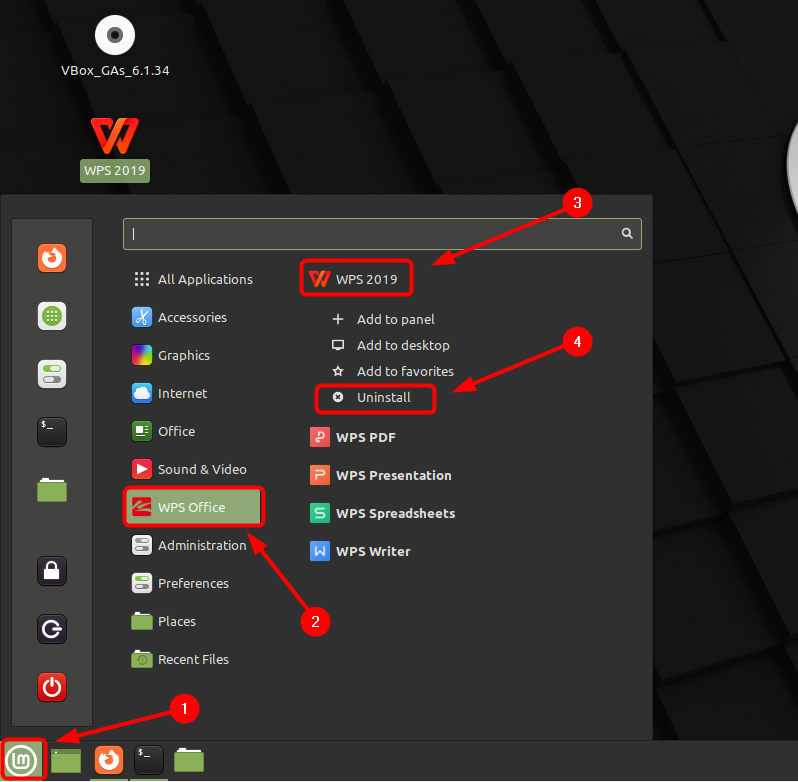 Through Linux Mint Software Manager
Another way to install the WPS on Linux Mint is by using it Software Manager, first open it from the Linux Mint application menu and afterwards search for the WPS office in the Software Manager search bar and click on the first option appeared in the search: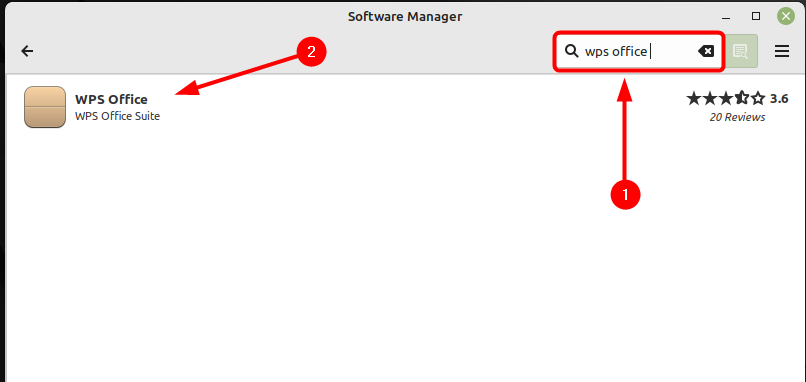 Next install WPS Office suite by clicking on the green Install button present at the top right side of the screen: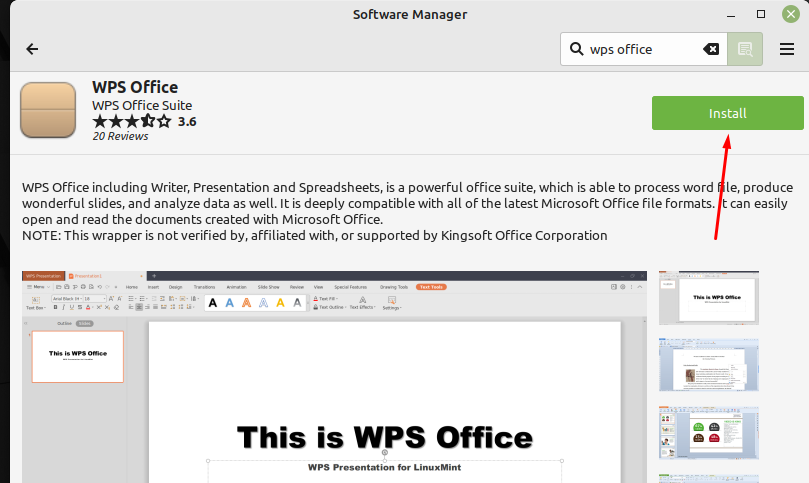 Once the office is installed run it either by clicking on the Launch button right next to remove button na start working on you desired application: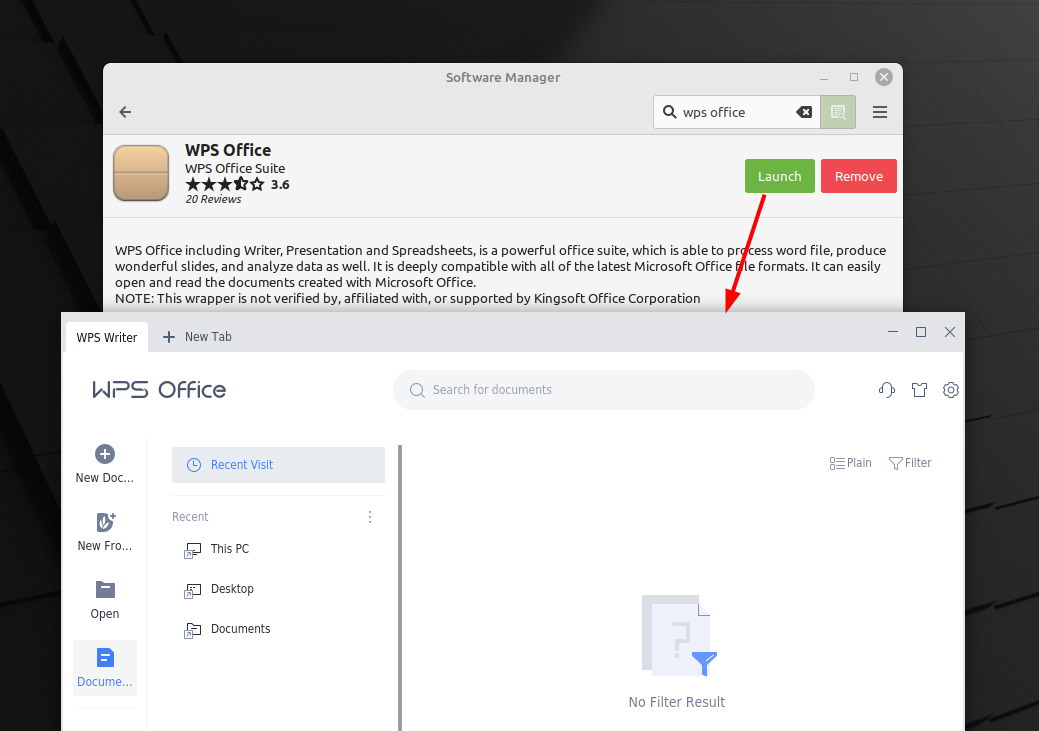 Another way to run this office suite is by clicking on WPS 2019 under the office option present in the Linux Mint application menu:
If you no longer need this application and want to uninstall it completely from Linux Mint then just go to its Software Manager then click on Remove button after searching for WPS Office: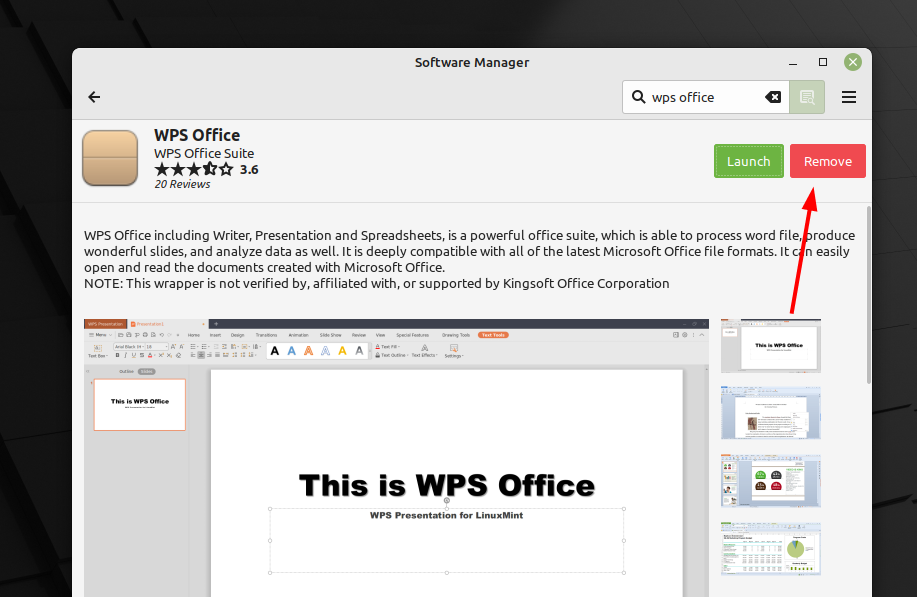 Conclusion
WPS is an office suite that is freely available and is one of the best alternatives for Microsoft Office, on Linux Mint 21 it can be installed by two methods one is by downloading the deb file and the other is by using its Linux Mint software manager.