While working with the Linux operating system, all the Linux users worked with Terminal or Command-line Interface to perform any kind of operation. So, we all are aware of terminal importance and its usage.
When it comes to the term "Terminator", few of us know about it. Terminator is the powerful terminal emulator, or we can say it's an alternative tool of the terminal.
The terminator is a light weighted application that comes with enhanced features for Linux users that won't exist in the terminal. This application is written in java and free as it has a General Public License. When testing commands on Terminator, you will find advanced features i-e, you can do vertical and horizontal scrolling, search any specific text inside terminal, can log all terminal sessions automatically, drag and drop texts and URLs.
Installing Terminator on Linux Mint 21
The terminator application is supported by all Gnu and Linux platforms. It is easy to download it on Linux Mint 21 system without any hassle.
Update the apt repository of Linux Mint system before getting started with Terminator:
Execute the following command to let terminator installation begin:
$
sudo
apt
install
terminator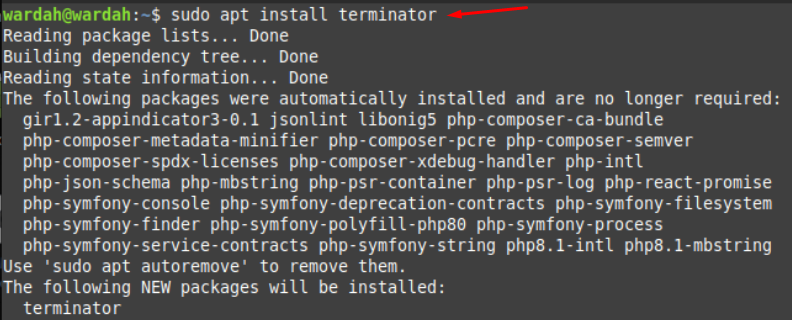 To confirm the successful installation of the Terminator application on Linux Mint system, type:
Now, to start working with Terminator on screen, run:

How to Uninstall Terminator on Linux Mint 21
To delete a terminator package from Linux Mint 21 system, run the below-mentioned command in terminal:
$
sudo
apt remove terminator
Conclusion
Terminator is the free, powerful Linux tool used as an alternative to terminal. It comes with multiple advanced features and is supported by all GNY/Linux systems. This article has explained how we can install Terminator on Linux Mint 21. However, we have also executed a command to delete it from the system.