Since ancient times, books have been man's best friend, playing the role of guiders and philosophers. Books have always been there to inspire humans and help them broaden their horizons and open new avenues. As Neil Gaiman says, "a book is a dream that you hold in your hands." However, in recent times, with the advancement shown in technology, printed books have seen a decline in its popularity as with the emergence of eBooks, electronic versions of printed books, this has totally brought about a huge change in the publishing industry and has made the electronic copies a much more sought-after and in-demand format. From among the dozens of eBook readers available, Adobe Reader has mostly been the get-go for Windows users due to its excellent features and support for several PDF manipulation functions.
However, with Adobe not actually having a Linux based version, it becomes necessary to look at some of its alternatives available on Linux which shall also be the topic of our discussion in this article.
1) Foxit Reader
Foxit Reader is a top tier freemium PDF reader that has gained a large following due to its impressive feature set and quality performance. Foxit has both a free and premium version, both of which offer high-grade features to its users, some of which even go toe to toe against those provided by Adobe. One of the best features that come along with Foxit is its ability to annotate PDF documents which allows for a better understanding of the text being read and helps in summarizing the text.
Tools:


Results:

Foxit also provides a very smooth and silky reader which further has several reading modes. In addition to this, you can rotate your screens, move to-and-fro, and even has multiple background themes from which users can choose from.
Reader Options:

Theme Modes: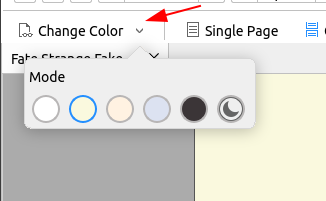 It also provides a navigation panel that contains several different sections of your PDF such as Bookmarks, comments, etc.

2) Evince
Another great alternative that can be found on Linux is Evince, a free and open-source document reader developed by FOSS and is available for all major platforms such as Windows, Linux, and so on. Evince is actually the default document viewer for GNOME-based desktop environments, the most notable ones being Ubuntu, Fedora, and Debian. One of the most noteworthy features that come along with Evince is its ability to display dual pages simultaneously along with having support for displaying files in full screens and slide shows. It even allows users to switch the page view as in right to left or vice versa.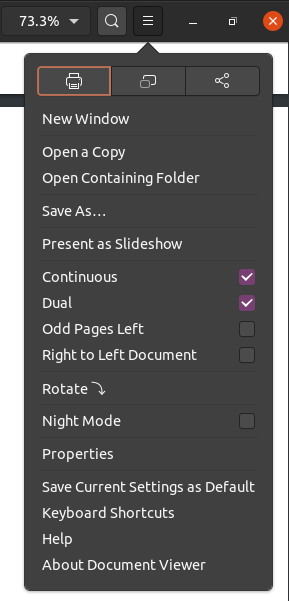 Evince also has a powerful integrated search system that highlights the part and displays the page number where the specified searched element was found.
Search:


Result:


Like Foxit, Evince also allows users to add notes as well as highlight text on their PDFs.
Tool:

Result:


3) Okular
Okular is a lightweight and cross-platform document reader developed by the people working at KDE. Okular not only has the support for PDFs but also other file formats such as Epubs, ODF, XPS, and so on. Okular has a very easy to use and user-friendly interface with everything clearly set out in an organized manner. You can easily change the layout and add or remove some elements from it. For example, in the following image, all the different sections can be seen such as the navigation panel, the toolbar, the page, and menu bar: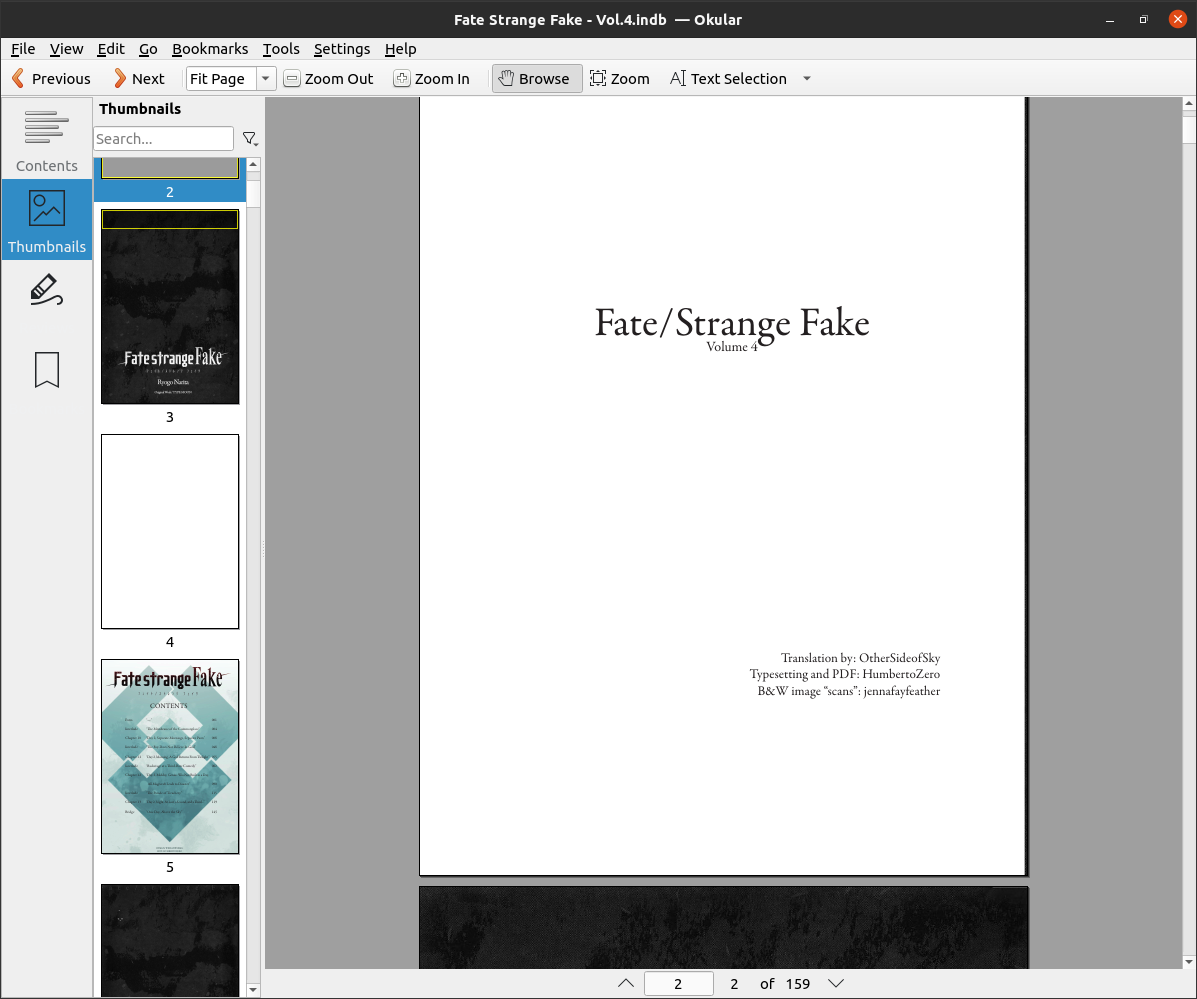 One of the best things about Okular is that it provides several tools each with different functionalities. For example, you can use the Text Selection tool to copy some text and then apply the following operations to it:



Similar to the other PDF readers, Okular also possesses an extremely detailed annotation tool which includes adding notes, highlighting, drawing polygons, and so on.
Tools:


Result:
4) Master PDF
Master PDF is the next name to come into this list, a lightweight and easy to use PDF reader. Master PDF provides users with several outstanding features, the most notables ones including the ability to create, edit, merge files as well as adding comments, signatures to files, and even offering encryption of PDF files. It also has various annotation tools with which users can add notes, highlight text, and even include shapes into their PDF files.
Tools:



Results:

Master PDF also has an editing window in which you can edit your annotations. These edits can vary from changing colors to adding types and statuses. For example, in the above image, let's say I want to change the color of my sticky Note to light green.
Window: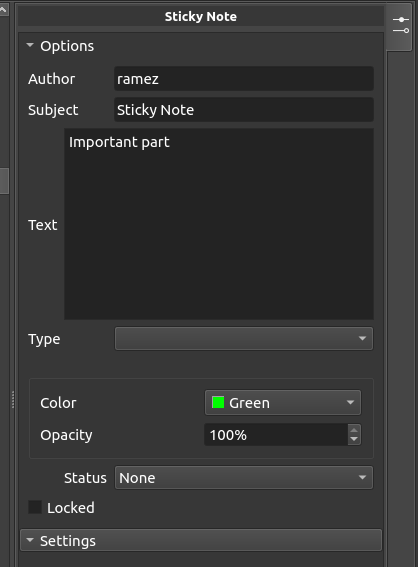 Results:

5) MuPDF
MuPDF is the last name on our list, which is a free and open-source PDF reader and is well-known for its lightweight nature and quick response. What sets MuPDF apart from other software are the command line tools that it possesses, which allow users to create PDFs from text files, move about the pages and even adjust the width and height of the screen.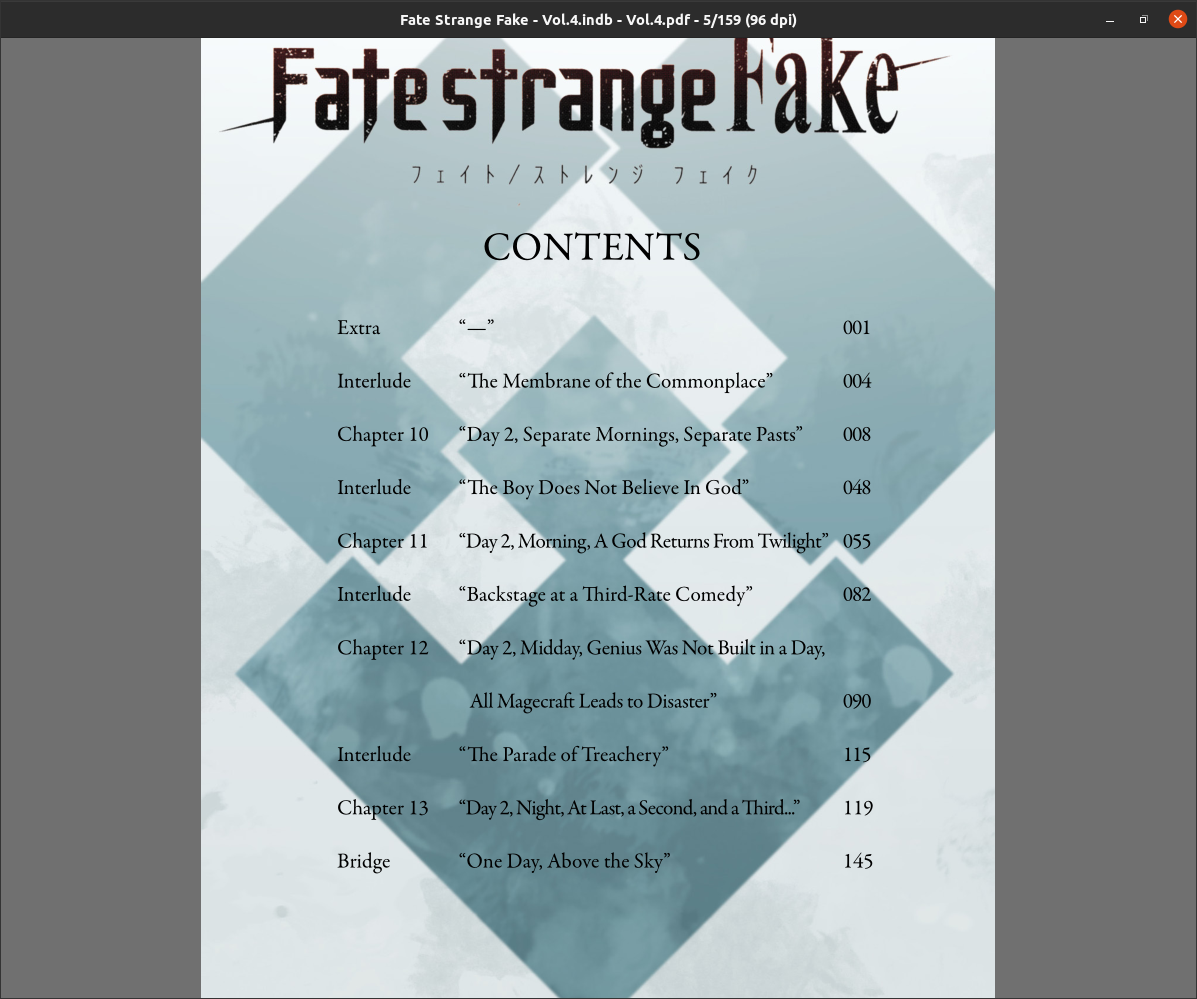 You can get the commands of MuPDF by entering the following command into the terminal: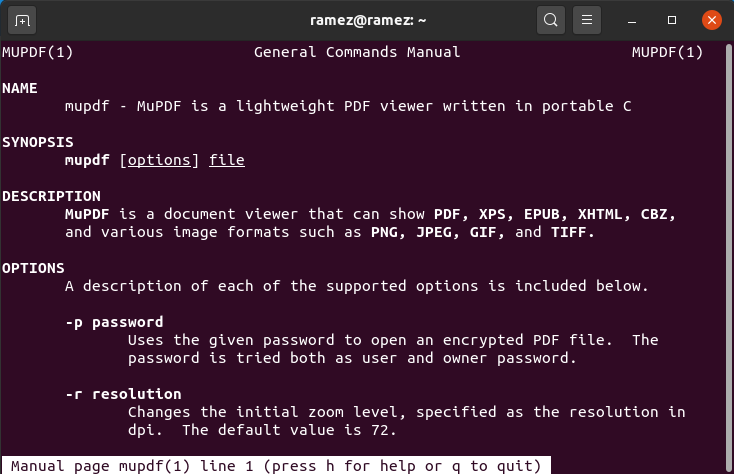 Which are the Best Alternatives to Adobe Reader on Linux?
Adobe Reader has always been one of the most popular Adobe applications. However, with Adobe Reader not available in Linux, the Linux Community had to work hard in producing PDF readers that could counter Adobe. From among the variety of choices, all the five readers mentioned above are excellent choices for reading and editing PDFs and have features that even go head to head against those provided by Adobe Reader.