GNOME is a very popular desktop environment among Linux users, and rightly so. With the addition of many useful tools, GNOME becomes an extremely powerful Desktop Environment. To enhance the GNOME experience, we have GNOME extensions. There are thousands of extensions available for GNOME, so that you can use them according to your needs. You can tweak everything on the GNOME desktop, from the appearance to the functionality, to match your needs.
Today, I will introduce you to the 25 best GNOME extensions to enhance your GNOME Desktop experience. All 25 extensions are tested on latest Ubuntu 20.04 LTS, so all these extensions should also work on older Ubuntu releases. So, let's get going!
1.Dash to Dock
Switching between applications is not that simple in GNOME, but with the help of the Dash to Dock extension, you can not only switch between apps faster but also add your favorite applications to the dock for quick access.
This dock is highly configurable, and you can put it on any side of your screen. You may also introduce custom themes and perform size adjustments.
2. Caffeine
Isn't it annoying when your Operating System goes into sleep mode? To prevent this while you are working on something, use the Caffeine extension. When you add the Caffeine extension, you will see a mug icon appear.


An empty mug means that normal rules will be applicable, i.e. go to sleep; but when the mug is full, the extension will not go into screenshot screen or sleep mode.
3. Clipboard Indicator
This is a useful extension for GNOME users that allows users to add up to 50 entries on the clipboard that can be used for future needs. This function also allows you to cache clipboard history.
4. Workspaces to Dock
This extension will allow you to transform GNOME Shell's overview workspaces into an intelligent dock. In simple words, you can thumbnail all currently running activity overviews into a small dock for quick access.
5. EasyScreenCast
This is great extension for those who need to record their screen for work. EasyScreenCast will help you record your GNOME shell screen and audio at the same time. This is a great GNOME extension for video tutorial creators on YouTube and other platforms.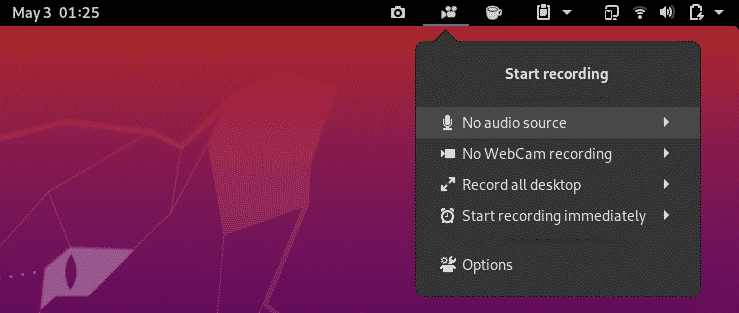 6. GSConnect
The GSConnect extension will help you connect your Android phone to the GNOME desktop so that you can access messages, perform calls, and access other data on both devices. You will need to install the KDE Connect App on your Android phone for integration. You can see how I connected my phone to the GNOME Shell in the screenshot below.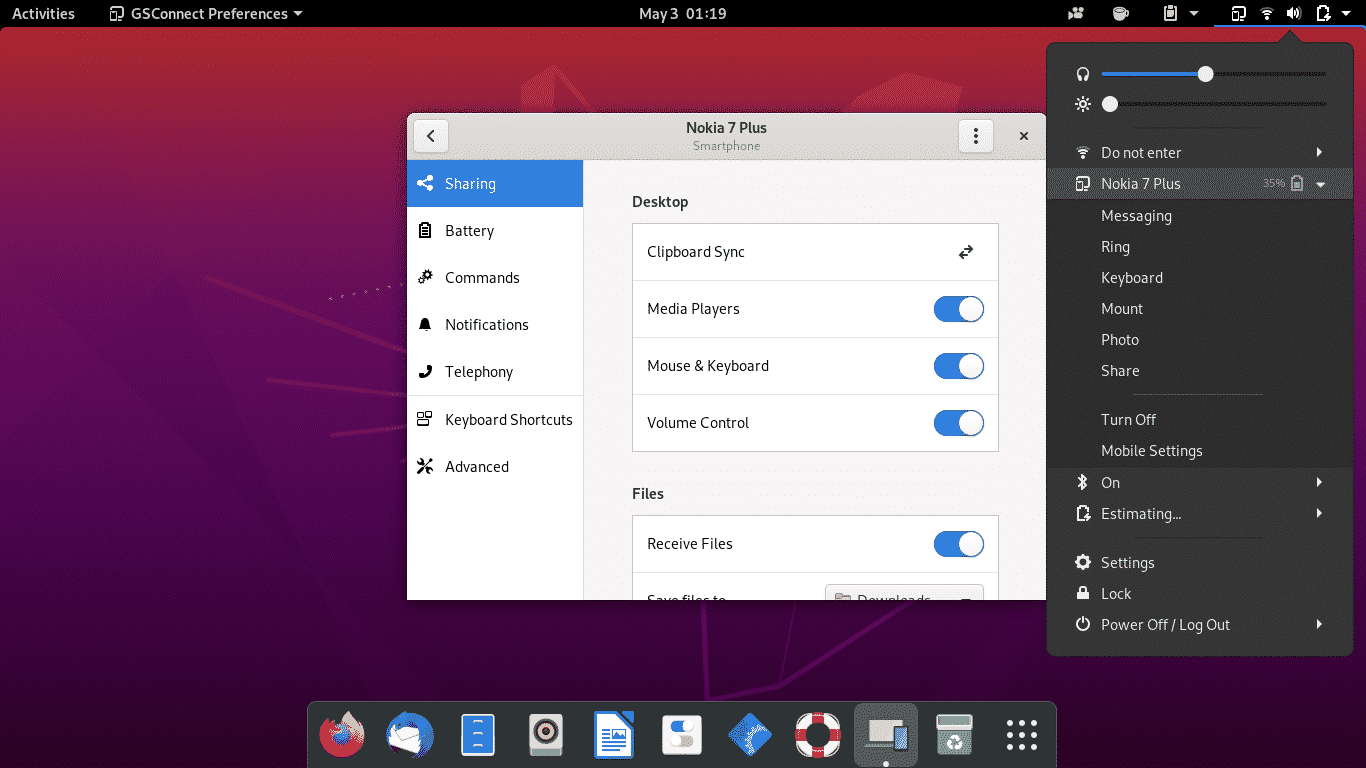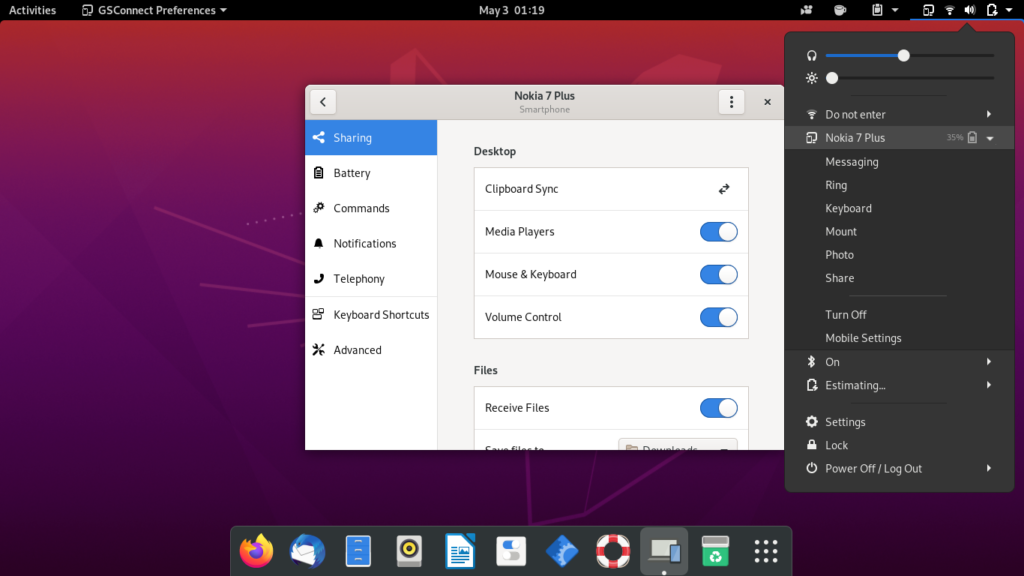 7. Screenshot Tool
Screenshot Tool extension will conveniently help you capture, copy, save, and upload a screenshot in just one click. I find this extension very useful because of the many options it offers, as you can see in the screenshot below.
8. Appfolders Management Extension
The Appfolders Management GNOME extension allows you to organize various applications in folders of your choice. Isn't that a great function to have in the GNOME shell? Once you install this tool, you just have to right-click on the app icon in the application tray and click "add to folder."
9. Apt Update Indicator
This is one of the most useful extensions you will find for GNOME shell. The Apt Update Indicator directly notifies you from the notification bar on the top if there is any Apt package update available for your installed packages.
10. Auto Move Windows
If you work on multiple virtual desktops, then the Auto Move Windows extension is going to make that experience much more convenient. Using this extension, you can set any application to automatically open on the virtual desktop that you assign to the application.
This process is very simple, and once your perform this action, the assigned application will automatically open on the designated desktop.
11. CPU Power Manager
I find this extension very useful, especially while working on a laptop. This extension gives you control over how your computer's resources are going to be used at any given time. This will improve the overall performance of the system.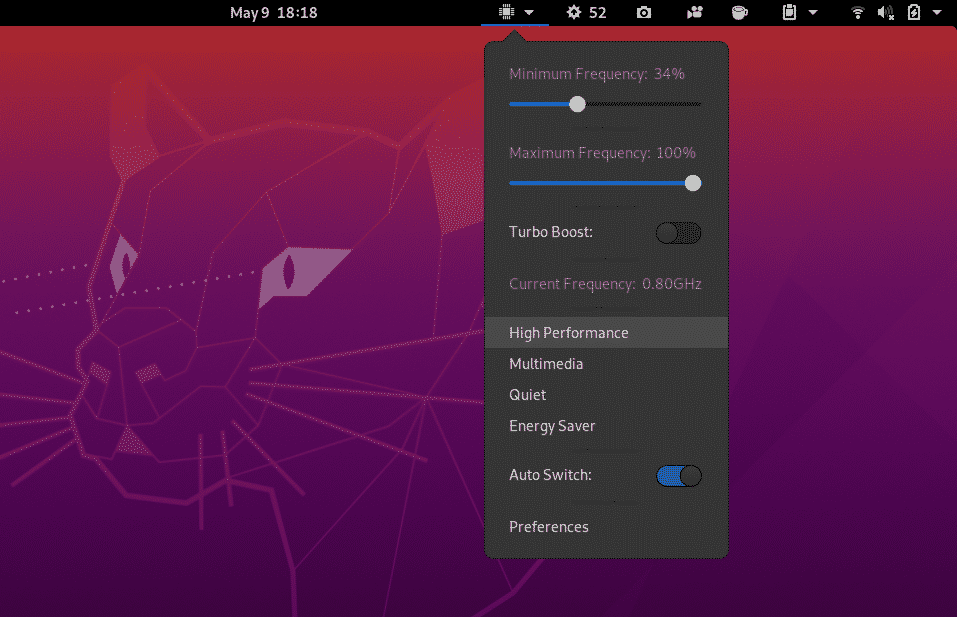 At present, this extension is only for computers having Intel CPUs on board. Due to the broad applicability, extensions like these should be made available for all machines.
12. Extensions
The Extensions extension is great GNOME Shell tool that allows you to manage all of your extensions. For example, you can enable/disable or change extension settings right from the top panel on the GNOME desktop screen.
This saves the time of having to enter GNOME Tweaks and then also going into Extensions when tweaking your extension.
 13. OpenWeather
OpenWeather is another great Shell extension that helps you keep track of all weather information at your location or any other location of your choice across the world.
As you can see in the above screenshot, it looks quite attractive, and you may make any necessary tweaks you may require.
14. Panel OSD
Panel OSD is an interesting extension that allows you to customize the location of the desktop notification. You can use this extension to set the notification to appear at your preferred location on the desktop.
15. Refresh WiFi Connections
There is no option to refresh WiFi connections on Ubuntu and other Linux distributions. However, this extension adds this much-needed option. You can now connect easily to any available WiFi network through the use of the Refresh Wifi Connections extension.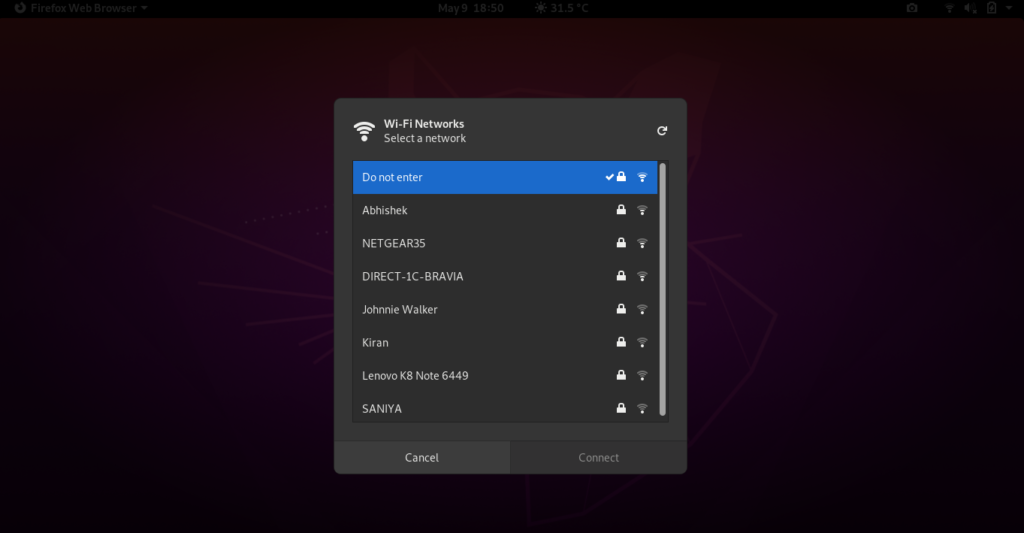 16. Drop Down Terminal
Drop Down Terminal is a must-have extension. I would recommend this extension to every GNOME user. Terminal is the kind of app everyone needs on Linux. With this extension, it is easy to access the Terminal on GNOME just by using the drop-down menu or by using a keyboard shortcut. The keyboard shortcut to Open or Close Drop Down Terminal is the key just above the Tab key on the keyboard; i.e., the ~ Key.
 17. Activities Configurator
Activities Configurator is another cool GNOME Shell extension. This extension allows you to customize the activities button, as well as the panel appearance. You can tweak and add many features to enhance your desktop functionality. You can also change the background color and adjust the transparency.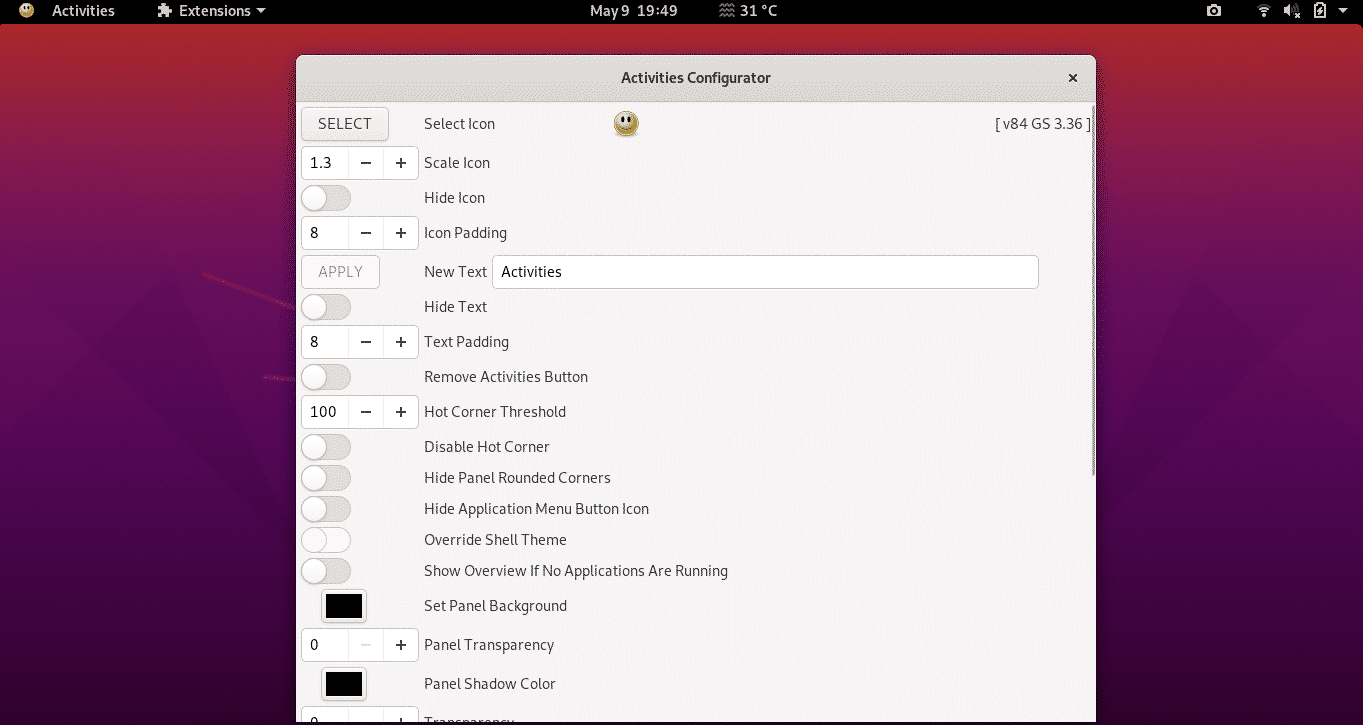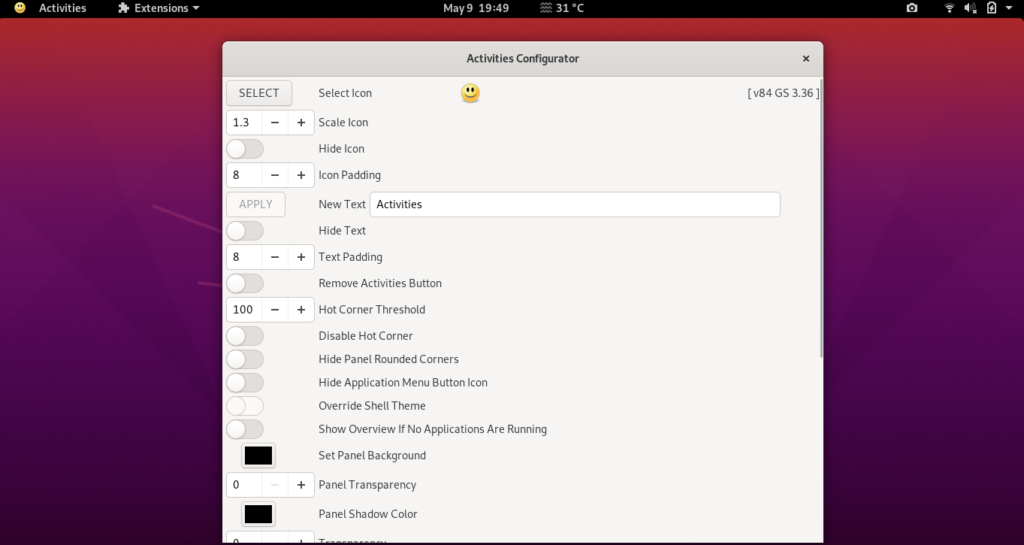 18. TopIcons Plus
On GNOME desktop, it is not that easy to use certain apps, such as Telegram, Drop Box or Skype, which heavily rely on the system tray. This is because the app tray is normally hidden. The TopIcons Plus extension puts GNOME system icons back where they should be. You can also customize the size, style and position of the icons in the extension settings.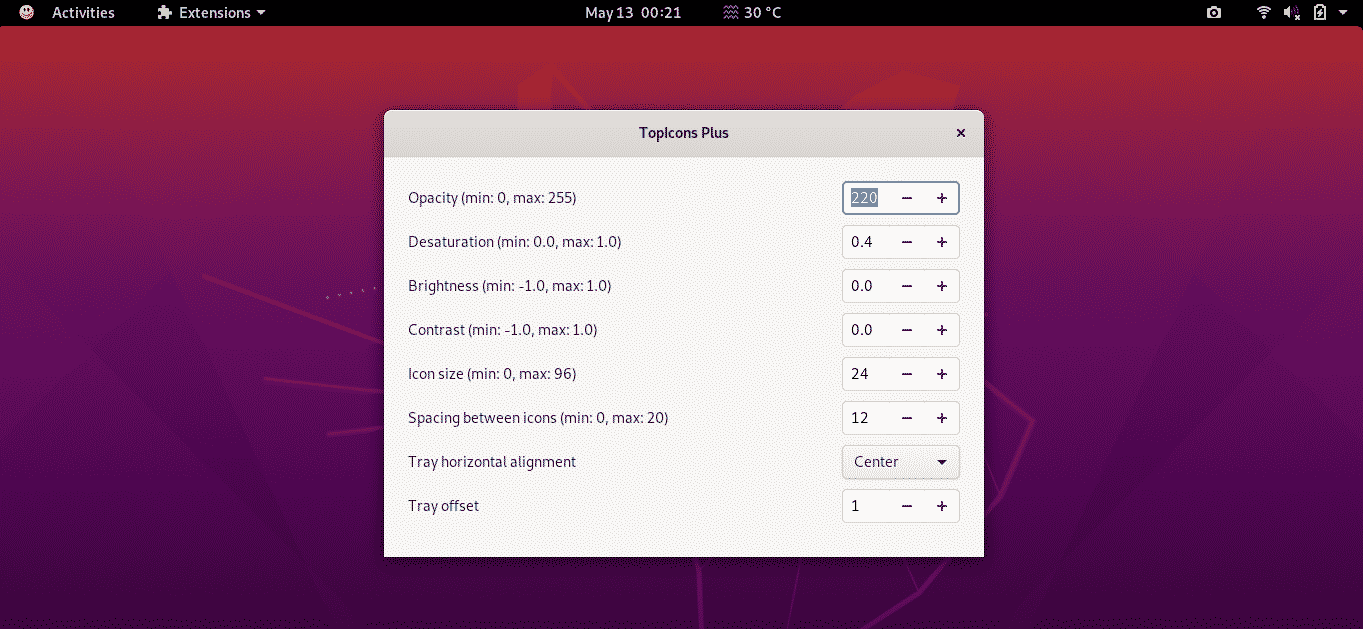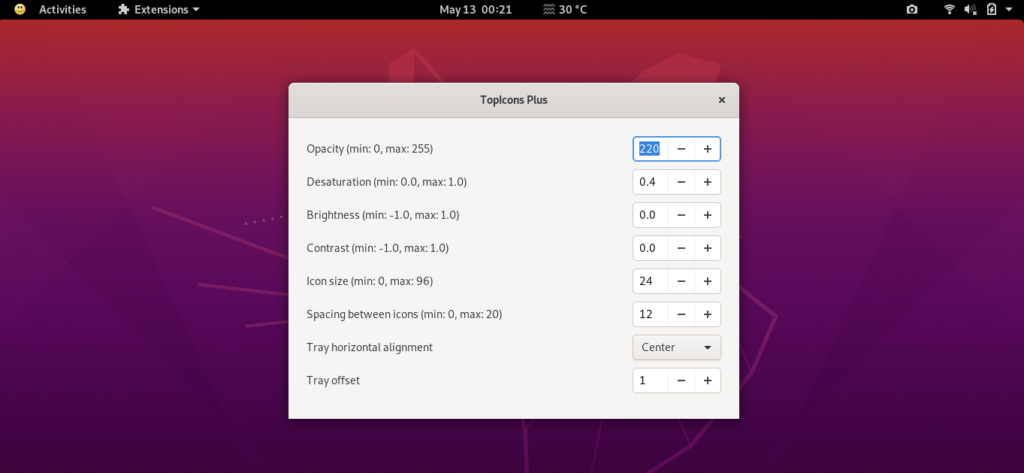 19. Applications Menu
The Appications Menu adds the traditional Start Menu to the GNOME desktop. This menue features some of the most used apps. The Applications Menu extension is quite useful, as you can launch favorites directly, but there is some limitation in that this extension cannot be customized.
20. Section Todo List
Selection Todo List is a simple, yet quite useful, extension for GNOME users. You can simply add your to-do entries and even sub-entries in this drop-down extension. This extension doesn't have as many features as you would expect, but still, I find it quite useful.
21. Internet Radio
If you love listening to music or radio while working, then Internet Radio is the must-have extension for you. This extension allows you to listen to many internet radio streams at one place. There are buttons to play/stop, title notifications, and volume adjustment, which make this extension very easy to use.
22. You2ber
You2ber is a GNOME Shell extension for the popular YouTube downloader youtube-dl. This extension will help you download any video and audio media content from YouTube. You2ber also offers some customizable options before download, like video quality, audio quality, destination to save audio/video file, and a subtitles download option.

23. NetSpeed
NetSpeed is simple extension that shows the internet speed in a drop-down from the top bar on GNOME desktop. As shown below, both download and upload speed are displayed in this extension. If you right-click right the mouse, the extension will display the sum of the download and upload speeds.
24. Time ++
Time ++ is a great extension that offers many different functions under one roof. This extension features an alarm clock, stopwatch, time tracker, pomodoro, and todo.txt manager.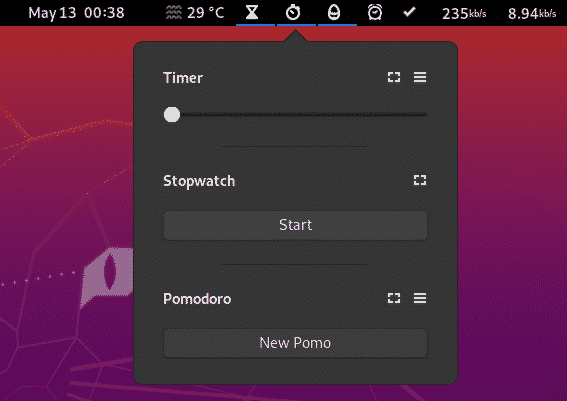 Time ++ is one of the most useful timekeeping extensions for GNOME users.
25. Desktop Icons
There are no desktop icons available on GNOME by default, and this extension overcomes that limitation. By using this extension, you will feel at home with a display of icons on the display, particularly if you are a Windows user.

These are the 25 best GNOME shell extensions to improve your overall GNOME desktop working experience and productivity. If you use any helpful extensions other than those listed here, feel free to share your experience with us at @LinuxHint and @SwapTirthakar.