Ubuntu, the most popular and user-friendly Linux distribution, is implemented for PCs, network servers, and smartphones. Although Ubuntu is a free Linux distro, Ubuntu's fundamental use lies under open-source software development principles.
This guide will briefly discuss the new release of the Ubuntu system i-e, Ubuntu 21.04. You will get more information about the advanced features and modifications that have been made in this latest version.
Many native applications got new updates with this release, and some of them are installed by default.
Before starting with the discussion of releasing date, let's discuss the history of the Ubuntu operating system first.
History:
Ubuntu is one of the well-liked Linux Distributions and is built upon Debian-based architecture. The source code used to develop Ubuntu came from another distribution known as Debian. The word "Debian" is derived from the names of two developers named Debra and Ian. Debian is a commonly used operating system; still, it is not recommended because of unusual updates, installation, and maintenance issues.
After that, a South African mogul "Mark Shuttleworth" decided to build a user-friendly Linux system with the help of Debian distribution; he developed a Linux distribution and named it Ubuntu. Then he built a company, "Canonical Ltd" to give support and promote Ubuntu operating system.
The word Ubuntu comes from an ancient word that means "humanity to others".
The first version of the Ubuntu system, Ubuntu 4.10, was released by Canonical Ltd on October 20th, 2004.
A default installation of Ubuntu includes several built-in applications, games; more applications are accessible from the Ubuntu Software Centre and APT package management tool. The packages that cannot be installed by default can also be downloaded from the Apt-package management tool and other package management systems such as snap packages and flatpaks.
Canonical publishes a new release of Ubuntu after every six months, one is in April, and one is in October. Every two years later, one of these releases is entitled Long-Term Support (LTS), which lasts for five years. At every release, the latest version comes with more advanced and enhanced features than the previous version.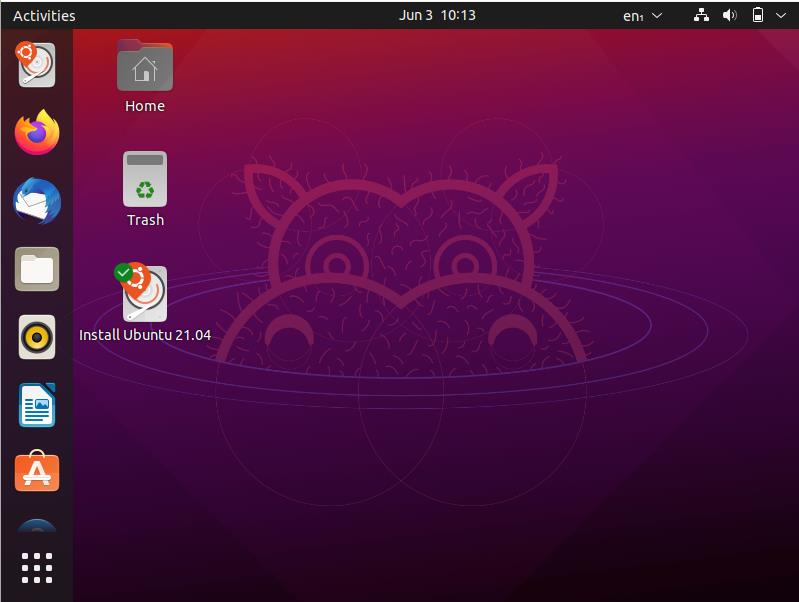 Ubuntu 21.04 Release Date:
The new release of the Ubuntu system is Ubuntu 21.04, published on 22nd April 2021, with many surprises. The Ubuntu developers have labeled Ubuntu 21.04 as Hirsute Hippo. The changes of this new release are more accessible and adaptable than the previous versions.
Ubuntu 21.04 is not a Long-Term Support (LTS) release; If the user doesn't want to upgrade regularly or adopt new features, they can stay with Ubuntu 20.04, which is the currents LTS release.
Before finding out the features, Ubuntu 21.04 has; let's discuss first what you won't get in this release:
Ubuntu 21.04 without GNOME 40 and GTK-4:
Ubuntu 21.04 doesn't have Gnome 40; as we know, every Ubuntu release comes with the latest Gnome features like when Ubuntu 20.04 was released, it adopted the characteristics of Gnome 3.38. But this time, it doesn't stick to the trend as Ubuntu 21.04 will continue with Gnome 3.38. You may think why it happened; for this, visit the detailed article in which we have mentioned the possible reasons Ubuntu 21.04 without Gnome 40.
Secondly, Ubuntu 21.04 doesn't have GTK-4; the new release still sticks to the GTK-3 features and continues to adopt the Yaru GTK theme. No doubt, GTK4 has many exciting and adaptive elements that app developers may take advantage of. You might surprise that many apps are still not using GTK-4 fully.
Ubuntu 21.04 Features:
Here are the top features Ubuntu 21.04 has released with:
Linux Kernel 5.11:
The new release of the Ubuntu 21.04 operating system has Linux Kernel 5.11 by default which comes with improved features with advanced hardware support.
The Linux Kernel 5.11 has enhanced support for AMD Zen1/Zen2/Zen3 processors, embedded with Powercap RAPL (Runtime Average Power Limiting).
Several drivers are supported by this kernel, such as AMD SFH Driver (this includes a gyroscope and other sensors), AMD SoC PMC (it helps to control power management). "Keep in mind these drivers are supported on
AMD-based Ryzen series."
This version of Linux Kernel also supports PMT (Intel Platform Monitoring Technology), which helps record and manage the device telemetry information; it is also helpful for large-scale organizations with a large set of devices.
Gnome 3.38 Desktop:
Due to some changes in features and design, the Ubuntu developers decided to go with the Gnome 3.38 desktop in Ubuntu 21.04 instead of Gnome 40. By default, the Gnome shell interface displays a dark theme on Ubuntu 21.04; however, it supports a light GTK theme and dark header bars with the different applications and software tools.
Multiple user-friendly features are encapsulated in Gnome 3.38, such as:
Customized interface
Better browsing experience
It can hold up to monitor refresh rates in Wayland
The terminal is improved with different amazing text colors
A new restart option in the system menu
In the Settings, users section has a new Parental Control option that helps to manage applications, and also there's a new feature of the fingerprint reader
QR code with Wi-Fi hotspot that helps you to connect your system internet connection with mobile devices
Redesigned the sound recorder application
Several built-in utilities like a screenshot, maps, world clock, and icons such as calculator and Cheese
Wayland by default:
In the new release of Ubuntu 21.04, Canonical uses Wayland as a display server by default with better security and performance. But allows the users to switch to Xorg if they face any issue in Wayland.
Updated Native Applications:
Gnome environment has almost 30 free and open-source native applications. The latest updates of these packages are available in Ubuntu 21.04; as we know, the 21.04 version features the Gnome 3.38 instead of Gnome 40, but the native applications got updated versions i-e 3.38 and 40.
Here, we are mentioning the names of few applications to show you their latest versions:
Gnome Calculator version in Ubuntu 20.04 is 3.36.0, and its updated version in Ubuntu 21.04 is 3.38.2.
Gnome-disk-utility version in 20.04 release is 3.36.3, and in 21.04, it is 40.0.
Gnome document scanner version in 20.04 is 3.36.0, and in new release 21.04, it is updated as 3.38.2
Similarly, multiple native software is updated to the latest version in Ubuntu 21.04 like:
Firefox version is updated to 87
LibreOffice 7.1 is updated in the new release
Archive Manager is updated to 3.38.2
And some of the server packages are:
Samba has been upgraded to 4.13.3
Open vSwitch has been updated to 2.15
SSSD is updated to 2.40
Virt-manager latest version is 3.2.0
Docker.io has updated to 20.10.2
Chrony updated version is 4.0 in a news release
Other packages name and their respective versions are Libvert v7.0, Strongswan v5.9.1, Postgresql v13.2, Net SNMP v5.9, and many more you will get with Ubuntu 21.04.
One of the notable modifications of Ubuntu 21.04 is, it removes the Nginx lua module because libnginix-mod-http-lua 0.10.11 is not compatible with NGINX 1.18/1.17. So this new release decided not to go with Nginx directly.
Another interesting improvement is the pre-installed needrestart package in the system, that's will check which package needs to restart after the library has updated.
Some of the other pre-installed applications like PHP, Ruby, Perl have got new updates, and Python 3.9 has been installed in the system by default.
Home Directory Security:
In Ubuntu 20.04, the home directory access permission is set to 755. That means anyone from outside the group can also have access to read the files in the home directory.
The latest release of Ubuntu 21.04 has changed the permission access of the Home directory. The new permission is set to 750, which means the home directory is not readable for public users.
Security Updates:
Security is one of the crucial features while using any operating system. In Linux, distributions are developed according to the user's preferences and make the system easy to use.
In 21.04, developers manipulate the nftables as default backend firewall. The nftables are the Linux kernel subsystem used for the filtration and grouping of network packets.
Visual Tweaks:
Many exciting changes have been made in the 21.04, like a collection of new wallpapers are added. Also, the orange highlighter in the sidebar of the Nautilus file browser has changed to a grey-tinted color that looks more attractive.
Some of the design patterns are the same: purple-based design wallpaper, the selected icon still picked by orange color, and the default theme is "Yaru."
However, the Yaru theme is set dark by default, but not entirely; the dark theme is applied to some selective elements i-e, calendar, system menu, etc.
The icons theme has also changed in some applications; for example, in LibreOffice, color contrast is adjusted as fewer colors.
Files on the desktop:
Some users wished to place files or folders on the desktop, but Gnome 3.28 removed this feature. After the demand of the users, they changed their decision this time, the Gnome Extension "Desktop Icons NG (DING)" is installed in the 21.04 release, people can use desktop just as they want to.
Conclusion:
Ubuntu is the widely used operating system derived from the source code of Debian distribution. It was an initiative by the South African entrepreneur named "Mark Shuttleworth," who later set up a tech company known as Canonical Ltd, which is now promoting managing the entire Ubuntu version.
After every six months, Canonical publishes a new release of Ubuntu, one is in April, and one is in October. Every two years later, one of these releases is entitled Long-Term Support (LTS) and lasts for five years.
Ubuntu 21.04 is not an LTS release, but it comes with new features that are more advanced and enhanced than the previous release.
In this tutorial, we have briefly seen the history of Ubuntu, its features, and what modifications have been made in the latest release.