Disk Station Manager,
or
DSM
in short, is the operating system for the Synology NAS devices. Synology released DSM 7 recently – the latest version of the DSM operating system for Synology NAS devices.
You can upgrade the DSM operating system software of your Synology NAS if you're running DSM 6.2 or later and your NAS has more than 1 GB of RAM/memory installed.
Let's see what's new in Synology DSM 7 operating system.
Table of Contents
New User Interface
The most visible change of DSM 7 is the new user interface. DSM 7 also improved the usability and responsiveness of the user interface.
The DSM 6.2.4 user interface.
The DSM 7 user interface.
DSM 7 also comes with a new login screen.
DSM 7 revamped the Control Panel app as well.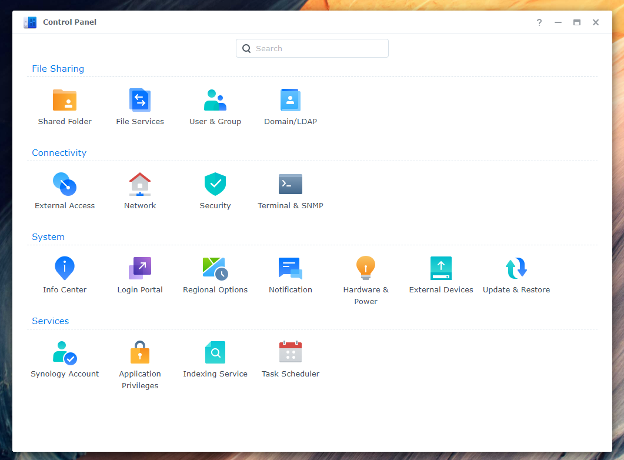 Related functionalities are reorganized together to enhance the usuability of the Control Panel app.
A new tab, Synology Account, is added in the Services All the features provided through Synology Account can be configured from here.
Consolidated Domain/LDAP.
Consolidated QuickConnect settings into the External Access.
Consolidated User and Group
Consolidated Theme and Application Portal settings into Login Portal.
Consolidated Network > DSM Settings into Login Portal > Web Services.
Consolidated email notification settings into Notification > Email
Moved Shared Folder Sync into the File Services
Consolidated WS-Discovery into File Services > SMB.
Relocated the SMB Server Signing option to File Services > SMB > Advanced Settings.
Moved the Enforce 2-factor authentication option into the Security
EZ-Internet is merged with Control Panel > External Access > Router Configuration.
You will see many other UI (user interface) changes here and there in DSM 7. For more information, visit Release Notes for DSM | Synology Inc.
Brand-new Storage Manager
DSM 7 comes with a new Storage Manager app.
Improvements of the Storage Manager app:
Easier management of storage pools, volumes, and SSD caches.
Shows visualized relationship between storage pools, volumes, and SSD caches.
Added visuals of Synology NAS models and the connected drive slots, expansion units, and built-in M.2 slots.
Enhanced setup process of Hot Spare drives.
Allows automatic replacement of Critical or Failing drives with Hot Spare.
Enhanced access performance of RAID 6.
Allows upgrading of Synology drive firmware.
Added Auto Repair feature for automatically running a RAID repair operation.
Allows removing SSD caches without service interruption.
Added SSD Cache Advisor to monitor cache I/O access.
Allows storing all Btrfs metadata to SSD cache for speeding up file access and search.
Allows activating automatic protection on SSD read-write cache with multi-drive fault tolerance.
Added quick write-back mechanism that delivers about 30% faster synchronization from SSD caches to HDDs when automatic protection is activated.
For more information, visit Release Notes for DSM | Synology Inc.
Active Insight
Active Insight is a web-based real-time monitoring tool for your Synology NAS devices. If you have a home or office with multiple Synology NAS running, you can use Active Insight to monitor them all from a single place from anywhere around the world.
Active Insight offers:
Centralized monitoring of Synology NAS devices
Notifications and alerting when anomalies (i.e., drive failure, power outage, network error) are detected to minimize downtime.
Highly customizable performance metrics and dashboard.
Automatic attachment of system logs while submitting a support ticket for technical resolution from the Synology support team.
For more information, visit Synology Active Insight | Synology Inc.
Improved Resource Monitor
Some visual and usability changes are made to the Resource Monitor app in DSM 7.
Changes of the Resource Monitor app in DSM 7:
Revamped the display of the performance metrics.
Separated larger and unrelated processes to enhance monitoring transparency of system services.
Shows currently accessed files and the users accessing the files to better handle locked files.
Resource Monitor app in DSM 7.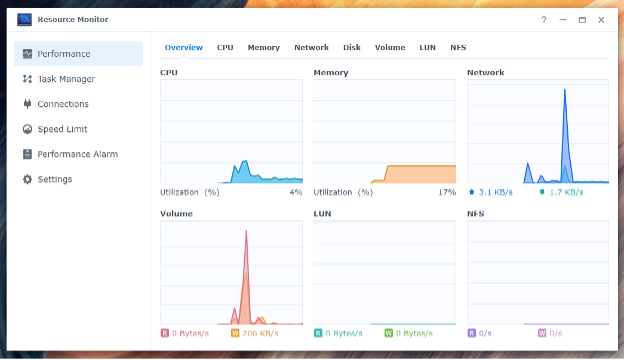 Changes in File System/File Services
The changes to the File System/File Service in DSM 7:
Allows enabling/disabling file compression for shared folders.
Enhanced file compression ratio.
Displays the current file compression ratio for each shared folder.
Added support for cross-protocol locking between SMB and AFP.
Supports accessing encrypted shared folders via NFS.
Improved Btrfs performance and lowered I/O latency.
Allows users to enable/disable SMB transfer logs on permission changes for providing flexible transfer logs.
Enhanced encryption performance by up to 10% (depends on your NAS models).
Users can search for files and their content in indexed folders from Windows File Explorer.
Changes in User Management
The changes to user management in DSM 7:
Changed password policy for improved security. The minimum password length must be 8 characters. The password must include upper-case letters, lower-case letters, and numerical digits. You must not include the username or user description as part of the password.
Allows assignment of specific administrator roles to normal users so that they can perform the assigned administrative actions.
Allows enforcing imported users to change their passwords after their initial DSM logins.
Allows assigning users' accounts to specific groups in the import list.
Changes in Domain/LDAP Integration
The changes to Domain/LDAP Intergration in DSM 7:
Use caches to reduce the number of authentication queries sent to the LDAP server for enhancing LDAP client authentication performance.
UPN login is supported on Synology Assistant, Hyper Backup, Synology Mail Server, Synology Calendar, and Shared Folder Sync
Domain database only syncs changed data. This reduces domain database synchronization time.
Security Improvements
The security improvements in DSM 7:
Allows blocking the USB and console ports of Synology NAS.
Enhanced QuickConnect connection processes for better security.
Provides only TLS 1.3 support for the Modern Compatibility option for TLS/SSL Profile Level.
2-factor authentication can be set as mandatory for specific users or groups.
Changes to Packages
The package changes of DSM 7 are:
Synology Moments and Photo Station are merged into a single package Synology Photos.
Cloud Station Server and Cloud Station ShareSync are merged into Synology Drive Server.
MariaDB 5 package is deprecated. You will have to use MariaDB 10 on DSM 7.
iSCSI Manager will be renamed to SAN Manager on DSM 7.
The following packages are no longer supported on DSM 7:

Cloud Station Server (replaced by Synology Drive Server)
Cloud Station ShareSync (replaced by Synology Drive Server)
Discourse
DokuWiki
Drupal
Drupal8
DVBLink
GitLab
GLPI
Hasplm
Java7
Java8
LimeSurvey
Logitech® Media Server
LXQt, Magento
Magento2
MantisBT
Moments (replaced by Synology Photos)
Mono, Moodle
js 0.10
js 0.12
js v4
js v6
js v8
Odoo 8
OpenERP 6.1
OpenERP 7.0
OrangeHRM
Orthanc
osCommerce
osTicket
PHP PEAR
Photo Station (replaced by Synology Photos)
phpBB
Piwik
Podcast Generator
PrestaShop
7
PythonModule
Redmine
Ruby
Spree
SugarCRM
SVN
Synology File Manager
Tomcat6
Tomcat7
TVMosaic
Webalizer
Removed Features of DSM 7
DSM 7 removed some features from DSM 6 as well.
USB devices such as Wi-Fi dongle, Bluetooth dongle, 3G/4G dongle, USB DAC/speaker, and DTV dongle are no longer supported in DSM 7.
EXT3 filesystem will no longer be supported in DSM 7.
Disables NTLMv1 and enables NTLMv2 by default. So, older Windows devices (i.e., Windows XP) won't be able to access the shared folders via SMB by default. You will have to enable NTLMv1 from Control Panel > File Services > SMB > Advanced Settings > Others and Enable NTLMv1 authentication to allow older Windows devices access to the shared folders via SMB.
1 and related advanced functions such as multipathing are no longer supported on Synology NAS models having the following CPU architectures:

Alpine
Alpine4k
armada38x
Avoton
Braswell
Bromolow
Cedarview
Grantley
Monaco

If you have enabled NFSv4.1 on DSM 6, then it will be set to NFSv4.0 automatically after the upgrade.
SSD caches on block-level LUNs are no longer supported.
NT4 domains are no longer supported.
Python3 package is preinstalled on DSM 7. So, it will be unavailable in the Package Center
The following DDNS provides are removed in DSM 7:

CloudNS
DNO-O-Matic
DNSEXIT
Dynamic DO!.jp
com
RU-CENTER
de
Variomedia
com
FLV to MPEG-4 Part 2 video conversion formats are no longer supported on the following Synology NAS models:

DS120j
DS119j
DS216se
DS215j
DS115
DS115j
RS814
RS214
DS414
DS414slim
DS414j
DS214+
DS214
DS214se
DS114
DS213j
Upgrading to DSM 7
If you need any assistance upgrading DSM 6 to DSM 7 on your Synology NAS, you may read the article @link(How to Upgrade Synology NAS from DSM 6 to DSM 7).
Conclusion
In this article, I have discussed the new features of the Synology Disk Station Manager (DSM) 7 operating system. This article should help you decide whether you want to upgrade to DSM 7 or not.
References