Microsoft Teams is an online collaboration tool that allows you to work with people online from all around the world. Video and audio calls can be made, as well as sharing documents and images.  You can use this application for group meetings and can also connect with more than one person at the same time to enhance productivity. Also, this application is very secure and reliable as it comes with a two-level data security function which is also encrypted so that no unauthorized person can access your account. Moreover, your data can also be moved to the cloud that includes all your chats and documents for privacy purposes.
Microsoft Teams is especially effective for remote collaboration since it connects and communicates with scattered teams of workers. The COVID-19 outbreak prompted enterprises across the world to make considerable use of Microsoft Teams. This write-up is focussing on how to install Microsoft Teams on the latest version of Linux Mint.
Installing Microsoft Teams on Linux Mint using a Software Manager
You can install Microsoft teams by opening a software manager and then find this application on a search by writing its name as shown below.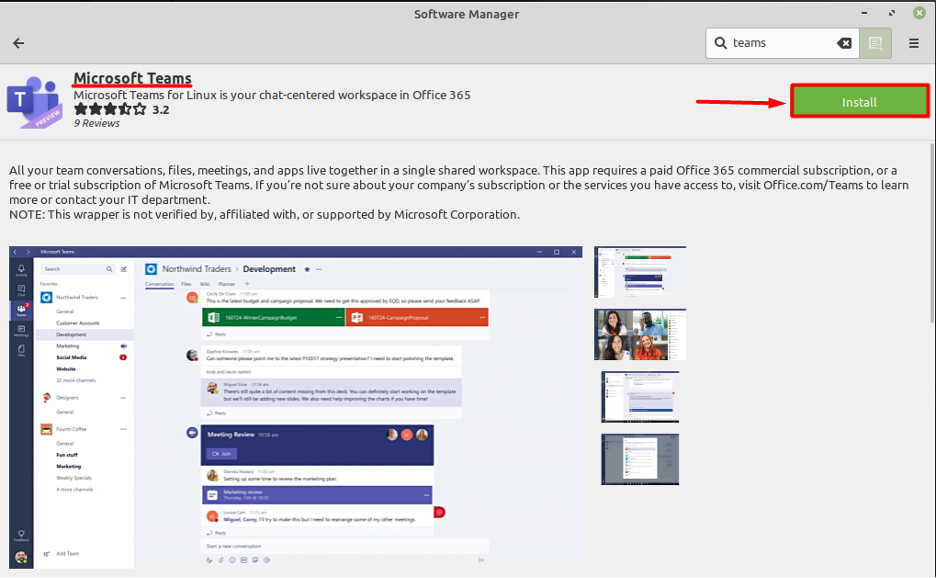 After finding this application, the next step is to install it by clicking on the install button that you can find on the right side of the application. You can verify if the application is installed or not by finding this application again from the software manager and then looking for the green tick beside it as displayed below.
Installing Microsoft Teams on Linux Mint using a deb Package
In this method, you need to visit the Microsoft Teams official website from where you need to download the deb package for Linux as shown below.
Clicking on it will display a new dialogue box where you need to select the "Save as" option. This will download the setup of Microsoft Teams in .deb format as shown below.
Now you need to select the option of "Open With GDebi Package Installer" by right-clicking on it. This will open a new dialogue box where you will see the option to install this application, you need to click on it and that will start the installation process.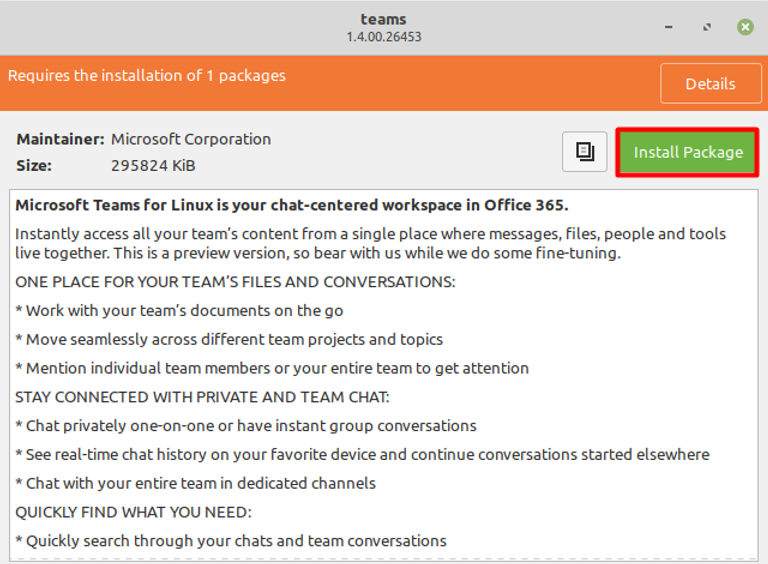 Installing Microsoft Teams on Linux Mint using  Terminal
You can also install Microsoft teams by using a terminal, for that you need to open a terminal and type.
$ wget https://packages.microsoft.com/repos/ms-teams/pool/main/t/teams/teams_1.4.00.26453_amd64.deb
This will download the setup of Microsoft teams and later you need to type the following in the terminal to install:
$ sudo apt install ./teams_1.4.00.26453_amd64.deb
Keep in mind that you must first access the folder containing the downloaded file, otherwise, you will receive an error. Because your Microsoft Teams installation was downloaded to the "Downloads" folder, we first entered that location before running the code shown above.
Later you can open this application by either using the software manager or by opening a terminal and writing.
How to uninstall Microsoft teams from Linux Mint
If you are planning to uninstall Microsoft teams then you can do that from a software manager or by using a terminal as shown below.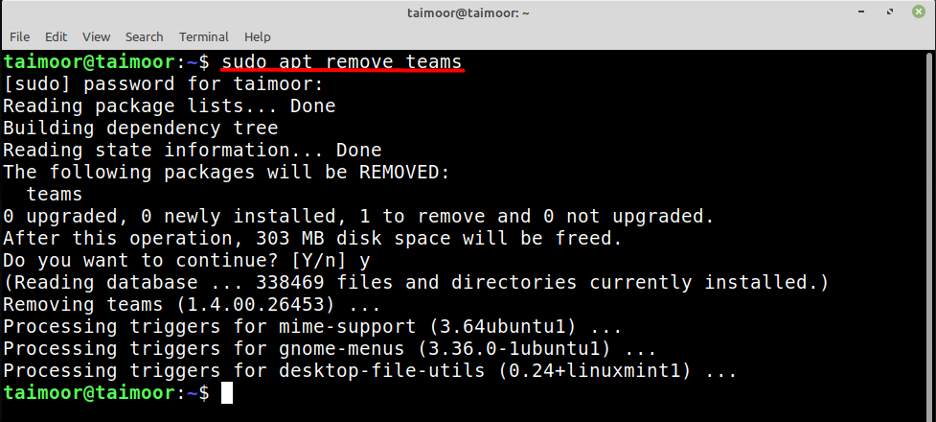 Conclusion
Microsoft teams are one of the best applications when it comes to online meetings and collaboration with a group of people or individuals. The reason is that the audio and video quality is excellent. Also, you can share any kind of file with others. It comes with two-level security and data encryption and all your data such as chats, and documents can be moved to the cloud for safety purposes. Its graphical user interface is very intuitive and user-friendly as well. So if you are looking for such an application in Linux Mint then you should definitely consider this.