Foxit PDF Reader is a software application that enables users to view, edit, and annotate Portable Document Format (PDF) files. It is available for multiple operating systems, and can be downloaded and installed on a computer or used as a web-based application. If you are looking for a free PDF viewer that is the best alternative to Adobe on Linux Mint 21 then try this PDF viewer and for its complete installation guide read this article.
Installing Foxit PDF Reader on Linux Mint 21
Foxit PDF Reader is a popular alternative to Adobe Acrobat, the industry standard for viewing and editing PDFs, and is known for its fast-loading times, intuitive interface, and wide range of features and tools. To install it successfully on Linux Mint one need to have download its zip file, here are some steps that one should perform to get this PDF viewer on Linux Mint 21:
Step 1: Go to the download section of Foxit official website and form there click on Free Download and afterwards select the Linux operating system and click on Free Download:
Step 2: Next move to the directory where the file is present and then extract it by executing:
$
tar
xzvf FoxitReader.enu.setup.2.4.5.0727.x64.run.tar.gz
Next to make the application ready to launch you must make it executable and for that use:
$
chmod
+x .
/
'FoxitReader.enu.setup.2.4.5.0727(rb70e8df).x64.run'
Step 3: Now execute to the below given command to initiate the installation setup for Foxit PDF Reader:
$
.
/
'FoxitReader.enu.setup.2.4.5.0727(rb70e8df).x64.run'
Afterwards select the directory for the application and click on Next to proceed further:
Now agree to the terms and conditions and after the installation is carried out successfully then run this application form its desktop shortcut:
Now you can view all your PDF files for free by just selecting them from the file menu as in the image below:
How to Make Foxit PDF Reader as Default in Linux Mint 21
If you want to set Foxit PDF Reader as default, just go to the properties or any PDF file, from there under the Open With tab select the Foxit reader and then click on the Set as Default option, once you are done click on Close:
How to Remove Foxit PDF Reader from Linux Mint 21
The process of removal of this application is quite easy just go to its respective directory:
$
cd
~
/
opt
/
foxitsoftware
/
foxitreader
/
And then execute the below given command to install the uninstallation process: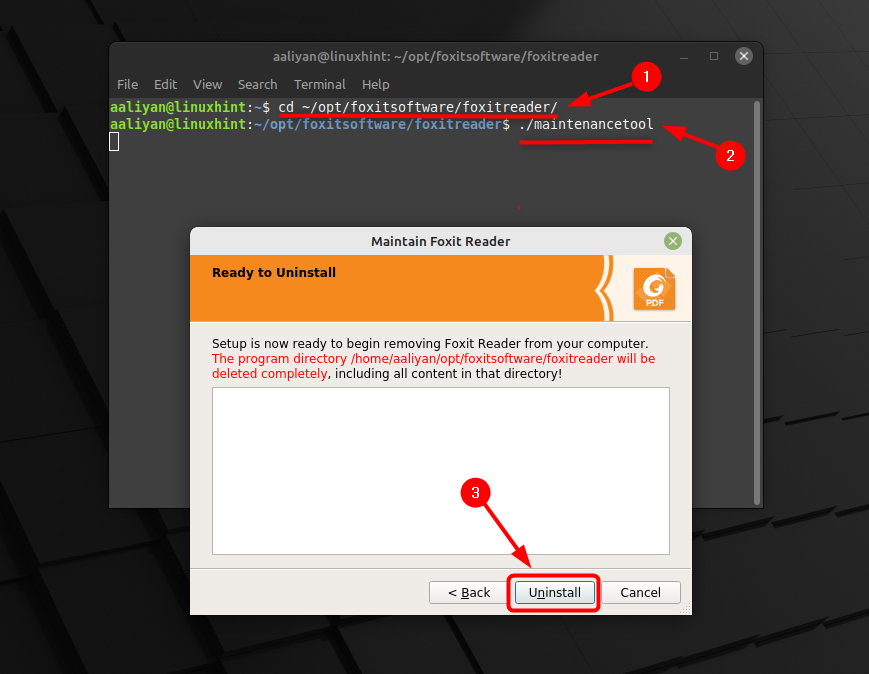 Conclusion
Through Foxit PDF Reader, users can open and view PDF documents, add comments and highlights, fill out forms, and create PDFs from other types of documents. It also includes advanced features such as support for digital signatures, redaction tools, and the ability to compare two PDFs. It can be installed on Linux Mint 21 by downloading its zip file from its official website and then can run it by making it executable.