If you have fonts and you want to install those fonts on your Linux machine (Ubuntu 17.04 and below), then the following steps below will help you accomplish that. These font could be either Microsoft fonts or Google web fonts or any order font that is of interest to you.
Before we begin, we need to validate which font types are supported by Linux. Font rendering in most applications is done by FreeType 2.
This means that the following font types should work on any of the Linux distros:
TrueType
OpenType (with TrueType or PostScript CFF glyphs)
PostScript Type 1, Type2 (aka CFF) & Type 9 (CID-keyed Type 1)
a whole bunch of legacy bitmap font formats
The two most widely installed font types are both OTF (OpenType Format) and TTF (TrueType Format). OTF is a more recent format than TTF, and its more better since it has supports for more advanced typesetting features (smallcaps, alternates, ligatures and so on actually inside the font rather than in fiddly separate expert set fonts).
How To Install Microsoft font or a Google Web font on Ubuntu 17.04, Ubuntu 16.10, Ubuntu 16.04, Ubuntu 15.10, Ubuntu 15.04, Ubuntu 14.10, Ubuntu 14.04
Note: I will be installing Oswald Google Web font for this tutorial. What you need is to ensure you have downloaded the font's .ttf file.
Download and unzip the font content
Install the Font for all users
sudo mkdir -p /usr/share/fonts/truetype/oswald

sudo mv ~/Downloads/Oswald/*.ttf /usr/share/fonts/truetype/oswald/
Run command to update font cache
sudo fc-cache -f -v
To use the new font, you need to install Unity Tweak Tool or simply run the following commands below to install it from repository
sudo apt-get update

sudo apt-get install unity-tweak-tool

unity-tweak-tool
When Unity Tweak Tool opens > Click on Fonts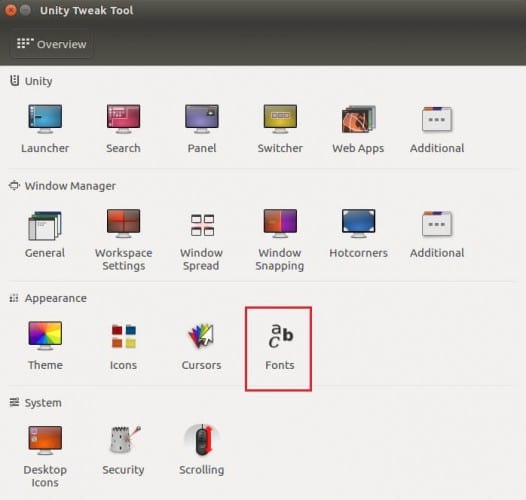 Click the font option you want to change and search for the newly installed font
After choosing the desired font, the menu fonts should auto change to Oswald