Clonezilla is an open-source Linux distribution suite used for x86/amd64 based computers. Like other clone applications, Clonezilla is also a cloning program used for the deployment of operating systems. This cloning solution is powerful and reliable with the wide support of different operating systems like Windows, Chrome OS, MacOS and Linux file system. However, its support for users has limited but rich features.
Clonezilla is categorized into three types:
Clonezilla Live
Clonezilla Lite server
Clonezilla Server Edition (SE)
For a single system backup and restore process, Clonezilla Live is used. Whereas Clonezilla lite server or Clonezilla SE is used for the deployment of multiple devices, (even it has the power to clone more than 40 machines).
How To Install Clonezilla on Ubuntu 22.04 LTS
If you want to install Clonezilla on Ubuntu 22.04 LTS, no need to worry! You are just one step away.
Open-up the terminal and first update the system by running following command:

After the system is updated, execute the mentioned-below command:
$
sudo
apt
install
clonezilla

Clonezilla is installed on your machine.
To launch it, type on system:


(Keep in mind, you can run clonezilla application as a root user, otherwise it cannot be accessible)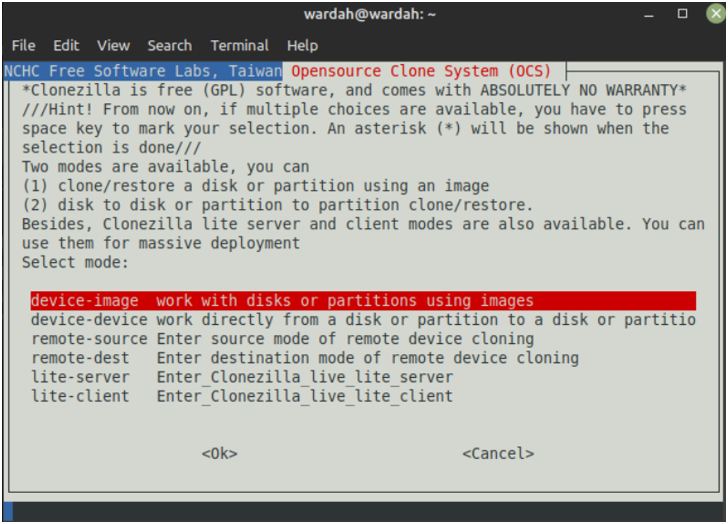 How To Remove Clonezilla from Ubuntu 22.04 LTS
Furthermore, if you want to uninstall Clonezilla software from Ubuntu 22.04 LTS, the command is:
$
sudo
apt remove clonezilla


Now, type the given-below command to auto clean all clonezilla packages:
$
sudo
apt autoclean
&&
sudo
apt autoremove
Conclusion
Clonezilla is a debian-based cloning package that is used to integrate multiple machines. There are three types of Clonezilla software. 1- Clonezilla live, Clonezilla lite server, Clonezilla server edition. For the backup purpose of a single machine, Clonezilla Live is used. However, to clone multiple machines Clonezilla lite server and Clonezilla Server Edition is used. This article has shown how to install Clonezilla software on Ubuntu 22.04 LTS and the way to uninstall it from the machine.