Video editing is considered as a very powerful skill these days. It involves lots of creativity and hard work to present such a masterpiece on the screen that every single viewer appreciates. However, the task of video editors has been eased quite a lot by the exceptional video editing software that is available these days. These video editors not only provide you with all the advanced tools that you need for beautifying your videos; rather, they also provide you with a platform for turning your imagination into reality. Therefore, in this article, we will be commenting on the best three video editors for Linux Mint 20 by reviewing and highlighting their note-worthy features.
Best Three Video Editors for Linux Mint 20:
The following are the best three video editors that are available for Linux Mint 20. The best thing about all these video editors is that they are free and open source.
Blender:
Blender is a highly versatile video editor that is designed for all distributions of Linux, Mac, and Windows operating systems. This video editor has been widely used in Hollywood movies, which accounts for its professional features and the accuracy with which it performs video editing. It offers CPU and GPU rendering along with modelling and sculpting features. It provides you with advanced tools and brushes with which you can give the best finishing touches to your videos.
It provides you with the ability of manual and automatic tracking of objects. You can even get the real-time preview of your edited videos so that you can make corrections while editing. You can easily manage the audio incorporated in your videos by making use of the Sound Synchronization feature of Blender. It can also be used for 2D and 3D drawings. Last but not least, it gives you the complete liberty of customizing its interface according to your own choice.
Kdenlive:
The biggest similarity between Kdenlive and Blender is that it is also designed for all flavors of Linux, Mac, and Windows operating systems. The efficiency of Kdenlive can be perceived from the fact that it allows you to edit multiple video and audio tracks at a time. At the same time, you can also mute or pause a track according to your convenience. It is highly versatile in nature as it allows you to work with a large number of different video and audio formats. It allows you to configure its interface and create shortcuts of all the important tasks as per your will.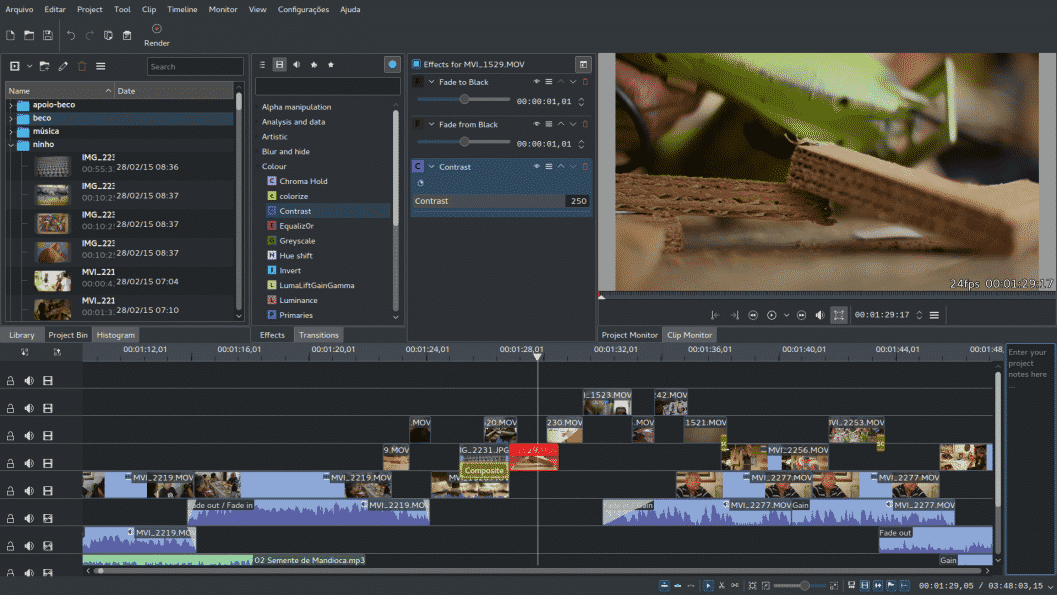 You can add as many effects and transitions to your videos as you want. It has the ability to adjust the resolution of your videos according to the device on which you are using this software. The fascinating thing about Kdenlive is that it even backs up our working projects automatically, which ensures the safety of our data from any potential losses. Moreover, there are a large number of themes available for this video editor that enhances the quality of your videos to the fullest.
OpenShot:
Again, this video editor is also designed to be used with all the different editions of Linux, Mac, and Windows operating systems. It supports a large number of different video, audio, and image formats that allow you to edit your videos coming from different sources. It presents you with full drag and drops support that accounts for its ease of use. You can add multiple layers of tracks on to your videos very conveniently. You can even add different transitions to your videos and preview them in real-time before making your final decision.
You can also adjust the speed of your audios and videos according to your requirements. Audio Mixing and Editing is also a very powerful feature of OpenShot, which gives a new life to your videos. You are even provided with the ability to add watermarks to your work for making it look more professional and also for copyright claims. In a nutshell, OpenShot provides you with all the latest features of video editing, such as Gamma, Hue, Chroma Key, etc. with which you can take your video editing skills to the next level.
Conclusion:
By making use of any of the three video editors discussed in this article, you can get the best video editing tools with which you can produce professional-quality videos within no time. The learning time of these video editors may differ according to the skills and expertise of the user. However, once you manage to learn using these video editors correctly, you are sure to get the best results out of them.