Creating the backup is an important activity to be carried out if you are working on sensitive data. For instance, if you have some sensitive official documents on your hard drive and lost your hard drive, your necessary data is gone. Therefore, having a backup of your confidential and essential data is always a wise decision. From the backup, you can quickly restore your data at any time.
For Linux Mint, there are several graphical tools available for creating backups.
This post discusses the best graphical backup tools for Linux Mint.
Timeshift
Timeshift is an open-source, accessible, and popular tool that is used for creating and restoring backups. It comes pre-installed in Linux Mint 20. For any reason, if you do not have Timeshift installed on your system, then type the below-given command to install it:
$
sudo
apt
install
timeshift
It allows us to create the backup snapshots in two modes RSYNC and BTRFS. Timeshift takes the backup snapshot of file systems and settings. Other than Linux Mint, this tool is available for many other Linux-based systems, including Ubuntu and Debian.
While creating the backup using Timeshift, we can also select the snapshot levels.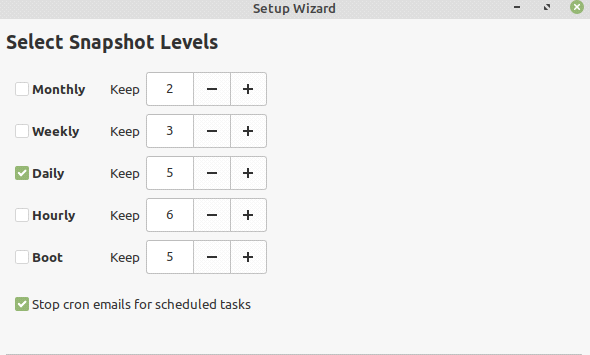 The backup snapshots can be restored at any time.
Déjà Dup is an open-source, simple, and powerful tool for creating backups. Using Déjà Dup, you can also schedule your backups. Moreover, it can also store your backup files on the cloud, i.e., Google drive. It encrypts the data to ensure data integrity and compresses the data as well.

Déjà Dup is part of Linux Mint 20 base repositories, and you can install Déjà Dup by typing:
$
sudo
apt
install
deja-dup
Kbackup
Kbackup is a straightforward and easy graphical tool for creating backups.  Kbackup compresses the data and creates the archive of the backup data. It also encrypts the data while creating the backup. Moreover, it offers various features which make it easy to use and easy to operate the backup tool
To install Kbackup on your Linux Mint system, simply type the command:
$
sudo
apt
install
kbackup
Grsync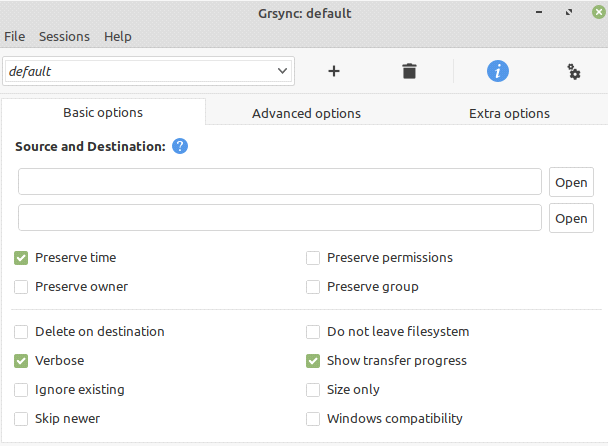 Grsync is a graphical user interface for the popular command-line backup tool named Rsync. Rsync is a perfect choice for those people who love the Linux command-line. Rsync provides a wide range of features for creating backups. However, if you are more comfortable with the GUI, then Grsync is the best option for using Rsync graphically. Although Grsync provides limited features of Rsync, yet it almost meets the basic needs of creating backups.
To install Grsync on your Linux Mint system, run the command:
$
sduo apt
install
grsync
Back In Time
Back In Time is another open-source and straightforward tool for creating backups on Linux Mint. It runs on GNOME and KDE desktop environments. It takes the backup snapshot of the target file or directory and stores it into the backup directory. Moreover, frequent backups can also be set up quickly. To install Back In Time, use the command:
$
sudo
apt
install
backintime-qt4

Conclusion
Creating a backup of your data is very important as it helps us save our important and sensitive data. We can quickly restore our data any time from the backup snapshot. In this post, we have discussed various graphical backup tools for Linux Mint. All the tools are straightforward to use and install on Linux Mint.