Creators and Artists are getting more recognition these days thanks to social media platforms like Instagram. These platforms provide a base for creators and artists to showcase their talent and get recognition worldwide. And Chromebook like devices help creators and artist take their talent to the next level, with many creativity apps on offer both in free and premium variants.
Finding the best creativity app that matches your needs is difficult on Chromebooks because of a large number of apps on offer. Chromebook supports a wide range of creative apps designed to keep every type of user in mind.
So, in this article, I will introduce you to the best drawing apps for Chromebooks. The apps listed below are selected based on my personal experience and user reviews/feedback on the store. I'm sure you will be able to find the drawing app you need in this article. Let's get started.
1. Adobe Illustrator Draw
Adobe Illustrator Draw is a very popular app on Windows and Mac OS platforms. It is directly available through the Play Store to download and install on Chromebook. It is a vector drawing app where you can draw freely on canvas using various drawing options provided by the app.
This creativity app lets you work with multiple images and drawing layers; you can also sketch with five different pen tips with adjustable size, color, and opacity.
If combined with other Adobe apps like Photoshop, Capture, and Photoshop Sketch, you can take your creativity to another level.
Download Adobe Illustrator Draw from Here
2. Sketchbook
Sketchbook is award-winning sketching, painting, and drawing app by Autodesk. It is one of the popular apps among artists and illustrators for its professional-grade set of features and highly customizable tools.
Brush types offered are pencils markers, airbrushes, smears, and other drawing tools. Brushes are highly customizable so that you can create just what you need. Guides, rulers, and stroke tools offer high-quality precision.
It is a great app for both beginners as well as professionals, and on top of that, it is completely free.
3. Sketch.io
Sketch.io is a web-based app for Chromebook that offers a wide range of drawing tools. It is completely free to use and offers more than 5000 vector images than you can use in your projects for absolutely free.
It offers 18 different brushes and line and path tools for effortless tracing. You get to choose from more than 800 fonts to add to your picture. Apart from these basic tools, it also offers some other high-level sketching and drawing tools.

Sketch.io
4. ArtFlow: Paint Draw Sketchbook
ArtFlow is a great drawing and sketching app, especially for beginners. It is a very lightweight app and very easy to install on Chromebook. It comes with features such as more than 80 brushes, opacity slider, color picker, and other tools, just exactly you expect from a drawing app.
You can also create custom brushes from imported images, and also you can import and export supports PNG, JPG, and PSD. Material design inspired user interface fast, fluid, and very easy to use.
A high-performance paint engine lets you paint, sketch, and draw with ease using this app.
5. Chrome Canvas
Chrome Canvas is another web-based sketching and drawing application for Chromebook. It is a great app for beginners who wish to learn digital painting and sketching.
It is a feature-rich sketching and drawing app that comes pre-installed with many Chromebooks out of the box. It offers basic drawing and sketching tools such as Pencil, Pen, Marker, Chalk, Eraser, etc. It can be used in offline mode also.
6. Infinite Painter
Infinite Painter is a feature-rich drawing app for Chromebook; it is free to download the app with some in-app purchases for additional features. Staying true to its name, it indeed offers infinite possibilities in digital sketching and drawing.
It comes with 160 presets; on top of that, you can also create your own customized brushes so that they can perfectly match your artistic vision. This app also comes with a clone tool that enables you to turn any photo into a painting.
Download Infinite Painter from Here
7. Krita
Krita is a full-featured digital drawing and painting application designed for artists. It is a powerful app that lets you create illustrations, animations, concept art, and more artistic creations.
The great brush engine and stabilizers ensure great freehand inking and painting. Apart from that, it comes with many great filters, selection tools, colorizing tools, and many more.
It also supports animation with onion skinning, storyboarding, scripting in Python, and comic book project management.
8. ArtRage: Draw, Paint and Create
ArtRage is a realistic painting and drawing app for Chromebooks. It offers great features and tools for painting and drawing; it is a paid app. Tools offered in this app match real-world properties such as paint thinners, pencil softness, and other properties.
Apart from the basic drawing and painting tools like brushes, inking pen, and pencil tools, it also offers important digital features like layers with blend modes, a fill tool, and tracing images.
It also comes with 15 tools with variations via presets and settings, natural painting tools like the oil brush, watercolor, palette knife, paint roller, paint tube, and other utility tools such as flood fill and color sampler.
9. Sumopaint
Sumopaint is a super-fast and easy-to-use digital painting and sketching application for Chromebook. It is a web-based application that is completely free to use.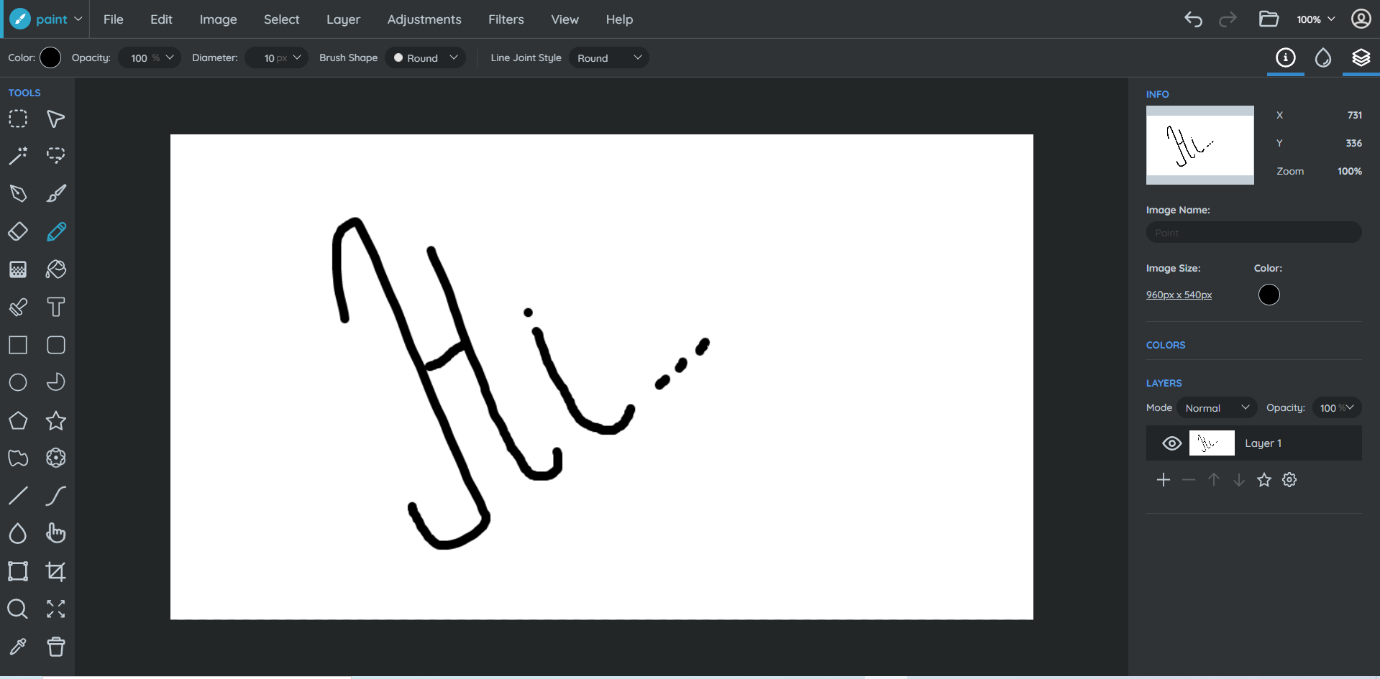 You can turn photos into art in just a few clicks and swipes. Other than you can also use brushes, pens, pencils, and crayons to draw and paint on photos.
It is a great application for beginners and professionals with a matching set of tools and features.
10. ibis Paint X
ibis Paint X is a popular and versatile drawing and painting for Chromebook and other touch devices. It offers over 7100 brushes, over 2800 materials, over 900 fonts, 79 filters, 46 screentones, 27 blending modes, stroke stabilization features, and other features.
ibis Paint official YouTube channel has many tutorial videos that will definitely help new users as well as professionals. Layers can be added with no limit, and clipping features help clipping of images. Brushes include dip pens, felt tip pens, digital pens, airbrushes, fan brushes, flat brushes, pencils, oil brushes, charcoal brushes, and crayons.
Download ibis Paint X from Here
So, these are the best drawing and sketching apps you can install and use on Chromebook. There are hundreds of drawing apps available for Chromebook; apps listed above are shortlisted on the basis of overall user experience and features on offer.