Browsing the Internet is the most common use of computers these days. The Internet has become a part of our daily lives, and imagining a life without it does seem difficult. To browse the Internet, there are specially designed applications called "web browsers". There are several web browsers such as Opera, Chrome, Firefox, etc., available. And, as is the case with all technology, some are better than others.
For Linux Distros, Mozilla Firefox is built-in and available for use on installing the OS. Mozilla Firefox is considered to be an excellent web browser, and most users are satisfied with it. However, options are available for users who want to use or prefer using another web browser rather than Firefox.
Consider Google Chrome, the outright most used web browser in the world. Being affiliated with Google makes Chrome an attractive and easy-to-use browser. Add to it the various plug-ins and add-ons; it does become the superior choice.
In the case of Opera, some users prefer using it over others. Opera is also a user-friendly and easy-to-use web browser. Recently, Opera has introduced a VPN feature which has helped its prospects even further.
So, if you are looking to find an alternative web browser for your Linux system, you have come to the right place as this article will be explaining the steps to install different web browsers and which browser is the best choice.
Google Chrome
As explained before, Google Chrome is thought to be the best web browser out there. It is available for different operating systems, including Linux, and installing it is simple. We will be installing Chrome on Ubuntu. If you are using another Linux Distro, the same steps need to be followed.
Chrome and other web browsers can be installed using the command terminal and directly through GUI as well. We will be installing it through the GUI.
Open Mozilla Firefox on your computer and type "Google Chrome" in the search bar.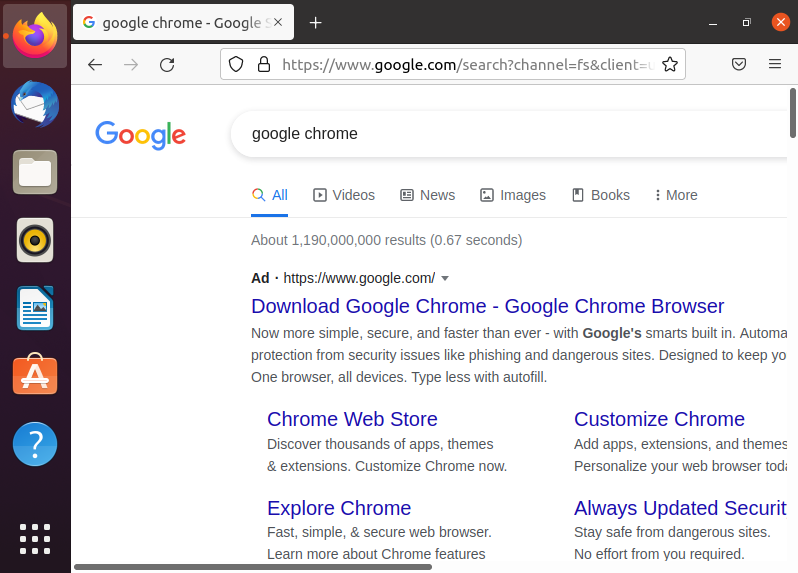 Click on the topmost link provided by google.com. The link should lead you here.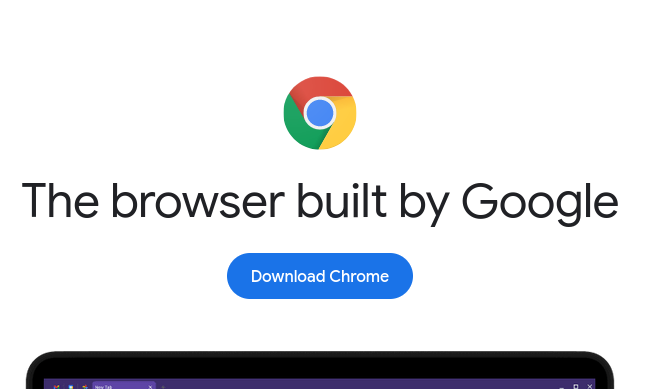 Click on "Download Chrome". Select your download package according to your Distro and then click on "Accept and Install".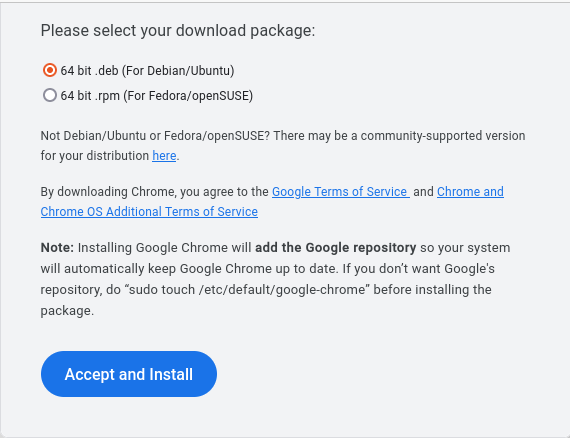 The download should start, and you can track the progress.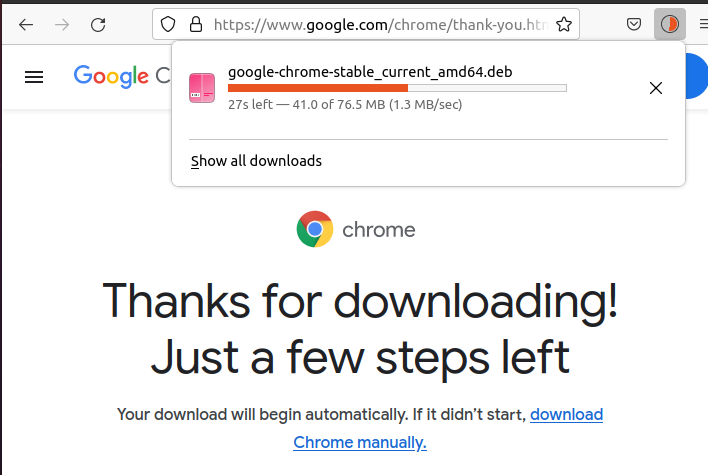 Once the download completes, go to Downloads, locate the downloaded package, and open it with "Software Install". The application opens the package, and you should see this on your screen.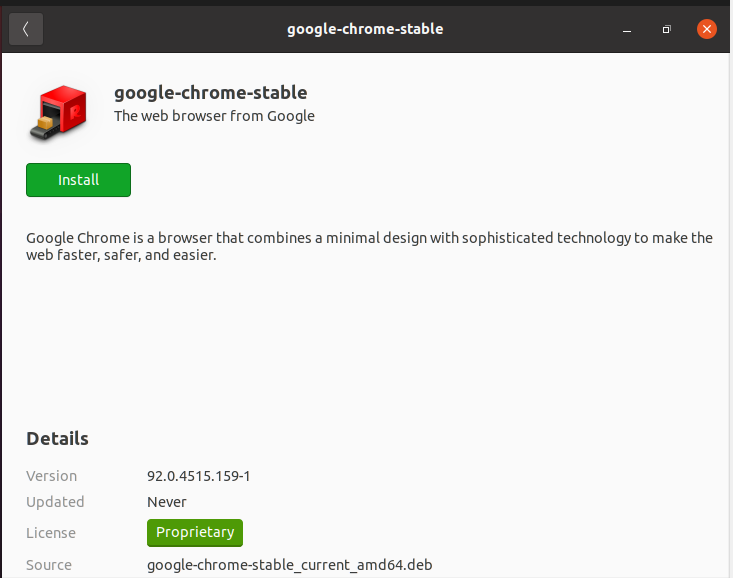 Click on "install" to complete the task. Upon completion, you can check that Chrome has been added to your applications.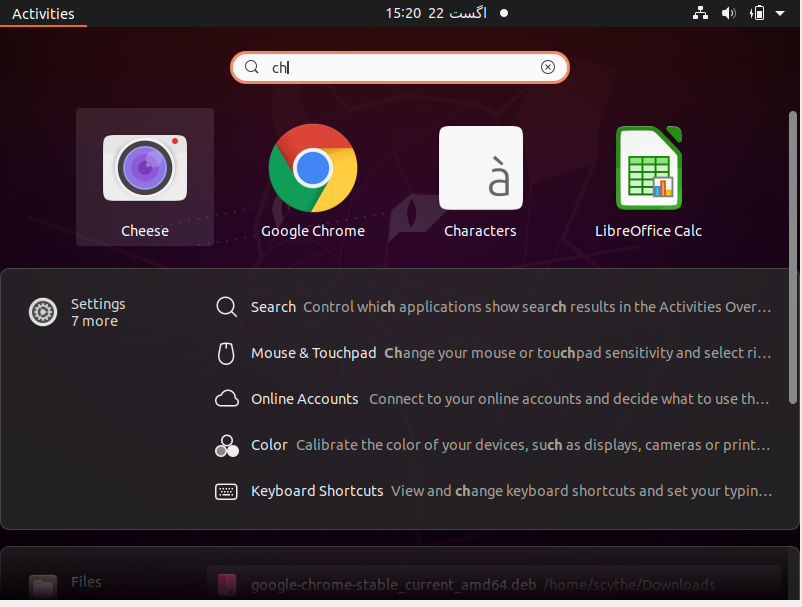 That covers the steps for installing Chrome on your Linux system.
Opera
Opera is also a very good choice for a web browser. Installing it on your Linux system is similar to installing Google Chrome. So, without further ado, follow these steps.
Open Mozilla Firefox and type "opera" in the search bar.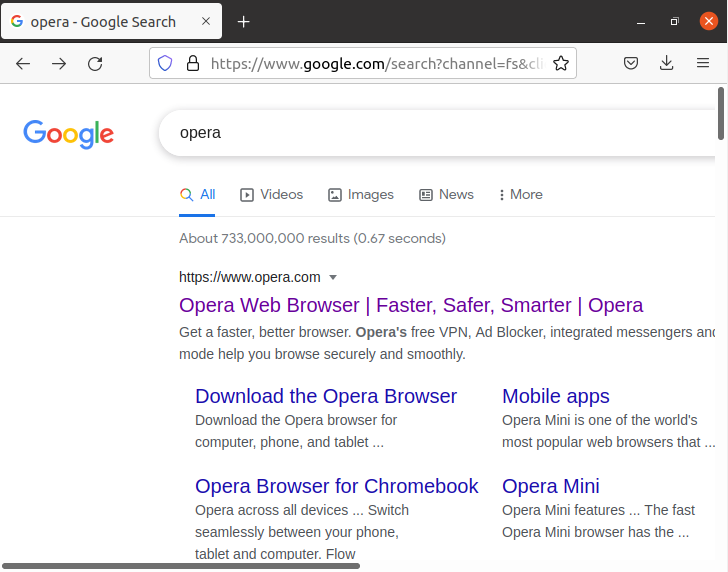 Go to the topmost link. You should find yourself on this site.
Click on the "Download" option. You should see this pop-up on your screen. Click on "OK" to start downloading.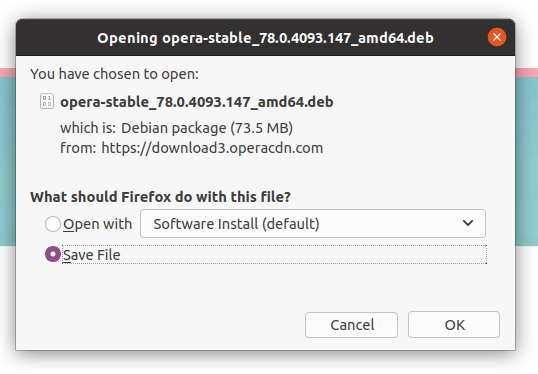 You can track the progress from here.
Once the download is complete, navigate to the Downloads folder and open the opera package with "Software Install".
Click on "Install" to complete the installation. When it is done, you can see Opera in your applications.
Vivaldi
Vivaldi is another web browser that is fun to use with good measures for security and privacy. It made quite a name for itself when it first came out in 2016, especially among Linux users. It focuses on providing a fast browsing experience.
Some of its unique features include Quick Commands that let you control the browser through text commands; it also has advanced tabs management plus a feature using which we can create notes using sync. So, If you want to download Vivaldi on your Linux systems, follow these steps.
Open Mozilla Firefox and type "Vivaldi browser" in the search bar.
Click on the topmost link provided on the page. Once the site opens, you should see the "Download" option straight away.
Click on "Download". This will take you to the page shown in the image below.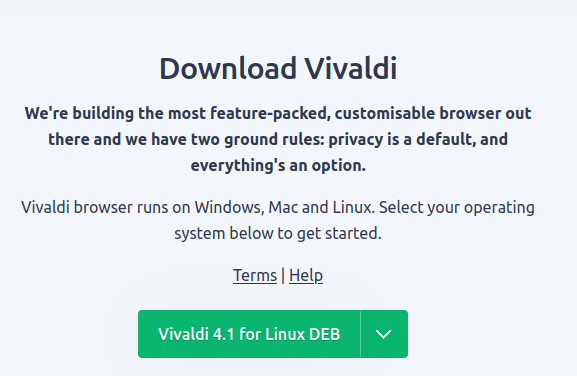 When you click on "Vivaldi 4.1 for Linux DEB", this pops up.
Click on "OK" to start the download.
On completion, navigate to the "Downloads" folder and right-click on the package. Select the open with the "Software Install" option.
Click on install to complete the task.
You can see that Vivaldi is now available on your computer.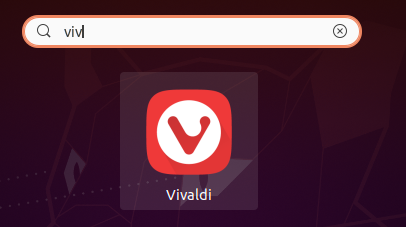 Which alternative browser to go for?
There is no perfect browser tailor-made for any operating system. Hence, the answer is completely subjective. However, there are pros and cons to every browser. For instance, Chrome can slow your computer as it is very resource-intensive. Similarly, Opera has its fair share of disadvantages too.
It would be foolish to say that a browser has no issues. Problems do arise, and the browsers may not always be at fault since most of the issues associated with browsers stem from the limitations of our computers. Thus, you need to look for browsers that can work well with your computers.
In many cases, Mozilla Firefox has proved to be a very useful and effective browser. As it comes built-in with Linux, it is optimized for Linux systems. Usually, Linux users are satisfied and don't look towards other browsers.
With that said, Chrome is the go-to and by far the most used web browser in the world. Most of the users have to do with Google in one way or another, and Chrome is the best for running services and features provided by Google.
Conclusion
This article enlisted the alternative web browsers available for Linux and how you install them. Some people become accustomed to certain web browsers, and shifting from them becomes difficult. For Linux users who were not happy with Firefox, hopefully, this article helped you find your preferred web browser. Have fun browsing!