JingOS is an Ubuntu-based mobile Linux distribution targeted at tablet devices. There have been some Linux-based operating systems that run on phones, but most of them were quite rough around the edges, whereas JingOS is the first Linux distro that is designed exclusively for tablets.
JingOS
The Chinese developers at Jingling Tech explained in initial previews of JingOS that the distro's touch-friendly interface was inspired by the iPadOS of Apple. This was back in January 2021, and the first releases of the operating system are now available for public use.
JingOS is based on Ubuntu 20.04 and the user interface originates from the desktop environment KDE Plasma Mobile 5.20. JingOS backs its iPad feel with Linux power and this is what makes it so unique. It is prioritized to run on mobile tablets, yet you can also run it on a laptop. Therefore, it provides a "laptop lite" experience as well. The point worth noting here is that it is not a desktop distribution that can run on tablets, but a flexible tablet OS that can run on laptops. There is a subtle but important difference.
JingOS can run Linux and Android applications in addition to its extensive and smooth functionality through trackpad, keyboard, pencil, and of course, touch. The developers like to call it a "convergence" operating system, in view of its ability to bridge the gap between Linux and Android apps. And deservedly so, in my opinion, as the distro delivers all that is promised. It is packed with an arsenal of stupendous features that we will discuss now.
Features
JingOS 0.8 was the first big update the operating system had, and with the passing of two more months, over-the-air (OTA) updates were incorporated into the system. It also now features a redesigned, and optimized settings app, in addition to a fully custom application store. The internal app store is easy on the eyes, clean, and gets the job done. However, this is Linux we are talking about here, meaning you can install anything you wish from the Ubuntu repositories.
JingOS has sort of a "productivity mode", which you can use by connecting a keyboard and enabling the desktop mode. This allows users to perform more technical/hands-on tasks such as coding, creating presentations, etc. In contrast, you can use it as an entertainment device by going back to tablet mode to watch movies, read books, listen to music, and play games. It brings an extensive and complete package of functionality to its users, which sets it apart from rival mobile distros.
JingOS features a total eye-candy user interface. Icon design is ravishing, complemented eloquently by animation effects. In addition to touch gestures, trackpad gestures are optimized to further make the experience natural and convenient.
JingOS comes with a set of native default apps such as Chromium, file manager, calendar, and WPS Office. These apps increase the aesthetic functionality of the overall operating system, however, there are some issues with pointer-based programs like WPS Office that need  tweaking. Furthermore, you can run Linux apps such as LibreOffice, VS Code on JingOS as well.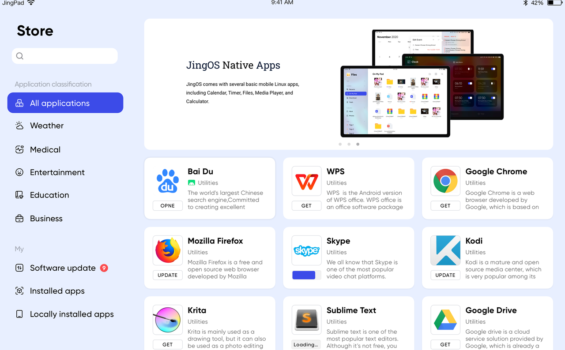 JingOS developers have gone out of their way to further facilitate their users with the same default apps as the iPad, including a clock, calculator, media player, sound recorder, and more.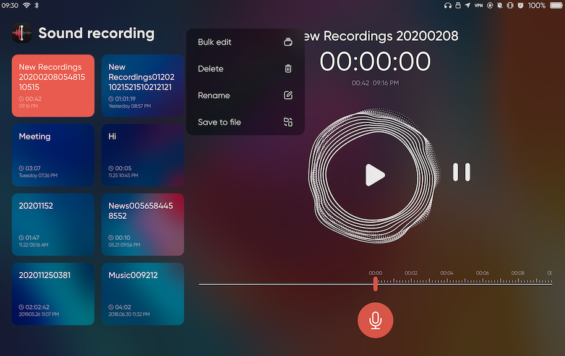 It is said that JingOS for phones is under development as well and will be available for public use by the end of this year. It is worth mentioning that the source code for JingOS is not out in the market yet. The developers have stated that it will be available with version 1.0 of the OS. This is a legal requirement as JingOS is associated with KDE, which in turn is released under a GPL license. However, they plan to replace the Plasma Mobile framework with JDE, Jing Desktop Environment, later this year. Lastly, an ARM version of the distro is also underway, meaning that it will be able to run on a vaster multitude of devices.
Additional Remarks & Concerns
There have been lots of heated arguments and debates on the internet about JingOS borrowing or "copying" Apple's style. To that I say, first of all, "inspired by Apple's style" would be a better choice of words. Secondly, such remarks can be met with the innocuous question that is, why would a company not want to be or their products to be like Apple's? Five hundred million iPads have been sold in the last decade, what company would not want their products to do that well? The point is that instead of wasting time and energy over such superfluous remarks, we should rather just wish JingOS success in its journey to be the first Linux-based tablet distro.
A genuine concern that people have expressed is that JingOS seems too good to be true or rather too ambitious to put into action its claims and future plans. It is flashy and glossy, underdeveloped at the moment, but the developers hope to take it to higher levels. However, maintaining an OS with regular updates, developing an interface, and managing hardware support are all colossal feats. With that being said, distros like Kylin and Deepin have fueled my optimism for JingOS. They stand as a testament to the fact that flashy and extravagant UIs can, in fact, be created, updated, and built upon humble beginnings. If all does go well for JingOS, it may as well end up being the most remarkable and exciting Linux distro of the year.
Conclusion
JingOS is a promising and ambitious Linux distribution that highly favors tablet users. There is currently a lot going on with the operating system, and it is by no means complete, as of yet. We are excited to see what the future holds for JingOS if they continue down the same path.