Sticky notes are around in the bucket of users for a long time. Initially, this useful tool was available in hard form, but now as digitization emerged, the sticky notes have also become popular in computing and cellular devices. People around the globe can benefit from sticky notes, irrespective of their professions. For instance, a student or book reader can mark their book pages with this tool, a PC user or network assistant can use it as a cable identifier and tie it with the cables to make it easy to recognize a cable in a mess. Let us move towards the digitized version of this tool; when you switch from Windows to any Linux distro, especially Ubuntu, you may feel the absence of various tools such as built-in sticky notes that Windows supports. It does not mean that you cannot get the facility; Ubuntu does support a long list of sticky notes applications that you can get from the Ubuntu Software Centre, or you can download manually from internet sources. This guide is about listing down some of the famous sticky note tools that are supported by Ubuntu. So, let's start:
Trending Sticky Notes app for Ubuntu
Sticky note apps are useful in many ways; one can jot down the ideas or the key points spontaneously and can be saved to remember for later use: this section contains some of the famous applications that you can use in Ubuntu.
Xpad
It is a simple and widely used sticky notes application in Ubuntu, this tool is easily available on the Ubuntu Software Center, or you can get this tool by installing it from the command line.
Pros of Xpad:
The prominent features of this app are listed below:
Multiple windows support
Customize the background color, font style, and color of fonts
Instantly save the content
Resize the notes window and can drag it around the PC window
Provides a separate window for detailed customization of fonts, background color, size of notes, etc.
Cons of Xpad:
Few note apps allow password protection that Xpad lacks to provide
Web URL's and emails are not recognized

How to get Xpad on your Ubuntu
You can install the Xpad with the help of a terminal or "Ubuntu Software" center:
Or, open the terminal (Ctrl+Alt+T) and run the following command to get the application:
KNotes
Another useful application for note users, although the interface is very traditional, it has a variety of characteristics that overcome the interface con of KNotes. Several noteworthy showcases of this app are listed below:
Features of KNotes
Spell Check and speak text feature support
You can print and email sticky notes
Customize the font styles, background color of notes
Auto insert date and time for anything you want to write
It offers to set a reminder for any sticky note
You can search the notes and pin the notes on top of other windows
Cons of KNotes
It does not support the password protection feature
Hyperlink or email addresses are not recognized

How to get KNotes on Ubuntu
You can get the application on Ubuntu by executing the command mentioned below:
$
sudo
apt
install
knotes
Rhinote
Rhinote is another sticky note app available for Ubuntu; it is very basic in terms of features and interface as compared to the one mentioned above. This tool is also available on Ubuntu Software Centre, and you can easily get Rhinote using terminal too: some of the distinctive features of this app are mentioned below: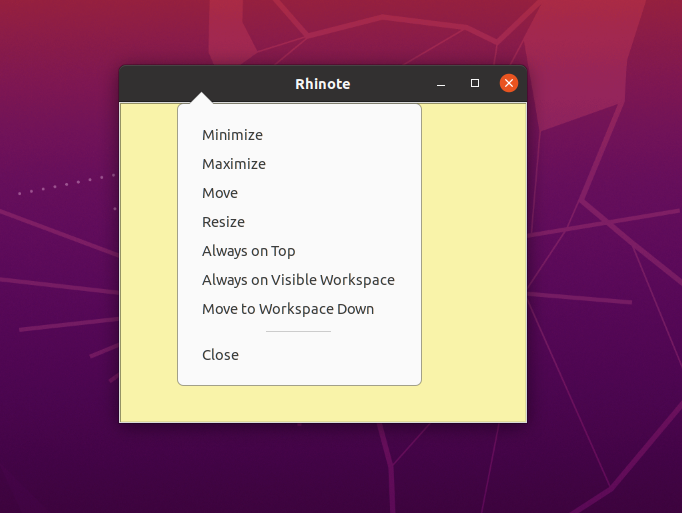 Features of Rhinote
It supports some very basic features such as moving the note windows, resizing it, and you can save it as a text file too.
Cons of Rhinote
Because of the very basic interface and features support of Rhinote, it has several cons:
It does not provide a colorful interface either for notes window or for fonts 
No more font styles
Instant save is not available; you have to do this manually 
How to get Rhinote on Ubuntu
There are two ways to get Rhinote:
One is through "Ubuntu Software Center": search for "Rhinote" in Ubuntu software.
Or open the terminal (Ctrl+Alt+T) and execute the following command in it:
$
sudo
apt
install
rhinote
Indicator stickynotes
This is another open-source sticky note app available for Ubuntu distro; this tool is good for basic use; it also offers more or fewer features as an xpad.

Features of Indicator stickynotes
Some of the features are given below:
Multiple window support and can save each note as a different category
Enable lock mode to avoid any accidental change
Users can customize the font styles, font color, and background color of the notes window for categories
Cons of Indicator stickynotes
Apart from these features, it has some cons:
No web URL or email recognition
Cannot access the notes outside desktop environment
How to get indicator stickynotes on Ubuntu
To get the app on Ubuntu, there are some prerequisites to install "indicator stickynotes", you have to first add PPA to your Ubuntu system and then install it.
Open your Ubuntu terminal, and run the following commands;
$
sudo
apt-add-repository ppa:umang
/
indicator-stickynotes
$
sudo
apt update
&&
sudo
apt
install
indicator-stickynotes
Conclusion
The sticky notes have emerged as a handy tool to list down your events, tasks, and to-do lists. In this demonstration, we have listed some of the famous sticky note applications that you can use on your Ubuntu. Ubuntu does not come with such a tool by default, but the users may use third-party tools to utilize the features of sticky notes.  After research, we have mentioned the top sticky note tools that can efficiently perform the required tasks; you can download and use any of the above-listed apps that better suits you.