This tutorial shows the step-by-step process of how to create a persistent storage for Debian or Ubuntu live USB.
To start, download Rufus from https://rufus.ie/en_US/. Scroll down the page to the download section shown in the image below: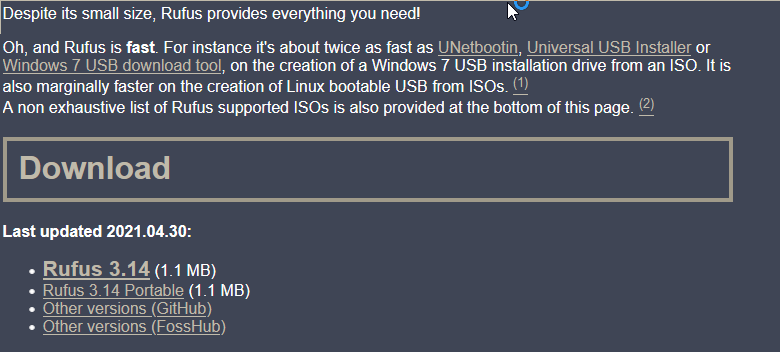 Download and execute Rufus. Rufus will ask if you want it to check for updates, press the preferred options in order to continue.

Once executed, select your USB device, the ISO image, the size of the persistent partition (Note: If zero, there will be no persistence), and select GPT on the partition scheme drop-down menu.
After selecting the correct options, press the START button to start the process. When a warning prompts to inform you about disk data deletion, press OK to continue.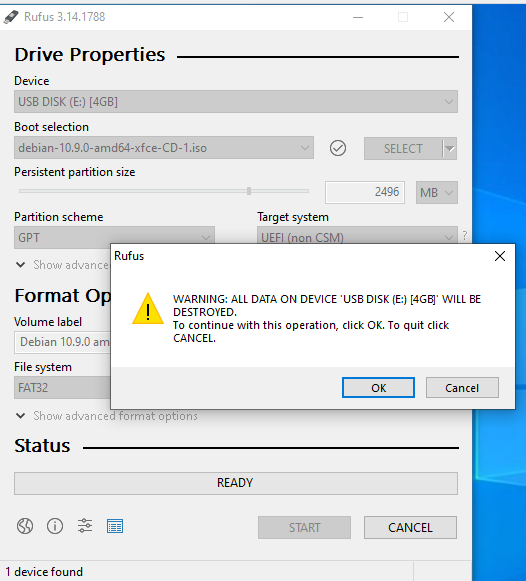 Wait for the process to end.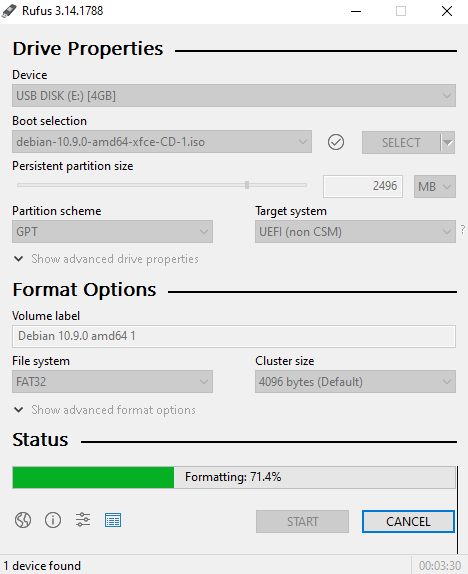 Once finished, you can boot your live CD with persistence.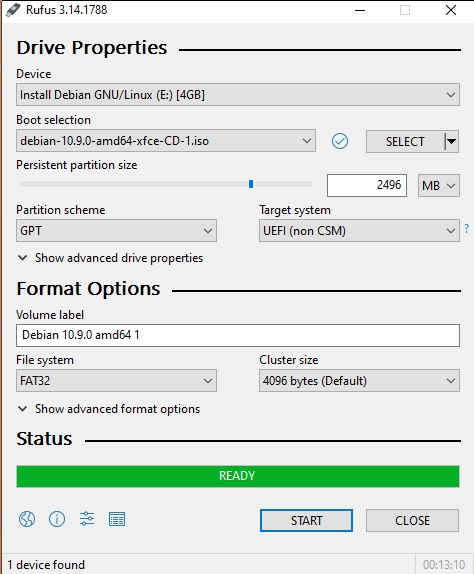 Now, you can boot your live system with persistence.
About Rufus:
Rufus is an open-source portable tool available for Microsoft Windows, and it is used to create and format USB disks and pen drives.
It was originally designed in 2011 to replace the HP USB Disk Storage Format Tool for Windows, used mainly to create boot USB devices.
Rufus features include:
Supports for bootable ISO
Support for raw disk images
Supports Windows and Linux installation ISO images
Includes bootloaders like Grub or Syslinux
Supports both MS-DOS and FreeDOS
Supports FAT, FAT32, NTFS, exFAT, UDF, and ReFS filesystems
Supports downloading Windows ISO from Microsoft
Rufus Alternatives:
UNetbootin
Universal Netboot Installer (UNetbootin) is a multiplatform tool used to create live USB disks. It supports both Microsoft Windows and Linux distributions.
UNetbootin features include:
Supports persistence
Multiplatform available for Windows, Linux, and Mac OS
Doesn't format the drive
Supports Windows, Ubuntu, Fedora, openSUSE, CentOS, Gentoo, Linux Mint, Arch Linux, Mandriva, MEPIS, Slackware as well as FreeDOS, FreeBSD, NetBSD, and more.
Autodetect removable devices
You can get Unetbootin from https://unetbootin.github.io/.
LinuxLive USB Creator
LinuxLive is a tool to create live USB systems for many Linux distributions. LinuxLive supports Linux Mint, Kali Linux, Fedora, Ubuntu, Kubuntu, Xubuntu, Emmabuntüs, HandyLinux, Debian Live, OpenSUSE, Sabayon Linux, Arch Linux, and ArchBang, PCLinuxOS, CentOS, Damn Small Linux, Puppy Linux, Toutou Linux, GParted Live, Clonezilla, Pinguy OS, CrunchBang Linux, and Super OS.
LinuxLive features include:
Persistence support
Can run Linux from Windows using VirtualBox
Does not format the device
You can get more information on Linux Live (LiLi) at https://www.linuxliveusb.com/.
Startup Disk Creator
This is the official USB creator of Ubuntu Linux, and it is included by default. The tool is available for Ubuntu and Windows starting in Ubuntu 10.10 "Maverick Meerkat," but it is accessible only by inserting the Live CD with Windows running.
Universal USB Installer (UUI)
Universal USB Installer is another alternative to Rufus. It is used to create live USB systems from Linux ISO images. It also supports Windows and other software types like antivirus.
UUI features include:
Bootable USB systems creation
Persistence
Provides information on Linux distributions
Allows the USB to be used as storage
You can get additional information on UUI at https://www.pendrivelinux.com/universal-usb-installer-easy-as-1-2-3/.
Ventoy
Ventoy is another multiplatform USB creator. It supports multiple systems.
It supports ISO, WIM, IMG, VHD, and EFI. Once Ventoy is installed, you can copy or drag the images you want to boot from the USB device.
Ventoy features include:
Supports USB, Hard drive, SSD, NVMe, and SD card
Supports ISO, WIM, IMG, VHD, and EFI
Supports multiple ISO images
MBR and GPT
x86 Legacy BIOS and UEFI
Supports large ISO images
Supports more than a hundred Linux distributions, such as VMware, XenServer, Windows, and more.
You can get more information on Ventoy at https://www.ventoy.net/en/index.html.
Conclusion:
As you can see, creating a persistent Linux Live USB system from Windows is easy with Rufus, as with other alternatives mentioned previously. Remember, in all programs, you need to use the option to define a space for persistence. Otherwise, your system won't have persistence, and the data will be lost after each boot
I hope this tutorial to create persistent storage for Debian USB systems was useful. Keep following Linux Hint for more Linux tips and tutorials.