For centuries, books have been the source of knowledge, providing people with happiness, wisdom, and entertainment. It is these simple pieces of paper that have been there supporting mankind during its hardest time. For most people, there is nothing more pleasing than creeping into the realm of the unknown with a book in hand. As George R.R Martin writes in his Game of Thrones novel, "a mind needs books as a sword needs a whetstone, if it is to keep its edge."With the world stepping into the era of the digital age, technology has seen rapid growth in its development and this, in turn, has led to more and more things becoming digitized. One such evolution has also taken place in the world of knowledge is with the emergence of eReaders, devices that allow users to read their books digitally, many people have started preferring digital books over their print versions.
Seeing the rising popularity of these eBook readers, the topic of our discussion in this article is to look at some amazing eBook readers available for Linux that offer the best features and the best Epub reading experience.
Calibre
Calibre is a free and open-source eBook reader designed to work on Linux, Mac OS, and Windows. Calibre provides the complete solution to the handling of your eBook files as it is not just an eBook reader but also allows users to convert their files from one file format to another as well as organize and sort your collection of digital books.
In addition to this, for users wanting to download and read their favorite magazines available on the web, Calibre offers users a way to fetch news and magazines from the internet and integrate it into your reader in the form of an eBook. It also possesses a very powerful plugin system so if users find it lacking in some areas, they can use the built-in plugin manager to search and install plugins, expanding its features even further.
Installing Calibre
Calibre can easily be installed by using its binary installer which already has all the dependencies it needs to be built inside of it. Thus, to install it, simply run the following command into the terminal:
$
sudo
-v
&&
wget
-nv
-O-
https:
//
download.calibre-ebook.com
/
linux-installer.sh
|
sudo
sh
/
dev
/
stdin
After installing Calibre, you can find it in your list of applications installed.
Features of Calibre
As mentioned above, Calibre is a powerful eBook reader, having loads of features inside of it. Let us look at some of them.
a) Management System of Calibre
Calibre has been designed in a way for it to be as simple as possible to use. The thing that makes Calibre worth using is the fact that it does not only acts like an eBook reader but also allows users to organize and manage their files. Calibre makes use of the metadata for the sorting and grouping of eBooks. This metadata can be downloaded by right-clicking on the Edit Metadata button and then selecting the Download metadata and covers option. It will then ask you for confirmation so choose the Download both choice (If you are only interested in only one thing, then their respective choices are also given).

After downloading the metadata, a prompt will show up asking whether you want to review and edit the metadata or update it. It is always better to first make sure the data downloaded is accurate.
Calibre also provides users multiple categories by which they can access their data. Furthermore, you can also arrange it using the Sort by function.
b) Conversion of Files
Another great feature that comes along with Calibre is its ability to convert any eBook format to another one. It supports a large set of formats, the most notable ones include HTML, PDF, Epub, MOBI, etc. To convert any file, simply right-click on it and hit the Convert Individually button.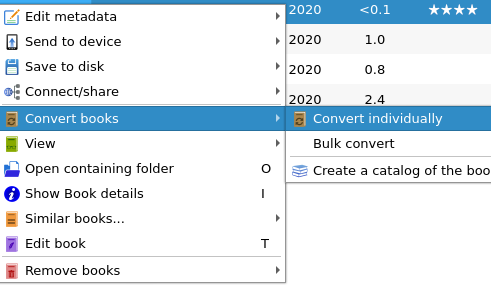 After this, choose the Output format that you want.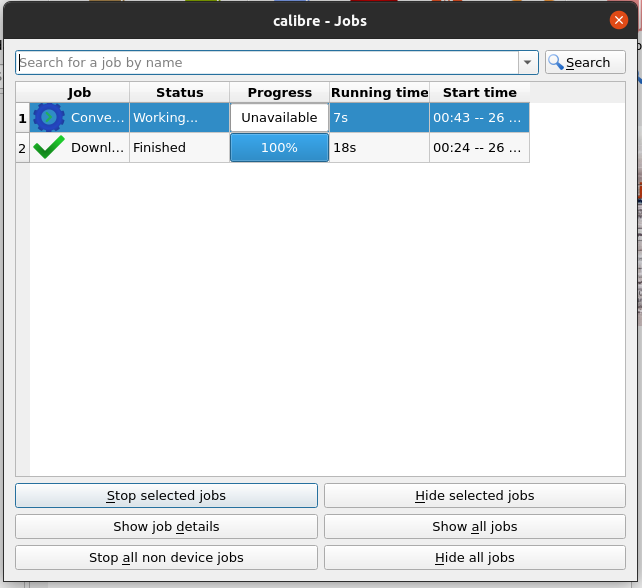 And voila, your file in that specific format has been created. It is important to note you can also convert multiple files together by selecting the Bulk convert option.
c) Plugin Explorer
Calibre also has an excellent plugin explorer that has thousands of plugins available which allow users to further extend the features of the eBook reader. To access the plugin explorer, click on the additional options button, and then use the right-click button to select Get plugins to enhance the Calibre option.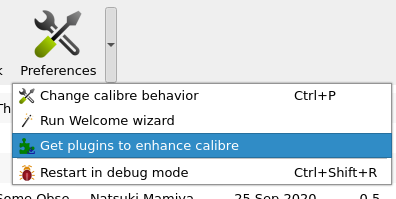 Over here, you can search for the plugin name and install it.

FBReader
FBReader is a lightweight, open-source eBook reader, having support for numerous eBook file formats like Epub, MOBI, HTML, etc. It is a cross-platform application, easily available for both Desktop as well as Android devices. It also provides users with access to popular network libraries, containing large sets of eBooks. Along with this, it is highly customizable, allowing users to change its colors, fonts, animations, and so on.
Installing FBReader
FBReader can easily be installed by using the apt command. Hence, to install it, simply run the following commands into the terminal:
$
sudo
apt update
$
sudo
apt-get install
fbreader
After installing FBReader, you can find it in your list of applications installed.
Features of FBReader
Albeit simple-looking, FBReader still possesses some very useful features, some of which will be discussed below:
a) Highly Customizable
As mentioned above, FBReader is well-known for its customizability and extensibility. Users can easily tweak around and change its appearance and layout. It gives options of changing the font-related settings such as font size and family for different sections of your book. The same is the case for other settings like Line spacing and Alignment.
Customizing Fonts: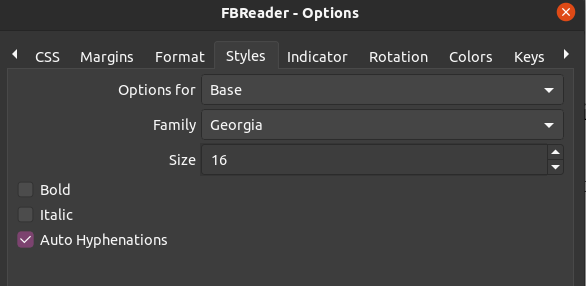 Different Sections:
b) Access to Popular Network Libraries
FBReader also provides access to popular network libraries that contain large sets of books in their databases. Users can easily access this by clicking the icon next to the Add file to library.
After opening this, several catalog options will show up, some of which will also require sign-ins. You can open a catalog by clicking on the Open Catalog option.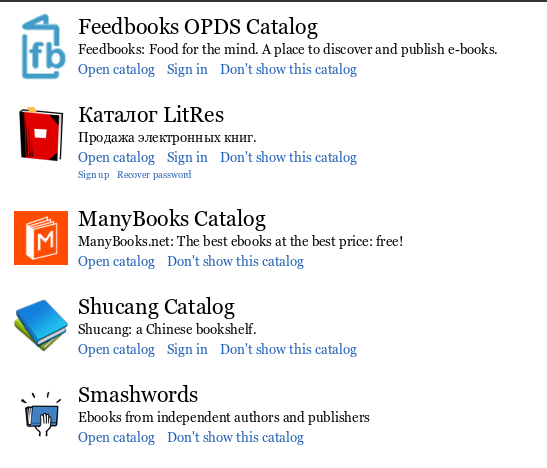 You can expand different categories of the catalogs and explore the books that appear.
Best Epub Readers
There are several great options of eBook readers available for Linux. Calibre and FBReader are among the two most popular alternatives, both of which provide exceptional features and would be excellent choices for your reading Epub files on Ubuntu.