Sure, humanity has made great strides towards a paperless world. We don't use paper as much as we utilized it a decade ago. However, you need to print hard copies of documents from time to time for one reason or another. Whether it's for occasional home use or day-to-day office routine work, the best home office printer comes in really handy.
The interesting part is that not all printers are compatible with all operating systems or OS, particularly Linux. So, if you are looking for the best printer for Linux, your options are far and few between. Don't worry, though. This write-up has all the information you need to find printers or all-in-one printers that currently support Linux.
Without wasting any time, let's start the quest for finding a Linux-supported best printer for a home office. Read on!
1. Brother Compact Monochrome Laser Printer
The Brother Compact's Monochrome Laser Printer can scan, copy or print simultaneously. It provides a crisp output thanks to a 2400×600 DPI. Plus, it has a printing speed of 36 PPM, bringing the cost per page further down. And because it's a laser printer, it's ideal for your high-volume printing needs.
The printer is easy to set up and easy to make it work. You don't have to be tech-savvy to use it. There's a 2.7 inches color touchscreen to help you out with its different features. For instance, you can auto-duplex with a single push of a button and print both sides. This model even supports multiple paper sizes and materials.
For scanning, this device uses a conveniently placed flatbed scanning glass. It allows you to scan from any device directly, quickly, and efficiently. Ethernet printing is also fast. USB can be a good option if it's right next to your PC. We have noticed printing via Wifi connections can be flaky at times.
Overall, we are really impressed with how quickly this printer starts printing when commanded. It's slightly noisy, but not too much to become a headache. The cost is also affordable, making it the best laser printer for Linux out there.
Buy Here: Amazon
2. HP LaserJet Pro M15w Wireless Laser Printer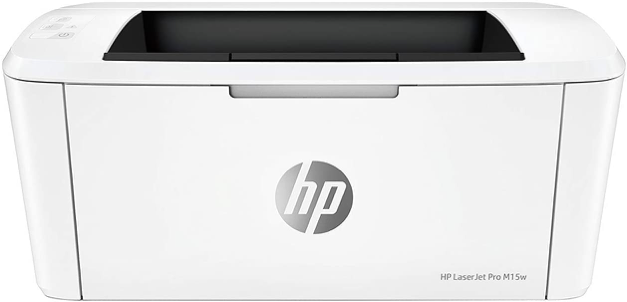 Second, we have another monochrome Laserjet printer. This printer from HP is considered one of the smallest LaserJets in the market. It can fit any corner of your desk without taking up much space. It has a 600 x 600 DPI resolution. It churns out prints at a rate of 19 PPM without compromising on HP's trademark quality.
You can also scan directly via smartphone camera or print from your Social pages with the help of HP's high-grade Smart Printer App. This model supports dual-band Wifi for a reliable connection and Ethernet, NFC, smartphone, and cloud printing facility.
The paper slot folds down and adjusts to several different page sizes. Its buttons are also pretty discreet, not drawing any attention. This becomes important if you use it at home and your kids have the tendency to switch things on and off. The device also has an auto On/Off feature along with Energy Star certification, saving both energy and your bank balance.
We can already tell some people will get annoyed by its complicated initial setup process. However, once you get past that, the rest is a smooth sail. Its prints are smooth, matte, and totally smudge-free. Add the fact that HP LaserJet Pro is also one of the cheapest Laser printers in the market, making it the best Home printer.
Buy Here: Amazon
3. Brother HL-L2300D Monochrome Laser Printer
If you want an inexpensive laser printer that is fast, high quality and doesn't need expensive toner cartridges either, then Brother HL-L2300D ticks all of these boxes. It prints with a speed of 27 ppm, even with auto duplex printing. And the best thing? It remains quiet, like really quiet.
The tray is large enough to accommodate 2000 pages of varying sizes. To connect with your computer, it uses USB 2.0 connection. Unfortunately, there's no Wifi or Bluetooth support. The toner is just as easy to change as it's economical.
Brother's proprietary drivers work fine for most OS, including some Linux distro, although these are only compiled for i386 machines. This printer runs on amd64 as long as you have the i386 libraries installed.
During our test, we found that the sleep modes are a bit difficult to disable. Especially if you are not tech-savvy, this will take some getting used to. Also, there's no cable in the package to connect it to your computer. You will have to buy one from the local hardware store.
Buy Here: Amazon
4. HP Color LaserJet Pro Multifunction M479fdw Wireless Laser Printer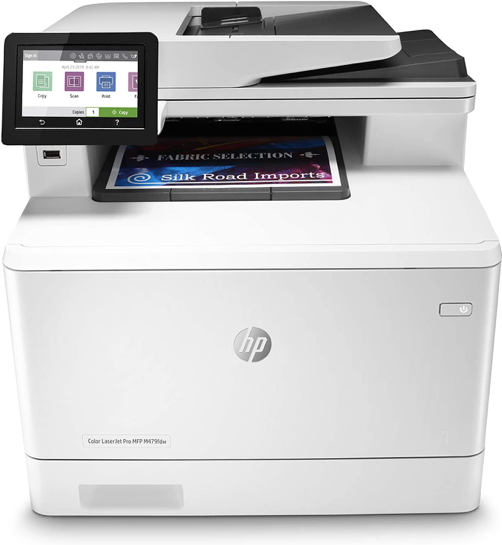 The second HP option on our list is a beast of a printer. It fast paces your business by allowing you to fax, scan, copy and print from a single device. It features auto-duplexing and ADF for handling your office's heavy-duty tasks like a real champ. What's more, HP Color LaserJet Pro has a speed of 28 PPM for both black and color prints.
This device prints at 600×600 DPI resolution. While this resolution is fine for monochrome where the text is pretty crisp, you should look for better options if you print more in color. We did notice that the color prints have perfect color matching. No complaints there!
A differentiating feature of this printer is its enhanced security features. There's PIN/PULL printing as well as instant notifications to restrict unauthorized use. The control panel is a 4.3 inches color touchscreen. Apart from controlling the device, it also allows you to save shortcuts for frequent tasks.
You can print away with your mobile devices via the official HP app, Mopria, Ethernet, Google's Cloud Print, or AirPrint. These multifunction features make HP Color LaserJet Pro one of the best Home Office printers.
Buy Here: Amazon
5. Canon TR8520 All-In-One Printer for Home Office
The Canon Pixma Tr8520 is a solid multi-functional inkjet printer for Home office use. It has a smaller footprint, prints and scans excellent over the Wifi, and comes at a pretty reasonable price. If you expect the trademark Canon's print quality, this one definitely delivers the same experience.
The printer itself is straightforward to set up as far as the printer cartridges and all components are concerned. There's even an illustrated setup on the display screen that guides you through the step-by-step process. We suggest getting the Canon Printer app, as it provides a great resource for technical support.
Thanks to a 5 color individual ink system, you can print almost any color up to a resolution of 4800 x 1200 dpi. And with intuitive features like the 4.3 inches LCD touchscreen, memory card slot, and 20 sheet ADF, it's clear why the Pixma Tr8520 makes printing, copying, scanning, and faxing super-fast and easy.
However, like most inkjets, this one sucks down ink like it's dying of thirst. And the refills are also costly, adding to the overall price of this package. Still, if you want an all-in-one printer for home office use, Canon TR8520 is worth a shot.
Buy Here: Amazon
Buyer's Guide – The Best Printer for Home Office that Works with Linux
When looking for the best home office printer compatible with Linux, consider the following guidelines.
Initial Selection
The easiest way to find whether a printer is compatible with Linux is by reviewing its package. You can also take a look at the manufacturer's website for more information. The open Printing database provides another great way to check for a printer's compatibility with Linux.
Check Connection
Next, check whether it successfully connects with your machine. There are several ways to connect your printer to a computer. If using a USB cable, you can easily verify the connection at Bash prompt by issuing the Isusb command. Some other commands, such as Telnet, let you test the network connection of your printer.
Software Setup
Some Linux distros, such as Fedora and Ubuntu, provide very simple configuration tools to set up the printer software. Fedora has an impressive wiki resource that addresses various printer issues. You can easily activate the software from GUI or with the help of a system-config-printer on the CL.
The HP's Linux Imaging and Printing program supports Linux printing. Install it on your system if you don't have it yet. You can also download its latest updates to avoid any software issues. Canon and Brother printers also have Linux printer drivers and other related information on their website.
Running Costs
Obviously, the best printer for the home office will have running costs. Generally, expensive printers have low running costs. Therefore, they are ideal if you consider their long-term benefits. But, it's not always the case. Always check the features and specs of a printer before settling on a particular model. In case you have high volume needs, then go for a printer with a low running cost. Otherwise, it doesn't matter much.
Final Thoughts
After thorough research, we came up with these five options to help you find the best home office printer. All of these are compatible with Linux distros. Now you can go through them and select a suitable printer within your budget. Don't forget to check all the features before choosing the best printer for Linux. Thank you for reading.
References