Among Us is a highly popular multiplayer online game created by the company
Innersloth
where a member of your staff is destroying the ship and killing other players, it's up to you to figure out who it is before the imposter catches up with you. You can also be an imposter as well, and you need to behave normally so that others can't suspect you.
Among Us is now one of the well-liked cross-platform games making Linux users wonder if they can play it on their system. So, this article will help you find the solution to your question and teach you all the necessary steps required to play Among Us on Linux OS.
If you want to play this game on Linux, you need to first install the third-party application "Steam" as this is an online platform from where gamers can buy their favorite games.
Installing Steam on Linux using application store
Most of the Linux distributions come with an application store and one of the simplest ways to install this application is by opening the application store and finding the Steam application using a search bar, as shown below.
After its installation, you can find this application from the activities tab: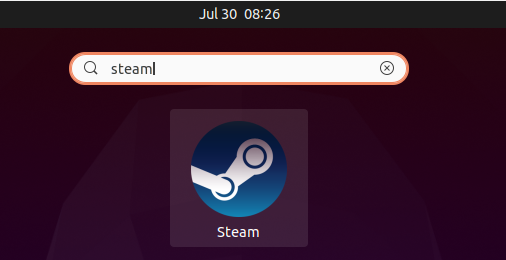 Installing Steam on Linux using the terminal
To install Steam on Linux using a terminal is not a difficult task to do, all you need is to type:
This command will start downloading this application that can be seen below.
Now you can open this application by typing "steam" in the terminal window.
Executing this command will first start to download the required updates that are important to run this application with all of its latest features, as shown below.
This application will be executed after all the required updates are completed below.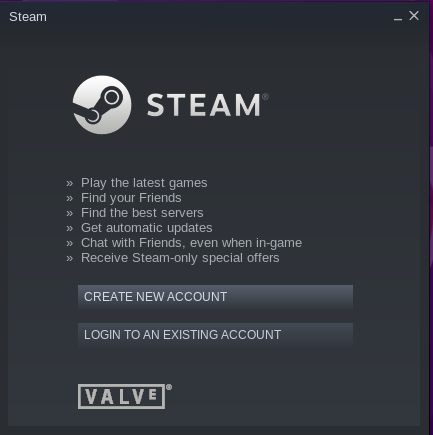 The next thing is to create an account if you already haven't otherwise, you can log in to an existing account as well, and after logging in, you will see its main interface, as shown below.
How to install Among Us on Linux
After carefully understanding installing the Steam application for Linux OS, the next step is to learn how you can install Among Us on it. You need to click on the top left "Steam" option and select the "Settings" tab as shown below.
This will bring up another menu with various choices, from which you need to choose the "Steam Play". After clicking it, make sure both "Enable Steam Play for supported titles" and "Enable Steam Play for all other titles" are checked since they are required for playing this game:
And then you need to find the "Among Us" game by searching from the "Store" tab as shown below.
This game is not available for free, and the game price that you can see in the below image is around 3$ while writing this article. After that, choose "Add to Cart" from the drop-down menu, where you'll find a variety of payment choices, and you can choose any as per your preference.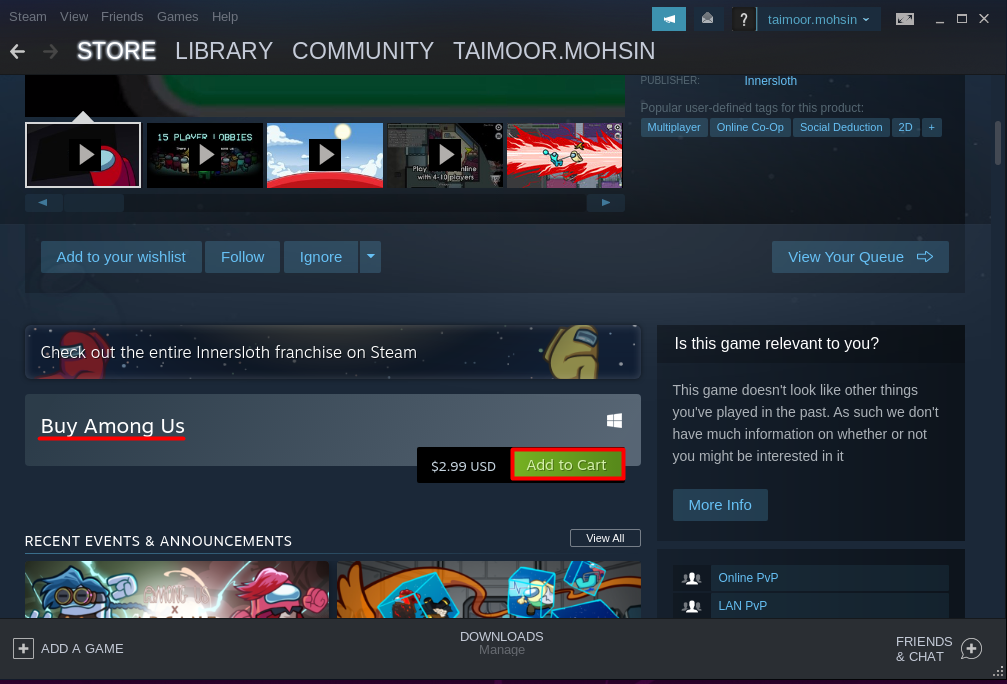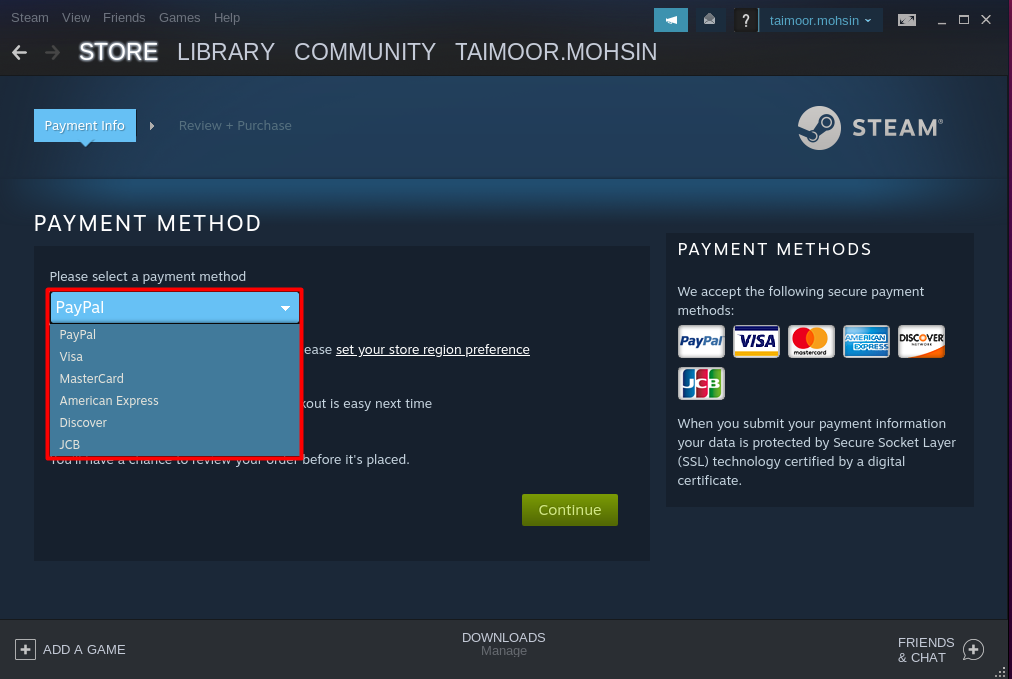 After paying the required amount, you will find this application on the "Library" tab, as shown below
Before installing the game, you need to right-click on it and select the properties.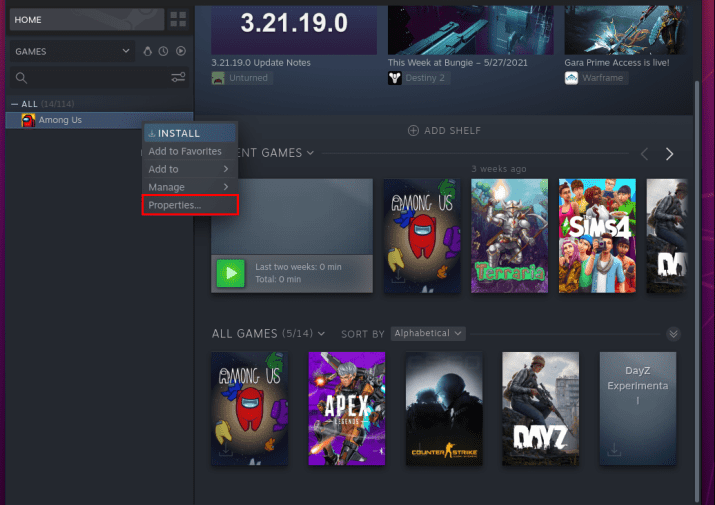 This will open a new window with multiple sets of options, and from there, you need to select the General tab and then write the following lines in the "LAUNCH OPTION", as shown below.
PROTON_NO_ESYNC
=
1
PROTON_USE_WINED3D
=
1
%
command
%
After applying these settings, you need to go back to the "Library" section, select the game and then install it as shown below.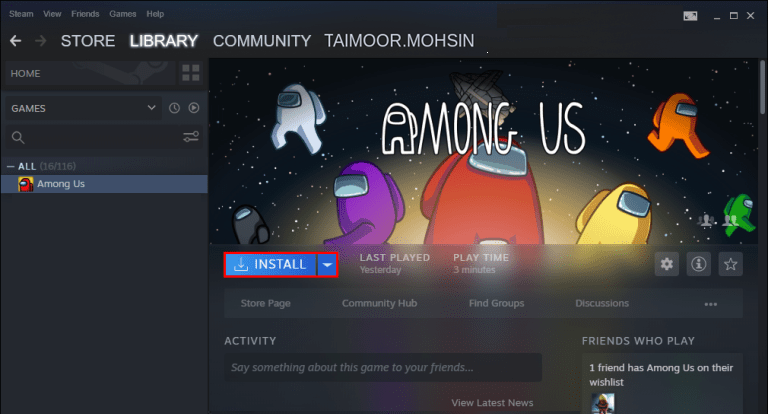 After installation, you will notice that the "INSTALL" option is now replaced with the "PLAY" option, which means that the "Among Us" is ready to be played.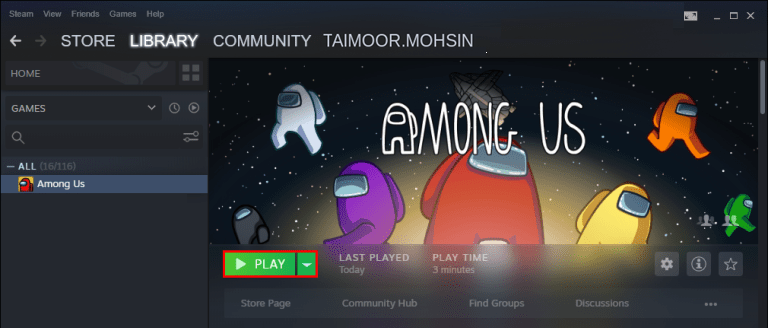 Conclusion
Among Us is a top-rated multiplayer online game requiring you to track down an imposter killing other players. You need to figure out first who is the real imposter otherwise, you will lose the game. On the other hand, to win the game, you occasionally have to play the part of the impostor and try to mislead others by being normal. So, to play this game on Linux, you need to install the Steam application, the gaming platform, to purchase the game, and then you need to make some changes discussed in this article.