Oracle Java is the key foundation for every type of networked application developed. It is the global standard for developing and delivering games, mobile applications, Web-based content, and enterprise software. Java gives you the ability to efficiently develop and deploy exciting applications, games and services. With a comprehensive tooling, a mature ecosystem, and robust performance, Java delivers applications portability across even the most disparate computing environments.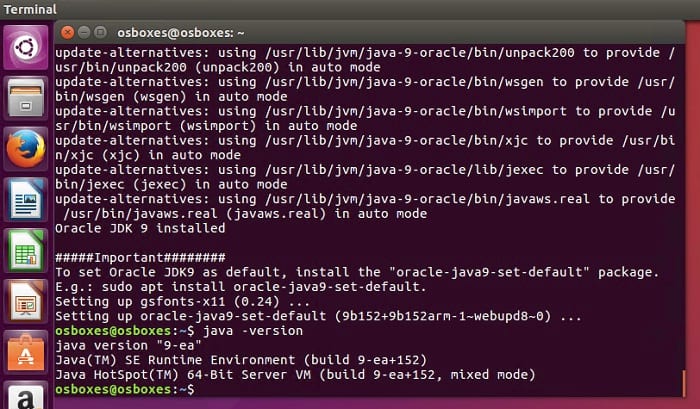 Key Features
New rcache Types in Kerberos 5 Replay Caching
Support for Kerberos 5 Protocol Transition and Constrained Delegation
Kerberos 5 weak encryption types disabled by default
Unbound SASL for the GSS-API/Kerberos 5 mechanism
SASL service for multiple host names
JNI bridge to native JGSS on Mac OS X
Support for stronger strength ephemeral DH keys in the SunJSSE provider
Support for server-side cipher suites preference customization in JSSE
The new Modena theme has been implemented in this release. For more information, see the blog at fxexperience.com.
The new SwingNode class enables developers to embed Swing content into JavaFX applications. See the SwingNode javadoc and Embedding Swing Content in JavaFX Applications.
The new UI Controls include the DatePicker and the TreeTableView controls.
How to Install Oracle Java JDK 7/8/9 on Ubuntu 17.04, Ubuntu 16.10, Ubuntu 16.04, Ubuntu 15.04, Ubuntu 14.04
Note: The installer will prompt you to accept the Oracle license before completing the installation
Install desired version below
------ Remove existing java installation ------
sudo apt-get purge openjdk*

------ Add Repository and Update ------
sudo add-apt-repository ppa:webupd8team/java

sudo apt-get update

------ Install and chack version ------
sudo apt-get install oracle-java7-installer

java -version

------ Set Environment Variable ------
sudo apt-get install oracle-java7-set-default
------ Remove existing java installation ------
sudo apt-get purge openjdk*

------ Add Repository and Update ------
sudo add-apt-repository ppa:webupd8team/java

sudo apt-get update

------ Install and chack version ------
sudo apt-get install oracle-java8-installer

java -version

------ Set Environment Variable ------
sudo apt-get install oracle-java8-set-default
------ Remove existing java installation ------
sudo apt-get purge openjdk*

------ Add Repository and Update ------
sudo add-apt-repository ppa:webupd8team/java

sudo apt-get update

------ Install and chack version ------
sudo apt-get install oracle-java9-installer

java -version

------ Set Environment Variable ------
sudo apt-get install oracle-java9-set-default
Note: Previously installed version of Oracle Java will be removed automatically when installing a higher version of Oracle Java