Notepad++ 7.4.2 recently released, is not just a free source code editor, but also a Notepad replacement that supports several languages. It's currently has support for MS Windows environment. This latest release now provides support for SWIFT language, fix for the regression of replace in files, as well as some fixed bugs and 1 enhancement.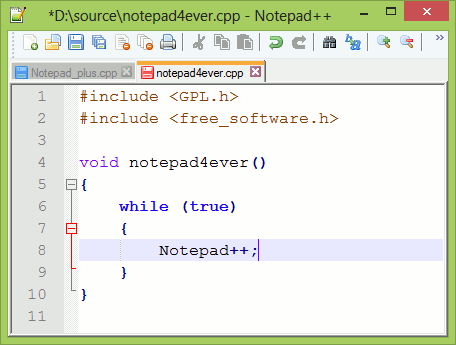 Notepad++ Changelog Since 4.2.1
Add SWIFT language support.
Fix replace in files regression.
Enhance Find Replace dialog (resizable & remove search direction radio buttons).
A crash issue while doing a column insertion on a CJK unicode document fixed
Repeated notification dialog for modification from outside of Notepad++ fixed
A visual glitchy during tab drag and drop fixed
Fix Notepad++ hanging issue on start up due to its connection on Internet – disable the certification chain verification.
Fix the opened zero length file not saving bug.
Improve Document Peeker performance issue for large files.
Download Notepad++ 7.4.2
32-bit Downloads
64-bit Downloads