Linux users have not always had it easy. Sorting through the available range of compatible items has always been quite challenging. Reasons for dissatisfaction often include driver problems and the endless software downloads that users must put up with. Manufacturers keep taking Linux compatibility for granted and treating Linux as an underdog in operating systems. Many find it difficult to find items to expand their connectivity.
If you often run into this problem, worry not! The following article covers some of the best wireless adaptors for Linux users. These devices also work like a charm for Windows and Mac users.
Buyer's Guide to Wireless Network Adapters
Keep track of the following pointers, and you will find a great wireless network adapter that is best suited to your needs.
Compatibility
All devices mentioned in this article are compatible with a wide range of operating systems, specifically Linux and its derivatives.
We have also mentioned the incompatibility of some drivers with platforms like PS3, Roku, Digital video recorders, and more. This will aid you in making up your mind if you wish to use such extensions in the future with other devices and operating systems for enhanced functionality.
Dual Band
802.11b and 802.11g are both 2.4 GHz standards. On the other hand, 802.11a and 802.11ac are 5GHz standards. The 802.11n standard works in either 2.4 or 5 GHz. Keep in mind that the "n" designation does not necessarily mean the adapter will work in both 2.4 and 5 GHz. Therefore, we recommend that you search for a dual-band wireless adapter that supports both 2.4 and 5 GHz standards. The most obvious giveaway is the "a" label, which only exists in 5 GHz standard.
Power Consumption
Whatever wireless network adapter you choose, the device should not be a burden on your power. Most adapters come with power conservation options, so you can tweak the settings according to your needs. The power saver mode can, however, affect the performance of your device.
Space
A space hoarding USB always comes in the way of other ports. So, the more compact the device is, the better. Wireless network adapters with giant antennas are indeed successful in catching weaker signals. Still, they will prove to be a nuisance if you are mobile or lack space on your desk.
Speed and Compatible USB Types
It all comes down to work efficiency, so choosing a device with a higher speed that is also compatible with your OS is of utmost significance.
It is important to know that while a USB 3.0 Port does offer blazing speeds and avoids network signal congestion, USB 2.0 also sits well with Linux in general, as USB 3.0 only comes in specific Linux versions (Kernel 2.6 35 or later).
The following include some of the best wireless network adaptors available for Linux.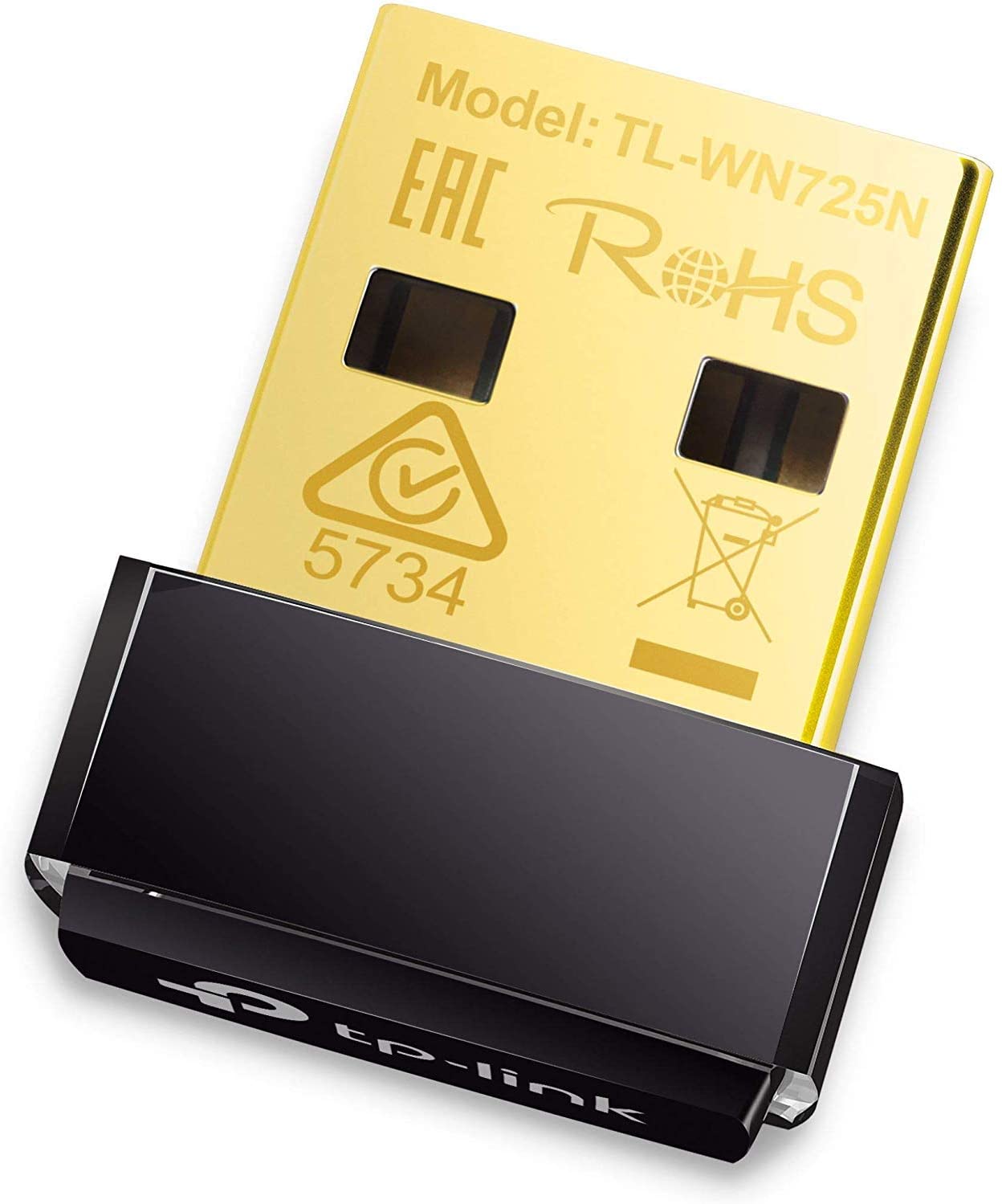 The TP-Link network adaptor aces all related fields of connectivity, compatibility, and compactness. Being so tiny, this device can easily fit anywhere in your workspace. Apart from being the most affordable, this model also contains many other worthwhile qualities.
For instance, this device gives you the ability to upgrade Wi-Fi speeds of up to 150 Mbps to enjoy a lag-free streaming and online calling experience. As for Wi-Fi coverage, the 2.4 GHz band Wi-Fi can cover your entire house.
The device's compact structure saves space, and you do not have to deal with tangled wires or signal rods. TP's wireless security supports 64/128 WEP, WPA/WPA2, WPA PSK/WPA2 PSK (TKIP/AES), and IEEE 802. 1x, keeping the unwanted company at bay.
The wireless adapter works in sync with Windows (XP, 7, 8/8.1/10), Mac OS (10.9 – 10.15), and Linux Kernel (2.6.18 – 4.4.3). Do not worry about the installation process, as it is relatively easy. Simply plug the device in to install a quick software from the linked website for the latest driver for your operating system and scan for the nearest networks to finish the installation.
This device is a leave-on network adapter with wireless encryption, Soft AP mode, and is one of the few devices that support Linux, alongside other OS.
More Details on TP-Link USB Wi-Fi here: Amazon
Next, we have another USB wireless network Adapter by the Panda Store. You may think twice before looking at the price tag, but trust us, there is more to this device!
The Panda works in harmony with any 2.4Ghz wireless g/n routers, with a maximum wireless connection speed of 300 Mbps. Moreover, the device can also support both infrastructure and ad-hoc modes.
Compatibility being the main highlight, this multi-operating-system approach by Panda supports 32-bit and 64-bit Windows XP/Vista/7/8/10, MX Linux, Manjaro, Linux Mint, Ubuntu, Lubuntu, Open SUSE, RedHat, Fedora, CentOS, Kali Linux, and Raspbian. However, the device does not support MAC for wireless Panda PAU05.
Keep in mind that this device will not work together with digital media players, such as Roku, Digital Video Recorders, and other network-attached storage devices. This specific adapter will run effortlessly on an Intel/AMD-based PC or Raspberry Pi 0/1/2/3/4.
The WPS button on the stick quickly sets up a connection between the router and the computer. This device is also backward-compatible with 802.11n 2.4GHz wireless network standards. Lastly, the power consumption of this model is next to none.
More Details on Panda 300MBps Here: Amazon
This is yet another network adapter made by Panda Wireless, but it comes with a twist. This model has dual high gain 5dBi Antennas, which ensures an extended and stable wireless connection!
If you are living in a Wi-Fi congested area with airwaves being intermitted from various 2.4GHz band routers, this can be a nuisance for your wireless network adapter to catch. If this is the case, the higher connection speed of the Panda wireless 5GHz is worth looking into. This model also supports the standard security features of 64b/128bit WEP, WPA, and WPA2 (TKIP+AES) to keep freeloaders at bay.
Also of significance are the device's spaced dual antennas that filter out weaker signals and successfully catch the important signals. The large size of this device should not cause worry about power consumption. These work on low input, extending battery life.
As for compatibility, this device works great with any PC that carries a working USB port. This model is well-suited for 32-bit and 64-bit Windows XP/Vista/7/8/8.1/10/2012r2, Mac OS X 10.8-10.11, and the latest version of Linux distributions, though it does not work well with Xbox 360, PS3, Blu-Ray, Roku, TV, etc.
That said, this model does present a setback in its wide pan infrastructure. The spread-out antennas do take up space and are very noticeable. This model is also rather expensive in comparison to those previously mentioned.
More Details on Panda Wireless PAU09 N600 Dual Band Here: Amazon
Another USB-lookalike dongle to ramp up your Linux connectivity is the AC1300 wireless adapter by Cudy Store. This device climbs up to 400 Mbps on 2.4GHz and 867Mbps on 5GHz.
The AC1300 offers a lag-free experience with long-range connectivity throughout your vicinity. This device also can upgrade your PC/Laptop to 802.11ac, up to three times quicker than the general wireless N speeds. The most significant detail about this model is the USB 3.0 option provided, instead of the USB 2.0 wireless adapters. This ensures lightning speeds of 867Mbps on 5GHz, in comparison to 480 Mbps on a USB 2.0 port.
This tenfold increase in transmission speed successfully meets the AC1300 Wi-Fi speed requirement. Moreover, this device is compact and convenient for usage, in addition to being compatible with many OS, such as Windows 10/8.1/8/7/Vista, Mac OS, and Linux.
There is a CD included with the package for this device that contains driver installation instructions for the user to follow. The manual guides you through downloading the necessary software reasonably quickly. The Soft AP Mode also enables the USB to convert a wired internet connection to a PC or Laptop into a Wi-Fi hotspot, which then gives out signals to mobile devices. However, managing two devices at the same time often leads to signal dropouts.
More Details on Cudy Wireless Adapter Here: Amazon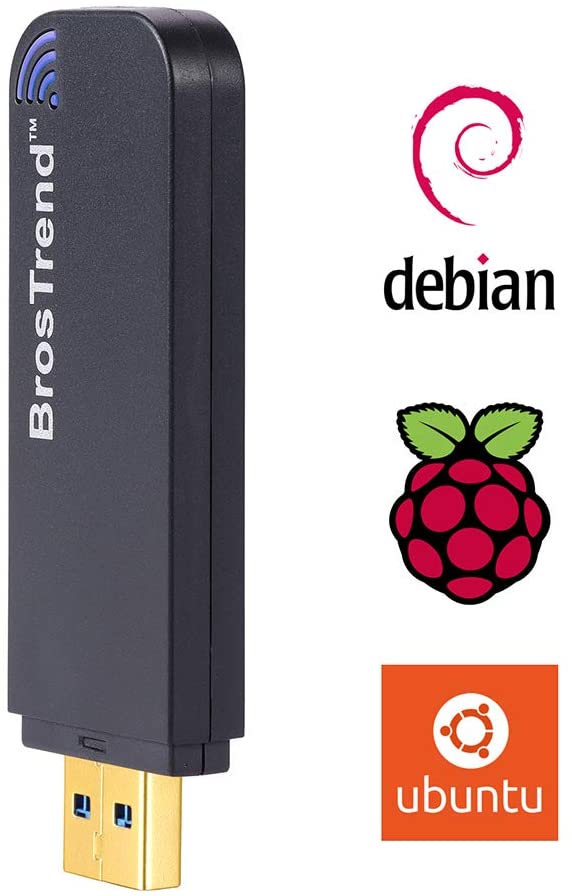 Last but not least, we have another simple-looking USB network Adapter that has a trick or two up its sleeve.
This device supports various Operating Systems, including Ubuntu, Debian, Mint, Raspbian, Kali , Windows 10/8.1/8/7/XP (does NOT support Vista), and MAC OS X 10.9-10.14. In regards to the linux driver, it can work on linux kernels up to and including 5.11.
This model also comes with the hidden surprise of a Linux Technical Support Ticket! This extra support can help users get what is right for their Linux OS.
High-security encryption is promised, as this device supports WPA2 (TKIp+AES), WPA, WEP, which safeguard your network.
That is not all! The USB 3.0 Port offers a super-fast Wi-Fi speed of 5GHz, or 3000 Mbps speed on 2.4 GHz band. This is all thanks to the device's gold-plated USB 3.0 port. Backward compatibility with USB 2.0 also bodes well for the Linux Wireless network adapter for PC.
Enjoy 4K video streaming or gaming with ultra-fast network speeds thanks to the device's integrated antennas. The device's double-sided LED indicators will monitor your status, and its compact structure will not hoard the ports. Nevertheless, this model's higher price point may deter some potential buyers.
More Details on BrosTrend Wireless Adapter Here: Amazon
Closing Thoughts
Choosing network expanders can indeed be tiresome – especially for Linux users. As time progresses, more and more devices are offering Linux-compatible devices. You can trust any of the devices mentioned above to do the job for you. All the network adapters mentioned in this article will work effortlessly on Linux OS. Feel free to choose whichever model best suits your needs, according to the Buyer's Guide provided above. Good luck!