The world has undergone a drastic change of late, as everything is slowly being digitized. Technology has evolved so much that each year, new tools are developed that completely change the ecosystem of the industry. These can range from multi-featured image editors to modern-looking desktop environments.
There have also been software applications developed to provide users with remote access to other devices, including computers running Windows, Linux or macOS, or Android mobile phones.
One such tool is KDE Connect, a Linux-based application that allows users to not only share their files between different devices but also gain complete remote control of them.
This article will take a look at KDE Connect in detail and discuss the main features that this application offers to its users.
What Is KDE Connect?
KDE Connect is a tool that allows users to connect their Linux systems with other devices, which may be another system running Windows, macOS, Linux, or Android. KDE Connect is a useful tool developed by the people working at KDE that easily allows communication between many different kinds of devices.
The best features that this application offers include receiving phone notifications on your desktop to which you can reply; controlling your desktop by having your phone act as a remote control; sharing files between the connected devices; and even finding your phone by giving it a ring.
KDE Connect performs all these functions while keeping a secure protocol on the network so that no privacy issues arise. The icing on the cake is that this application is completely free and open-source. Having all these features integrated inside a single application is quite a feat and makes it an excellent application to use.
Setting Up KDE Connect
To use KDE Connect, you must first set it up on both your Linux system and your Android mobile phone. Let us look at the steps to do this:
Installing KDE Connect on Your Linux System
First, you will need to install KDE Connect on our system. You can find KDE Connect as a package in the official repository of your Linux system. In Ubuntu, this app is supported by its official repository, so you can install KDE Connect by using the apt command.
Before installing KDE Connect, the apt-cache of your system must be updated so that no issues emerge later on in the installation process. To do this, open the terminal via the shortcut Ctrl + Alt + T or from the Ubuntu dash, and enter the following command into the terminal:
Next, enter the following command into the terminal to install KDE Connect:
$
sudo
apt
install
kdeconnect
Installing KDE Connect on your Android Phone
To connect your phone with your Linux system, you will also need to install the KDE Connect application on this device. KDE Connect can be found in both the Google Play Store and F-Droid, so you can install the application from either of these locations. The following image shows the application in the Play Store: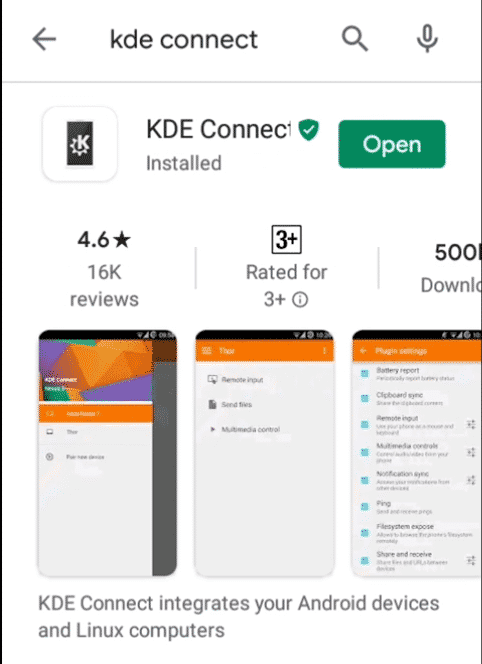 Setting Up KDE Connect
To use KDE Connect, open the application on both your Linux system and Android device. You will see the names of the devices that have KDE Connect installed and running:
Android: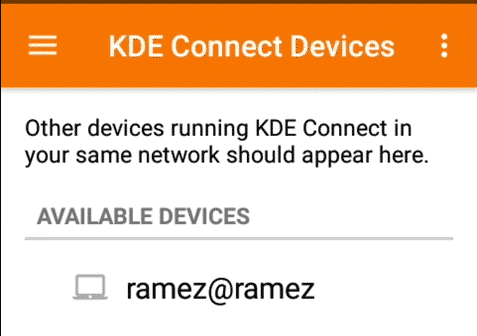 Linux:
When you click on either of these items, the application will ask you whether you want to pair your device with the other. Click on any of them.
Once you have requested the devices for pairing, the device you are on will ask whether you want to accept the pairing. Click Accept to pair the two devices.
Once this is done, your two devices should be paired.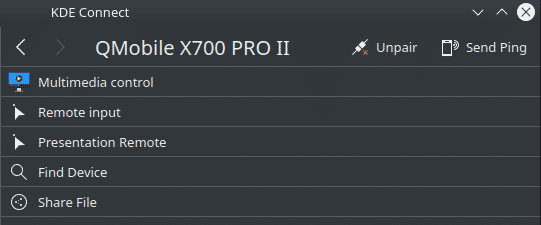 Linux:
Android:
Features of KDE Connect
Some other features that KDE Connect provides include the following: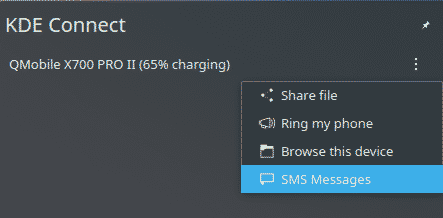 As seen in the above image, one of the best features that KDE Connect offers is sharing files from one device to another. You can easily send files from your Linux system to your Android phone using this application, and vice versa.
To transfer a file from your Linux system to your Android phone, drag and drop your file onto the KDE Connect minimized notifier or click on the Share file selection, which will open up a window from which you can select the file you want to transfer.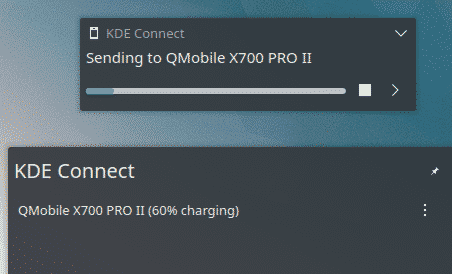 KDE Connect also allows users to use your Android phone to act as a mouse and control your Linux system. To do this, open the Remote input section, and voilà! Your Android phone will now act as a mouse. You can even use your phone to enter text in your Linux systems, like a keyboard.
Another great feature that comes along with KDE Connect is the ability to notify you of any notifications that might come from your phone. If you leave your phone somewhere or it is charging, there is no need to worry, as you can receive all notifications directly on your Linux system. You simply need to permit KDE Connect to allow notifications on your Android phone.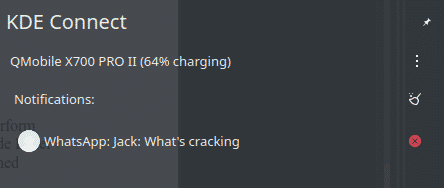 You can even reply to these messages, as indicated by the image below:

Another particularly useful feature that comes with KDE is that it can easily find your phone if it has been misplaced somewhere. For this, your phone just needs to be connected to the same Wi-Fi network as your Linux system. To do this, open KDE Connect and click Ring my phone.

Your Android phone will keep ringing until you click the FOUND IT text that appears on your phone.
Why use KDE Connect?
KDE Connect is one of the best projects developed by the KDE Community. This application is a powerful tool, with so many features integrated inside of it. Even more amazing is the fact that KDE Connect is completely free to use. This app is a tool that really does blow your mind.