Cloud computing is one of the hottest topics of the 21
st
century in the industrial sector. The growth that this field has seen in the last few years has been immense, as it is currently being adopted in nearly all existing technology sectors. Tech giants like Amazon, Google, and Microsoft are considered to be one of the big players in cloud computing, competing with each other to capture the greatest market share.
This exponential growth has been fueled by the increasing demand for data usage and storage by large enterprises, as well as the common user. Cloud computing allows users to store files onto the cloud, saving storage on their devices, running software programs without having to install the dependencies required for them, and even offering enhanced security and auto-backup, keeping data secure and safe. One such feature that clearly shows why cloud computing is a modern marvel is the ability to store data on the cloud.
Cloud storage is one of the biggest things that have emerged from cloud computing, and it continues to rise in popularity. In the next few years, cloud storage will surely solidify itself as a valuable asset to many businesses and organizations. Since cloud services are protected by powerful encryptions, they are extremely secure and reliable.
Along with this, cloud storage is highly flexible and scalable, as you can access the data on the cloud from any device and an unlimited number of users can access these files from anywhere.
Since this service has gained such high popularity, many service providers have come into the picture. Those that offer some of the best packages include iDrive, OneDrive, a Microsoft service, and the Google cloud storage service called Google Drive.
KIO GDrive is a tool that allows users to freely access and edit Google Drive, one of the most popular cloud storage service providers.
This article will show you how to install KIO GDrive and discuss in detail what makes it such a great application to use.
What is KIO GDrive?
KIO GDrive is a software application that allows users to access and edit files placed inside their Google Drives using KDE-based applications, such as Dolphin, Kate, and so on. Since it is a product of KDE, KDE GDrive follows the same motto of being completely free and open-source.
With KIO GDrive, you can freely transfer files from your system to your Drive, and vice versa. Moreover, you can also send these files to your friends or co-workers. Unlike email clients, KIO GDrive has no limits on the file size to send via email, as long as it comes under the storage size of your drive.
Installing KIO GDrive Using the Official Ubuntu Repository
KIO GDrive comes as part of the official Ubuntu repository and can therefore be installed by using the apt command. First, you must run the update command so the apt-cache of your system is updated to the latest versions and no issues occur later on in the installation process. To do this, open the terminal via the shortcut Ctrl + Alt + T or from the Ubuntu Dash and enter the following command into the terminal:
Next, install another package that installs some additional dependencies needed to recognize services such as Google and Twitter. To do this, enter the following command into the terminal:

$
sudo
apt
install
-y
kaccounts-providers
Finally, run the following command in the terminal to install KIO GDrive:
$
sudo
apt
install
-y
kio-gdrive


Using KIO GDrive
After installation, you can start the KIO slave by running the following command:
$
kioclient5
exec
gdrive:
/
For users not comfortable with the command line, they can open the KIO slave by opening System Settings and then selecting the Online Accounts tab under the Personalization section.
After opening GDrive, click the Add new Account button, which will take you to a new page.

In the new page that is opened, it gives you two internet account options, and you can choose between Google and ownCloud.
Since we would like our Google Drive to be connected to our system, we will click on the Google field. After clicking on Google, this will open a web authentication page, asking you to log into your Google Drive Account. Enter your Google email and password and then click Sign In.
After signing in, you will then be asked whether you want to give permission to the KDE service to allow it to gain access to your Google Account. Click Yes to give it access.
Image 1:

Image 2: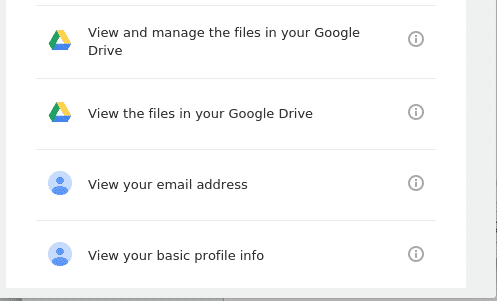 After the app has obtained the required permissions, the following page will open, indicating that the entire process has been completed correctly.
Click on Done and it will open the starting Online Accounts page, where you can see your Google Account. Now, exit this dialog by clicking OK and then open the Dolphin file manager. Next, open the Networks tab under the Places section and you will find your Google Drive locally mounted onto your Linux System.

Why Use KIO GDrive?
Today, cloud computing has become one of the most popular technologies. It has completely changed the dynamic of the technology industry and is transforming all public resources and services around us. It therefore comes by no surprise to see tools emerging that allow users to fully benefit from cloud computing and storage. KIO GDrive is one such fascinating tool that allows you to access your Google Drive account and mount the data and storage locally onto your Linux system. With its user-friendly interface and extremely easy-to-use Google Drive integration process, KIO GDrive is an amazing tool to work with.