Slack is among the world's most successful collaboration platforms that help bring together several of your communication. Slack conversations are grouped into channels. It could be for any groups, ventures, subjects, and any other reason. If you are looking for something where you can share your conversations or networks, slack allows you to have a chat over video or audio calls with your colleagues, and even exchange files, photos, and videos, among others.
Two ways to install Slack on Ubuntu 20.04 are discussed in this document. Slack can be installed from the Snapcraft store, as a snap package, or Slack repository, like a deb package.
Install Slack with Snap:
Snaps are self-contained software programs that provide all the dependencies necessary for the application that runs the binary. It is also reliable and easy to update. Snaps get a heavy-duty footprint and greater device startup time, unlike the regular deb packages.
The Snap kit for Slack is managed and distributed by Microsoft.
You can install Snap packages from either the command-line or from the Ubuntu Software application.
Type in the following command to unpack the slack snap package:
$
sudo
snap
install
slack
--classic


With the above command executed, your Ubuntu desktop has now Slack installed on it, so you can start using it.
The cool thing about installing it this way is that it updates automatically if the devs update the snap for it.
Installing Slack using its Deb Package:
Visit the download links for Slack for Linux and install the new kit for Slack .deb.
Double-click the file once the installation is complete, and the Ubuntu Software Centers will open up. Click the "Setup" button to launch the process and type in the user credentials when prompted.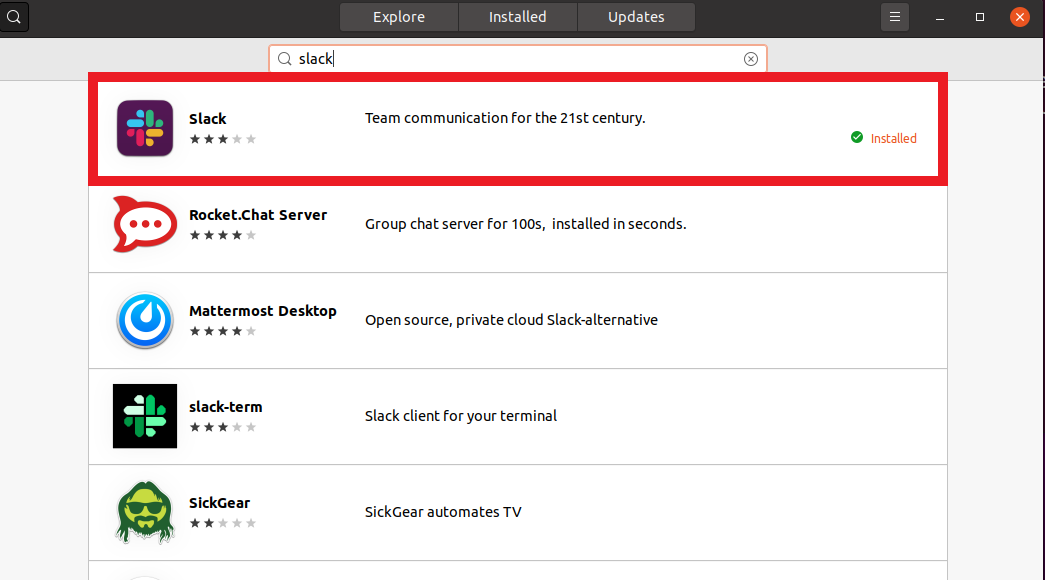 Starting Slack:
Type 'Slack' in the Activities search bar and press the icon to open the program. Using the CLI, you can also start Slack by typing Slack at the command line.
Conclusion:
It is a reasonably easy method to install Slack on Ubuntu 20.04 Linux, as it'll only take a couple of minutes. It also gathers all the communication messages on a single platform.