Ubuntu is a Debian based operating system that has become one of the most popular Linux distributions available for desktop. Since it has a Linux kernel at its core, it follows the same code of conduct and public license as that of Linux and thus, is completely free to use and users are free to run, copy, distribute and develop its software. This makes it an extremely reliable and secure alternative to have and allows it to be less vulnerable to bugs and errors.
Ubuntu is bundled with so many amazing features and it is no wonder why it has gained such a large following. One such feature that is greatly appreciated by all users is its customizable and extensible nature. Ubuntu is extremely easy to configure and tweak around with and this is a huge plus point as users want to be able to change their desktops to match their interests. There are hundreds of Linux themes available out there and the figure keeps on increasing.
A popular choice among users is the Papirus Icon Theme, a polished and well-designed theme that is available on several desktop environments including Unity, GNOME, Cinnamon, XFCE, KDE, and so on.
Therefore, the topic of our discussion in this article will revolve around the installation of Papirus on our Ubuntu systems as well as taking a look at the appearance the interface will have after its installation.
What is Papirus Icon Theme
Papirus Icon Theme is an open-source and free icon theme established specifically for Linux. It has been derived from the Paper Icon Theme which was developed by Sam Hewitt. Papirus is available for several desktop environments including Unity, GNOME, Pantheon, Cinnamon, XFCE, KDE, and many others. It is a huge icon set, encompassing close to a thousand icons in its bundle. Papirus is well-known for its polished and stylish look and is available in four variants which are Papirus, Papirus Dark, Papirus Light, and ePapirus (This is for the Elementary and Pantheon Desktop Environments).
Prerequisites: Installing the GNOME Tweak Tool
Before moving on to the installation of Papirus, we first need to install the GNOME Tweaks tool which, as the name indicates, is a tool designed for configuring the GNOME Desktop Environment. GNOME Tweak tool has a variety of features installed inside of it and allows users to change several settings of Ubuntu such as appearance changes, using new fonts, managing desktop extensions, controlling desktop icons, etc. Since it is part of the Ubuntu official repository, it can simply be installed by using the apt command. To install it, open the terminal via Ctrl + Alt + T or Ubuntu Dash and simply run the following commands into the terminal:
$
sudo
apt update
$
sudo
apt upgrade
$
sudo
apt
install
gnome-tweaks
-y

Installing Papirus Icon Theme
There are three major ways by which Papirus Icon Theme can be installed on Ubuntu. Let us take a look at all three of them:
1) Installing Papirus using PPA
Papirus can easily be installed by using its official repository or PPA for short. To do this, we once again make use of the apt command. Enter the following command to add the Papirus repository to your Ubuntu system:
$
sudo
add-apt-repository ppa:papirus
/
papirus
Next, we need to run the update command so that all the apt-cache of our system is up to date and thus no issues arise later on. This can be done by running the following command:
Finally, run the following command to install Papirus Icon Theme on Ubuntu 20.04:
$
sudo
apt-get install
papirus-icon-theme
2) Installing Papirus using Installer Script
Another method of installing Papirus is by using the installer script which installs the latest version of Papirus directly from the GitHub repository. To do this, again we first have to run the update command, so all the system cache is up to date.
Next, enter the following command in the terminal to install Papirus:
$
wget
-qO-
https:
//
raw.githubusercontent.com
/
PapirusDevelopmentTeam
/
papirus-icon-theme
/
master
/
install.sh
|
sh
3) Installing Papirus using Debian File
For users that are not comfortable with the terminal, they can also use the Debian file to install Papirus on their systems. Users can download the .deb packages from here. Download the latest file for your Ubuntu 20.04.
To install Papirus, simply click on the Debian File and then click on Install.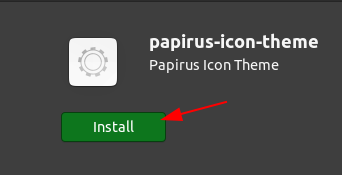 This will install the Papirus Icon Theme
Setting Up Papirus on Ubuntu
Once you have installed all the packages, search for the GNOME Tweaks tool that you installed in the Ubuntu dash and open it.
Next, click on the Appearance section of the Tweaks tool.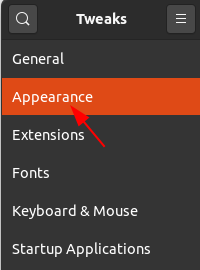 Over here, choose the variant from the four options of the Papirus Icon Theme that you want (Note: the ePapirus variant is for Elementary and Pantheon Desktops).

You will instantaneously see the changes take place.
Files:

Applications List:
Main Screen:
Adding Papirus Icon Theme to Ubuntu
Ubuntu is extremely customizable and provides users with lots of freedom. Users can tweak and change their interface settings, move the dock from left to right, top to bottom, change the font and wallpapers and so much more. One such example is the changing of icons that originally come along with Ubuntu. Papirus Icon Theme is a highly popular icon set, quite liked among the industry for its refined and polished styles. It has several flavors that users can install and is available for almost all the popular Linux Desktop Environments.