How to install Unity, a flexible and powerful development platform for creating multiplatform 3D and 2D games as well as an interactive experiences on Linux. With Unity, you can target more devices easily, and with a single click you can deploy your game to mobile, VR, desktop, Web, Console as well as TV platforms.
Furthermore, it's a complete ecosystem for anyone who aims to build a business on creating high-end content and connecting to their most loyal and enthusiastic players and customers.
Before we proceed with how to install unity, lets see some of the supported platforms, as well as updates to this release.
Supported Target Platforms For Linux
The Unity Editor for Linux supports export to the following platforms:
Linux, Windows as well as Mac Standalone
Android, WebGL, Tizen as well as SamsungTV
Legacy WebPlayer
iOS project deployment (experimental in 5.5 builds)
Note that your desktop machines needs a modern graphics card with vendor-supported graphics drivers (provided by NVIDIA, AMD, or Intel) for it to run on Linux.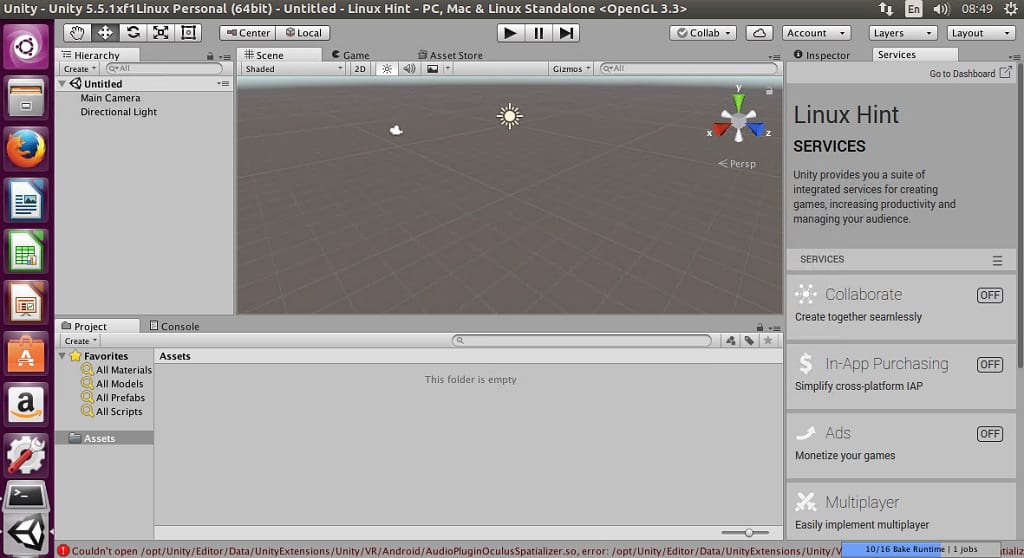 Unity 5.5.1 Update Changelog
Improvements
Graphics: Added support for feature level 11.1 on D3D11/D3D12. This brings native support for RGB565 as well as ARGB1555 RenderTexture formats. Note that this does not render correctly for ARGB4444 which will be fixed in one of the future releases.
Graphics: An error message is shown in the console for platforms that don't support linear color space rendering with OpenGL ES
macOS/iOS/tvOS: Allow using Xcode's manual signing workflow by specifying a provisioning profile in Player Settings.
Metal: Improved handling of transparent rendering after post-opaque image effects when using MSAA.
Shaders: If an unknown/unhandled error occurs during shader compilation, append it to the shader compiler error message. This gives some context on what might be wrong in the shader.
Shaders: Optimized in-editor import, load time as well as memory usage for shaders with massive amounts of potential variants.
Unity Ads: Updated native binaries to version 2.0.6.
Changes
Test Runner: Removed script templates for test runner (as it is not released)
Editor: Fix for an editor crash when switching platforms on a command line build shipped in 5.5.0p4 has been backed out as it requires further tests
See release notes for complete details
How to install Unity 5.5.1f1 build update on Ubuntu 17.04, Ubuntu 16.10, Ubuntu 16.04, Ubuntu 15.04, Ubuntu 14.04
sudo apt-get install gdebi

wget http://beta.unity3d.com/download/f5287bef00ff/unity-editor_amd64-5.5.1xf1Linux.deb

sudo gdebi unity-editor_amd64-5.5.1xf1Linux.deb
How to remove Unity from Ubuntu
sudo apt-get remove unity-editor