Simplenote 1.0.8 the most recent update, is a light, clean, and free note taking application. It is now available for iOS, Android, Mac, Windows, Linux, and the web. The app was originally built for iOS and it has since been expanded to include Android, Mac OS X, and now Windows and Linux. Simple is built with React as well as runs on Electron. Before we proceed on how to install simplenote on ubuntu, lets take a quick look at its features.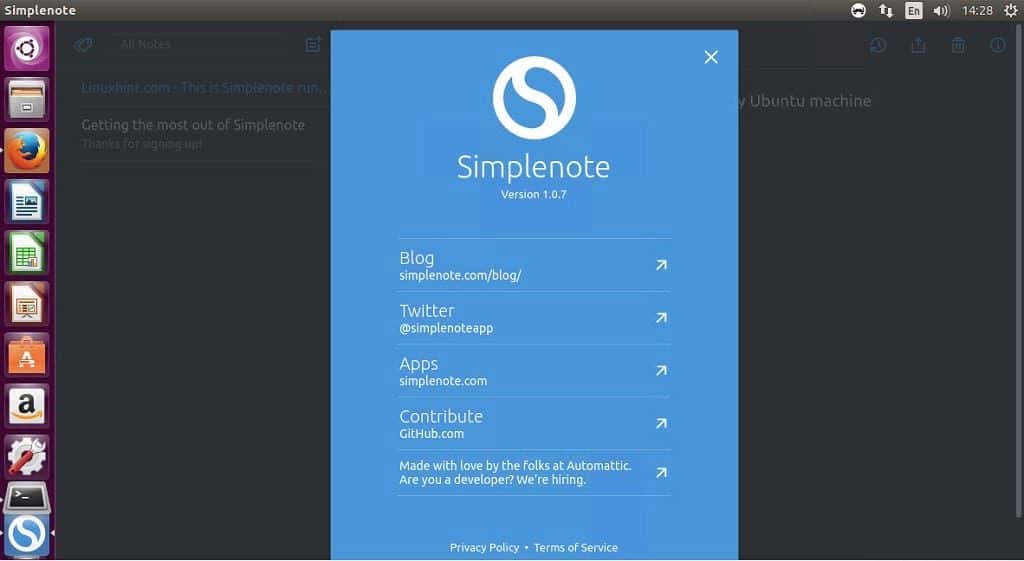 Simplenote Features
Your notes stay updated across all your devices while no buttons are pressed
Find notes quickly with instant searching as well as simple tags
Share a list, post some instructions, or publish your thoughts
Your notes are backed up when you change them. Just drag the version slider to go back in time
Type what you're looking for, and your list updates instantly. You'll never misplace an important thought again
Notes can be backedup, synced and shared – it's all completely free
History: drag the History slider to view previous versions.
Collaboration: share your note with others as well as allowing them to edit.
Publishing: make your note public with its own URL.
Tags: organize your notes effectively with tags.
Pinning: pin notes right from the note list so they're easy to find.
Simplenote 1.0.8 Changelog
Search improvements: Match highlighting and clear search button added.
You can now export your notes from the file menu.
Performance and reliability improvements.
The app supports Markdown.
Enable Markdown
Firstly, enable it globally by going to the toolbar menu and selecting Preferences →Writing → Enable Markdown. Next, enable it on your note by selecting the Info panel icon as well as toggle the Markdown setting.
Now, you're ready to edit and preview Markdown!
How to install Simplenote on Ubuntu 17.04, Ubuntu 16.10, Ubuntu 16.04, Ubuntu 14.04, Linux Mint 17.x, Elementary OS 0.3 Freya and other Ubuntu derivative
sudo apt-get install gdebi
wget https://github.com/Automattic/simplenote-electron/releases/download/v1.0.8/simplenote-1.0.8.deb
sudo gdebi simplenote-1.0.8.deb
How to uninstall Simplenote from Ubuntu
sudo apt-get remove simplenote
How to Install Simplenote on CentOS, RHEL, Fedora
wget https://github.com/Automattic/simplenote-electron/releases/download/v1.0.8/Simplenote-linux-x64.1.0.8.tar.gz
tar -xvf Simplenote-linux-x64.1.0.8.tar.gz
cd Simplenote-linux*
./Simplenote