Between Steam, Pop!_OS, and Wine, Linux gamers have never enjoyed more options and greater comfort than they do today. Still, there's always room for more quality digital entertainment, and this article explains how you can play hundreds of classic adventure games on Linux using Script Creation Utility for Maniac Mansion Virtual Machine, better known as ScummVM.
What Is ScummVM?
ScummVM is a software application for Linux and many other operating systems that make it easy to play classic adventure games created using the SCUMM video game engine and several adventure games created using different engines.
First released in 2001, ScummVM is almost old enough to order a glass of beer in the United States, and it's distributed as free software under the terms of the GNU General Public License. Because ScummVM re-implements the interpreter for the scripting languages classic adventure games were created with, it offers far better performance than solutions relying on hardware emulation, such as installing an early version of Windows in VirtualBox.
Installing ScummVM on Linux
Most Linux distributions include ScummVM in their software repositories, so its installation is a matter of a few simple clicks or, in our case, one simple command (we're using the ARM version of Debian 10.10):
$
sudo
apt-get install
scummvm
As you can see, the list of suggested packages on Debian includes two optional software synthesizers, Fluidsynth and TiMidity, and four free adventure games:
You don't need to install the optional software synthesizers for sounds and music to play properly since ScummVM comes with a built-in AdLib emulator. As far as the games go, that's completely up to you! Beneath a Steel, Sky is on our list of recommended adventure games, and the other three games are definitely worth checking out as well, though.
Note: If you've decided to install one of the optional games using your distribution's package manager, it's likely that it won't be listed in ScummVM. For example, Beneath a Steel Sky on Debian installs to /urs/games/, and you can launch it using the "sky" command.
Using ScummVM
Once ScummVM is installed, you can go ahead and launch it. You can now add your games by clicking the Add Game button. We recommend you organize them in a single folder for extra convenience.
Click Choose to confirm your selection. You will be allowed to change the game's name and other settings, but there's usually no need to, so you can simply click OK. For more information on the available settings, read the official documentation.
Your game should now be listed in the main window, and you can select it and click Start to play it.
That's all there is to it! You can now embark on your first point-and-click adventure.
Top 10 Must-Play Classic Adventure Games
Besides adventure games created using the SCUMM engine, ScummVM also supports several non-SCUMM games. In total, you can use it to play around 250 games from studios like Revolution Software, LucasArts, Sierra.
Narrowing them down to just ten wasn't easy at all, and you should know that there are many, many other ScummVM-compatible classic adventure games worth playing. The selection below is supposed to show you the wide range of experiences on offer, demonstrating that there's really something for everyone.
1. Broken Sword
Released and developed in 1996 by British developer Revolution Software, the Broken Sword series is best remembered for the first two games: The Shadow of the Templars and The Smoking Mirror. While you can now play the remastered versions of both on just about any platform, including iOS and Android, the original releases are still as charming and enjoyable to play as the day they were first released. The story starts near a picturesque café in Paris, where a young American patent lawyer named George Stobbart witnesses a bomb attack, which sets in motion a whole chain of events that will lead to many surprising discoveries and wild adventures.
2. The Secret of Monkey Island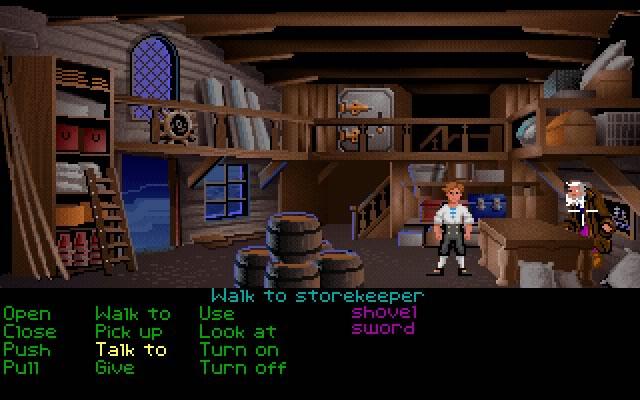 When an adventure game is selected as one of only five exhibits for The Art of Video Games exhibition in the Smithsonian American Art Museum, you can be sure that its impact on the video game industry and pop culture, in general, has been huge. Indeed, The Secret of Monkey Island is arguably the finest point-and-click adventure game Lucasfilm Games has ever released, and that says a lot. You play as an aspiring swashbuckling pirate called Guybrush Threepwood. On your journey to piratehood, you encounter many unforgettable characters, solve numerous brain-twisting puzzles, and generally enjoy one heck of an adventure.
3. Day of the Tentacle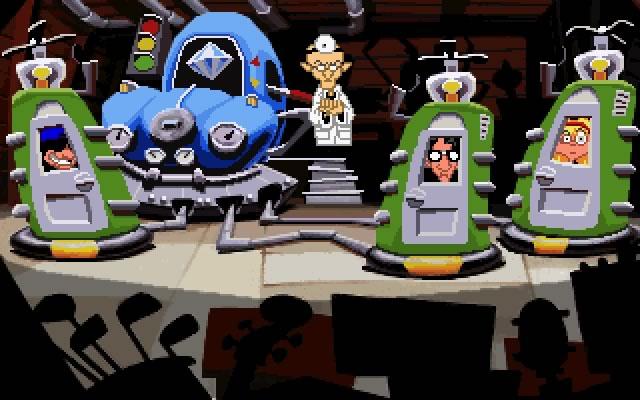 Day of the Tentacle is actually the sequel to Maniac Mansion and an even older adventure game that you can also play using ScummVM. While you won't be able to appreciate a couple of jokes without playing Maniac Mansion, the plot will still make perfect sense to you, so there's no reason at all to feel bad about skipping the somewhat clunky predecessor whose graphics leave a lot to be desired. In the game, you control three characters as you explore different historical periods and solve puzzles along the way. Fans of point-and-click adventure games love Day of the Tentacle for its humor, cartoon-style graphics, and soundtrack composed by Peter McConnell, Michael Land, and Clint Bajakian.
4. Full Throttle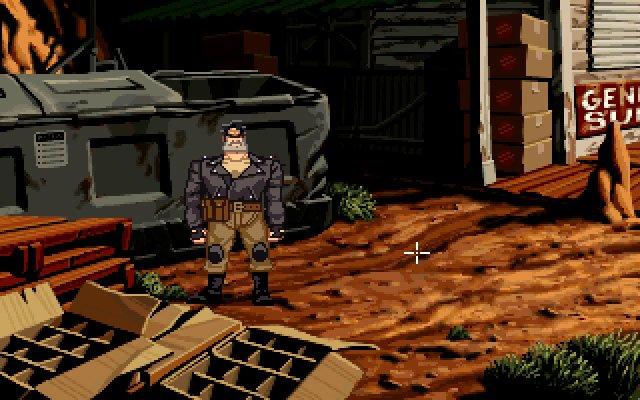 In Full Throttle, you play as a rugged biker named Ben. You lead a gang of bikers who ends up framed for the murder of a motorcycle manufacturing mogul. To clear your gang's name, you embark on a gasoline-smelling, leather-wearing, knuckles-busting adventure that is dense with fully fleshed-out characters. Just like many other ScummVM-compatible adventure games featured on this list, Full Throttle has been remastered and re-released on most popular platforms, but the original holds up just fine.
5. Indiana Jones and the Fate of Atlantis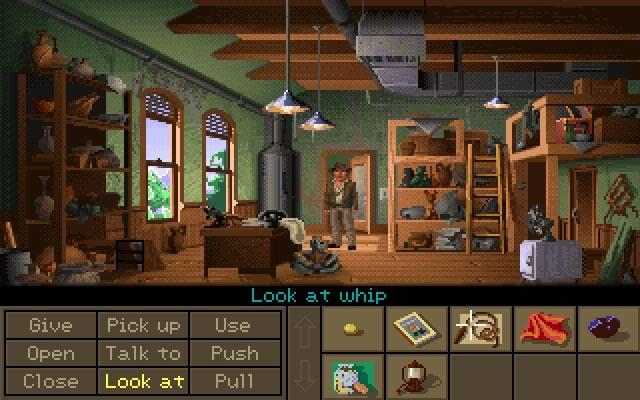 There should be far more great Indiana Jones videogames than there are, but at least there's Indiana Jones and the Fate of Atlantis, one of the best point-and-click adventure games from LucasArts. Originally released in 1992 and later reissued with full voice acting and digitized sound effects, the game lets you play as the most famous fictional professor of archaeology in the world as you search for the legendary sunken city of Atlantis.
6. Beneath A Steel Sky
Before Revolution Software secured its place in the adventure game hall of fame with the first Broken Sword, the studio released Beneath a Steel Sky, a cyberpunk science fiction adventure set in a dystopian future where the sun shines through a polluted atmosphere. This is an excellent first ScummVM game to play because it's distributed as freeware and downloadable from the ScummVM website. We recommend the CD version because it includes speech and contains higher-quality assets.
7. I Have No Mouth, and I Must Scream
After you finish Beneath a Steel Sky, you may find yourself hungry for more cyberpunk goodness, and I Have No Mouth and I Must Scream a perfect way to satisfy this craving. Based on a post-apocalyptic science fiction short story by American writer Harlan Ellison, this dark and twisted point-and-click adventure game takes place in a world destroyed by an evil artificial intelligence that has been keeping five humans' life for more than 100 years, torturing them in increasingly devious ways. You play as these unfortunate souls, helping them overcome the hellish challenges they've been presented with.
Obtaining Games for ScummVM
These days, obtaining games for ScummVM is pretty easy because many popular titles are available on GOG.com and Steam. The few games that can't be downloaded in digital form from the aforementioned distribution services can often be found for a good price on eBay and other similar marketplaces.
Just know that remastered editions of classic point-and-click adventure games are usually compatible with ScummVM, at least not without some tweaking and asset copying. The good news is that some of the best re-releases support Linux or at least run great using Wine.