Everything is now accessible online and when accessing most services, you must create an account depending on the platform. While creating an account is easy and quick, the hassle comes in remembering all the different and robust combinations of passwords used to create the account.
To be safe, you should not use the same password for your accounts. Therefore, having a way to manage all your passwords for quick autofill and security is essential. With a password manager like LastPass, you no longer have to worry about forgetting passwords. This guide details everything about using LastPass on Ubuntu 22.04.
How LastPass Works
LastPass is a leading password manager for Linux. It has multiple features and is available as a browser extension. With LastPass, you can create a free account or upgrade to premium. The free account lets you save unlimited passwords for different sites and offers two-factor and multiple-factor authentication. Besides, you can share your password with trusted people or have a shared folder of passwords.
To use LastPass, you must first access it on your browser, create your account, then add the LastPass extension for your browser. Once logged in, you can explore the password manager vault, including adding different accounts that you wish to have their passwords saved for quick autofill when logging in.
Moreover, LastPass lets you add digital records or notes to avoid forgetting them. For instance, you can add your insurance cards or Wi-Fi passwords so you can always refer to them whenever required.
Again, LastPass lets you generate strong passwords and use different passwords for all your account. Furthermore, you do not need to remember these passwords as it saves them for you. Still, you can assess the strength of the password you create, ensuring you have strong and secure passwords. When you open a platform that requires you to log in, LastPass will autofill the credentials.
Installing LastPass on Ubuntu 22.04
Installing LastPass is a straightforward task, as only the browser extension is required for you to have LastPass on your Ubuntu 22.04. Follow these steps.
1. Create a LastPass Account
Open your favorite browser on Ubuntu 22.04. We will use Firefox for this example, then visit the LastPass website.

Once you open the website, click the Get LastPass button at the top, You will be required to sign up for a LastPass account if you are a new user.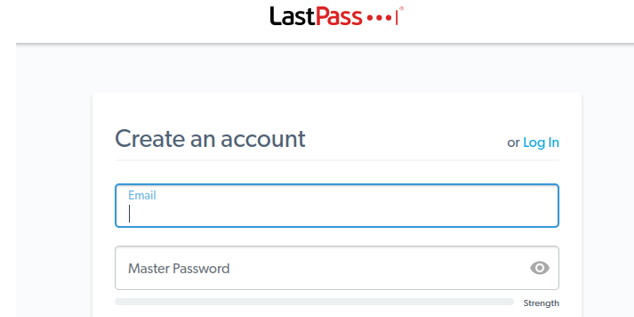 Once you create your account, you will get a confirmation message that your account has been created.
2. Adding LastPass Extension
A new message will appear asking you to install the LastPass extension. Click the Install LastPass button.
Your browser will open a new window containing the LastPass extension. For Firefox, a confirmation prompt will appear at the top asking you to confirm whether to install the LastPass extension.

Suppose you are using a different browser like Chrome, you can access the same extension from the Chrome web store.
Once you added the extension, you will note the LastPass extension icon (ellipsis) appear on your tab at the top.

Once you log in to your LastPass account, the extension's color will change to red.

3. Accessing the Password Vault and Using LastPass
With the extension added, you can access your account using the credentials you used when creating it.
You will get a dashboard like the one below where you can access the different tools for your password management.
Suppose you wanted to add your bank accounts to facilitate quick autofill when accessing them online, click the option for Bank Accounts and a new window will open where you can add your bank details. That way, LastPass can use the details to sign you in.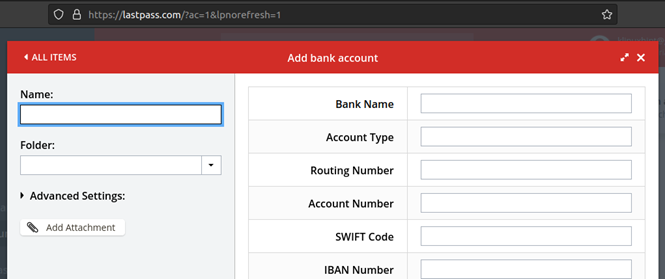 Another cool feature is the option to generate passwords. Most people find it hard to create strong passwords. With LastPass, you can open the generate password options and specify the password details, such as the character length, and it will generate a password for you.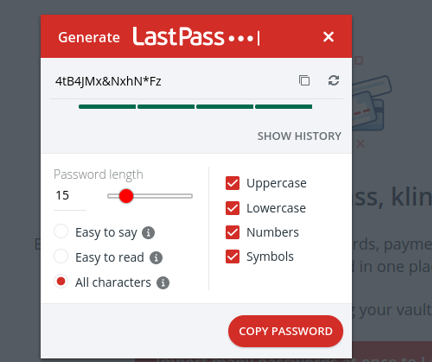 The sharing center will guide you when you want to create a shared folder containing shared accounts or to share your details or digital notes with someone.
Furthermore, LastPass allows you to import your saved passwords from different password managers or browsers. That way, you will have all your passwords in one reliable vault
With that, the next time you try accessing an account, such as Facebook, you will note the LastPass extension icon is appearing in the login form.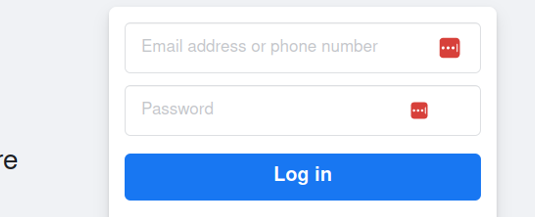 If your credentials for that account are saved on your vault, LastPass will autofill them.
Suppose you have not added the details for that account, LastPass will allow you to click the plus icon to save the password for that account to your vault.
Conclusion
LastPass is a reliable password manager that offers an extension for almost all browsers. We covered the steps for adding it on Firefox on Ubuntu 22.04, creating an account, and using it for quick login and saving your credentials and notes.