"Kazam is one of the best open-source screen recording applications for Linux. It offers a lightweight and user-friendly interface that is perfectly designed for taking screenshots and screencasts. With the Kazam tool, you can simultaneously record desktop video and multiple audio streams while controlling the audio volumes and the screen area being captured. Below we have mentioned some existing features of the Kazam utility:
During screen recording, record the speaker's audio.
Support for countdown timers
Shortcut keys for recording start, stop, pause, and resume
View and change the recording area's size.
To record a screen, pick a section or the whole thing.
able to record mouse cursor
In this article, we will demonstrate how to install kazam on Ubuntu 22.04."
How to Install Kazam on Ubuntu 22.04?
Follow the below-mentioned instructions to install kazam in Ubuntu 22.04:
Step 1: Update the apt repository
Update apt packages index with apt-get using the following command.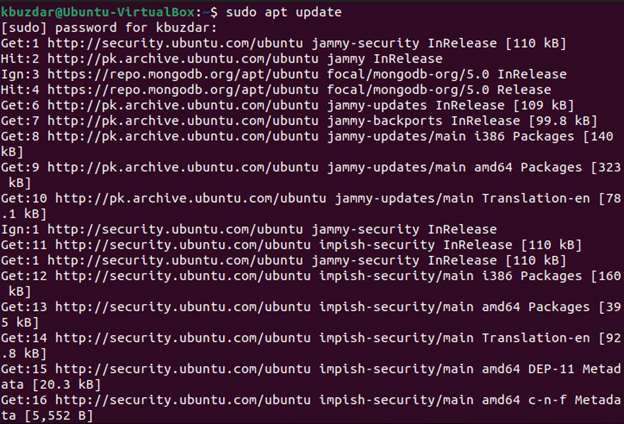 Step 2: Install kazam on Ubuntu 22.04
Once the apt packages are updated, install kazam on your system. Kazam tool is available for installation in the default Ubuntu 22.04 apt repository. Therefore, you can directly install it from the apt repository by using this command: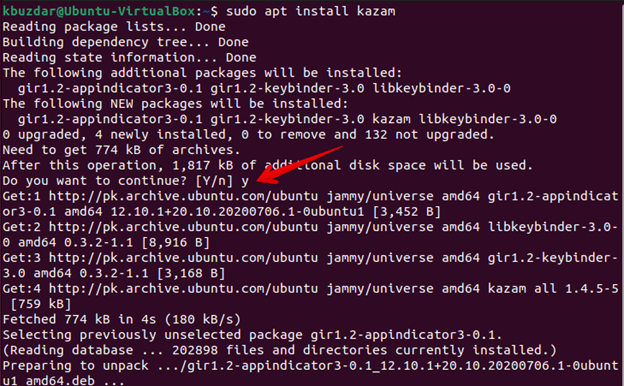 Press "y" and then "Enter" to install all important packages and kazam. In a while, it will be installed on your system.
Step 3: Launch Kazam on Ubuntu 22.04
Once the kazam installation is completed, launch it by using the search bar. Type "Kazam" in the search bar, and you will see the application icon in the search result:

Click on this icon to open the kazam interface. The following interface will display on your desktop:
In the above screenshot, you can see multiple options are available for capturing your screen.
Uninstall Kazam From Ubuntu 22.04
If you don't need further Kazam application, you can also uninstall it from your system by using this command:
Or
$
sudo
apt-get purge
kazam
Conclusion
In this article, we demonstrated how to install kazam on Ubuntu 22.04. Kazam is a very useful utility for screen capturing and recording audio or videos. You should install this utility on your system and explore its exciting features by following the above installation instructions. Thanks!