With an approximate user base of 1 billion people, Google Drive is one of the most popular cloud storage solutions on the market today. Its popularity stems from a wide array of features that it offers to its users which include easy access to files, easy collaboration with others, large storage capacity that is offered even in its base version, seamless integration with other Google services like docs and sheets, and the security features it offers via their in-house encryption on all data that are being uploaded to the Google cloud.
Google Drive can be accessed from any device with an internet connection. This makes it fairly simple to use as you have the ease of using your drive on all your devices including a desktop computer, your personal laptop computer, and any tablet or any mobile device that you own.
Using Google Drive is as easy as opening the browser or installing a client application on your host device. For the purposes of this article, we will discuss the use of a Google Drive client on a machine that runs a Linux-based operating system. A client is a software application that allows the users to connect to an online service like Google Drive. The benefits of a client is that you have a dedicated workspace for that service that is installed on your machine which makes it simple and easy to stay connected to a service at all times.
Available Clients
There are many Google Drive Linux clients available on the market. As with most competitor software applications, the features that they offer are also similar in nature but where some of them outshine the others is their efficient compute capabilities and their ability to be memory and space efficient.
Insync, OverGrive, Rclone, Grive2, and GNOME Online Accounts are just some of the many clients that are available for Google Drive on Linux. These clients are the best at what they are meant to do. We will install and use Insync which is one the most popular clients from the five that we previously mentioned.
Insync is a third party Google Drive client for Linux and comes in popular demand because of its native desktop experience for Linux users. It offers real-time syncing, offline access, and supports multiple Google accounts. Insync also offers advanced features like selective sync which allows the users to choose which folders to sync, and the external hard drive support.
Installation Guide
We start the installation by going first to the Insync download page and finding the operating system that runs on our machine. We select the Ubuntu 22.10 for the purposes of this article. You should download the installer for the operating system on your machine.
1. Download the correct installer from the Insync download page.
It should look something like this:
2. With the download now complete, click on the downloaded ".deb" file and a popup should appear.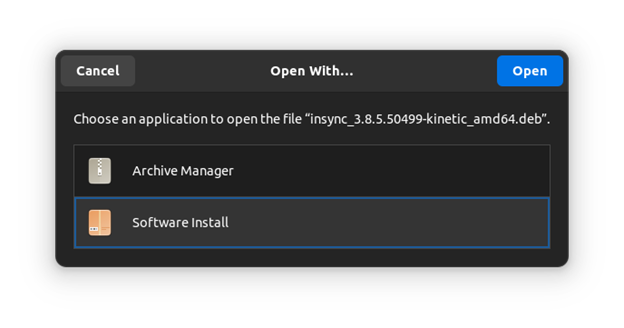 3. Click on the "Software Install" option in this pop up to start with the software installation for the downloaded Insync Linux client.
The following window will open up: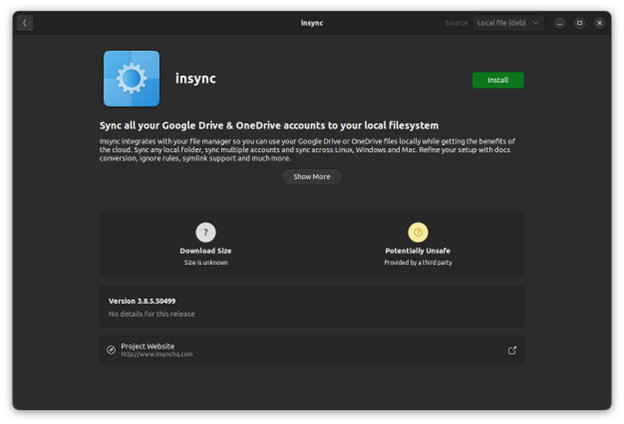 4. You now click on the green install button in this window. You might be prompted to input your device password. You have to input your password to proceed.
After the installation is done, you will be able to find Insync in your application drawer.
Click on it to open it.
5. You will then be greeted with the following page:
You can now sign into your Google account by clicking the "Add Google Drive" option on the main page.
6. Once you sign in, you can start using your Google Drive from the Insync client.
User Guide
Now that you successfully installed and connected your GDrive service to the Insync Google Drive Linux client, you can start making use of the different features that are provided by this software application.

You can create new folders and files from the drop down menu that is accessible through the "New" option in the previous image. This provides you with the following options for you to choose from: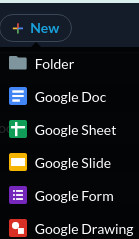 These can be used to create new instances of the mentioned Google services. And since this client is synced to your Google Drive, the changes that you make here will instantly be updated to be shown in your browser Google Drive client.
You can also manage how your client behaves when you make certain actions either locally on the Insync client application or on the browser instance of your Google Drive and how it reflects on the other end as shown in the following: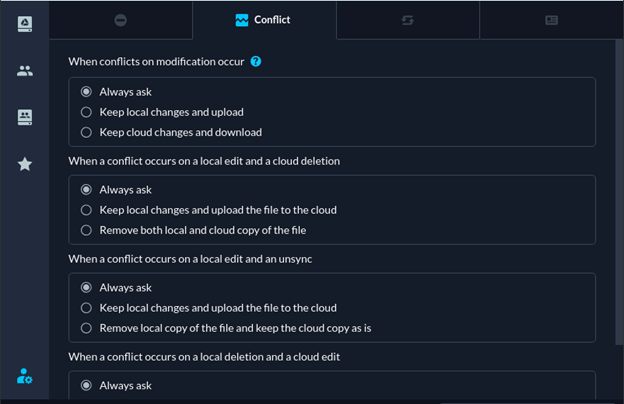 Conclusion
Having a Google Drive Linux client is essential for Linux users who need to access and manage their files that are stored in the cloud. While Google Drive does not provide an official client for Linux, there are several third-party options that are available and one of which is Insync.
Insync is a versatile Google Drive Linux client that provides a native desktop experience for Linux users and provides an array of features including real-time syncing, offline access, and selective sync features which make it really handy to use. It is compatible with multiple Google accounts which makes it easy to switch between different accounts and collaborate with others. Additionally, Insync offers advanced features like external hard drive support and integration with popular Linux desktop environments.