Audacity 2.1.3 Audio Editor recently released, is a free, open source, easy-to-use, multi-track audio editor and recorder for Windows, Mac OS X, GNU/Linux and other operating systems. You can classify it also as an mp3 editor for Windows, Linux platforms. Notable features to this release is support for Windows 10 and support for FFmpeg/libav up to avformat/avcodec 57.x.x.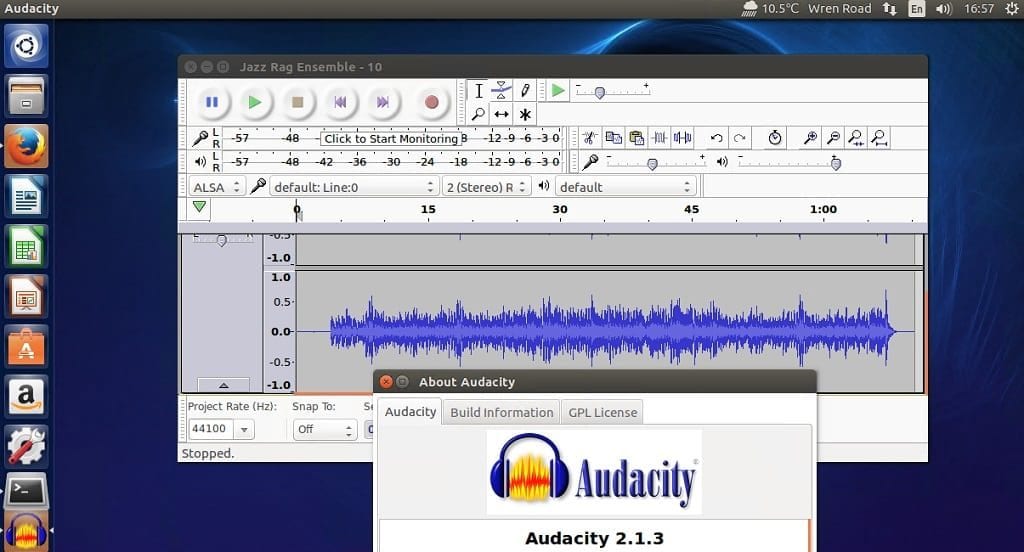 Highlight of v2.1.3
(Windows) Windows 10 is now supported (there should be no "Internal PortAudio Error" or failure to find any devices as long as the built-in audio devices are enabled).
(macOS) We now support Trackpad and Magic Mouse horizontal scroll without SHIFT key and Trackpad pinch and expand to zoom at the pointer.
PortAudio upgraded to r1966 – includes Windows 10 fix
New Timer Record features
Extensive work to eliminate memory leaks
New options and preferences
Pinned (fixed and centered) play/record head for playing and recording
New scrubbing features
(Linux) On Linux only, it now supports FFmpeg/libav up to avformat/avcodec 57.x.x, which is compatible with current FFmpeg 3.x.x releases.
New and changed menu items
Effects and Generators
New and changed shortcuts
(Mac) On Mac, audacity.app is now added to /Applications/ directly rather than adding a folder there.
Now digitally signed on Mac and Windows (but not Windows XP).
See release notes for full details, including bug fixes
How to Install Audacity 2.1.2 Audio Editor on Ubuntu 17.04, Ubuntu 16.10 & Ubuntu 16.04
sudo add-apt-repository ppa:ubuntuhandbook1/audacity

sudo apt-get update && sudo apt-get install audacity
How to uninstall from Ubuntu 17.04, Ubuntu 16.10 & Ubuntu 16.04
sudo apt-get remove audacity