Google Chrome has its developing authority and it was launched back in 2008. Currently, Google is the most-liked and preferred browser among the majority of the users. So, Google Chrome is the most famous internet browser. It is not open-source programming which is the type of source on which any user can make adjustments or upgrade. So, this is the main reason why you would not see it pre-installed in the Linux disseminations you use. You won't discover Chrome in the product place.
Usually, presenting Google Chrome in Ubuntu or Fedora is very much easy and uncomplicated. It is very much simple. You can simply go to Chrome's site and from there; you can download the DEB or RPM installer records. And then introduce it without any problem. DEB files are actually derived from the Debian-based distros which in this case is Ubuntu. On the other side, RPM files are Redhat-based distros and they are connected with Fedora. Linux users can face the problems of not finding the required bundle on Chrome and it can be possible.
But there is no need to get upset as Arch User Repository for the Arch, Manjaro and many other Arch-based Linux productions provide easy access to Google. Two possible ways of Google installation can be:
By using the Arch User Repository.
By using Git (control type of system) if one doesn't have AUR.
Here, in this helpful guide in which I will be covering the two choices in this instructional exercise.
Technique 1: Installation of Chrome with an AUR. 
Arch User Repository carries the information about the description of the package (which is the PKGBUILDS) and following that it's called the community-leading depot. It allows its users to assemble a package from its source or origin. You can utilize makepkg for this purpose. And then, the package is installed via the pacman. Still, if anything is unexplained then it would be highly recommended that you read other articles about what is AUR or what are AUR aides and how to introduce them. You should be well-informed so that you may not experience any difficulty while installing.
Stage 1: Install an AUR partner (on the off chance that you have not got one as of now) 
There are multiple AUR Helpers present for you to pick.  However, in this instructional exercise, I will utilize the AUR helper named yay, which I have introduced on my machine. You ought to install it, if it is not available on your system, then use these commands: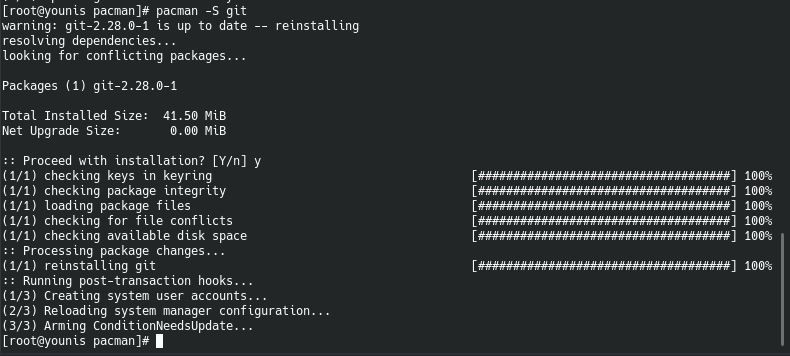 $
git clone
https:
//
aur.archlinux.org
/
yay-git.git


Stage 2: Installing Google Chrome by utilizing AUR assistant 
Now, to introduce Google Chrome in Arch Linux utilizing the AUR helper yay:



Yay is used by many others for the installation strategy. As you will see, yay will discover all the accessible bundles that are identified by Google Chrome. I will be picking the bundle named a stable bundle to install it. This bundle is safe and well-built.
Stage 3: It involves the upgrading process of Chrome version with yay: 
You effectively introduced Chrome on your Arch-based transmission. Nonetheless, you ought to comprehend what to do if there is another version or form available of Google. With the Pacman order, sadly, you can't update AUR bundles. However, interestingly, Yay and Pacman share regular and also common flags for performing comparable activities.
Just remember that dissimilar to Pacman, yay should not be run with "sudo". The accompanying command will customize or upgrade all the bundles – iclboth AUR and official.

Technique 2: Installation of Google Chrome without the aid of an AUR Helper 
Despite everything, you will be getting the bundle from the Arch User Repository. It can be that rather than the aid of AUR, it will be done with more manual operation. This work contains several stages such as:
Stage 1: Installation of a base-devel bundle 
So, to introduce a bundle from Arch User Repository, you should be having Git and a base-devel bunch introduced. Now, what is a base-devel bunch? It is a bunch that contains all the basic tools or instruments for accumulation from the source or origin.
$
sudo
pacman
-S
base-devel
git

Stage 2: Installation of Chrome from the AUR 
Form a duplicate of the Google Chrome from the AUR and install it like this:
$
git clone
https:
//
aur.archlinux.org
/
google-chrome.git


Stage 3: Process of Upgrading Google Chrome:
At the point when another type or any other form of Google Chrome comes out, and it is accessible in the AUR, then it can be updated by performing a manual operation just like this:

In summary:
Hope you were successful. However, there is one thing that is magnificent about the whole process. As should be obvious, it is astonishing to introduce Google Chrome in the Arch space. There are numerous individuals who utilize Arch. The reason is clear since it allows you to accomplish more things in the terminal. As Arch Linux gives its users the ability to control everything, the introduction of Chrome will make it more popular and functional for the users for a better experience.