Gradio 5.0 is a simple GTK3 radio app that lets you find and listen to internet radio stations on your Ubuntu and Linux Mint desktop. This app comes with a large collection of radio stations you can listern to like BBC Radio, Jazz Radio, Beatles, Reggae, BBC world service and many more across all nations.
Apps Key Features
New dark mode (Not available on all gtk designs)
Now show playing song
New "Discover" feature
Improved grid view
Improved design
Improved MPRIS support
Search for stations
Add stations to your library
Vote for stations
Desktop integration
Seperate volume control
Connection information (Bitrate, channel-mode, etc..)
New sort options for the "Discover" view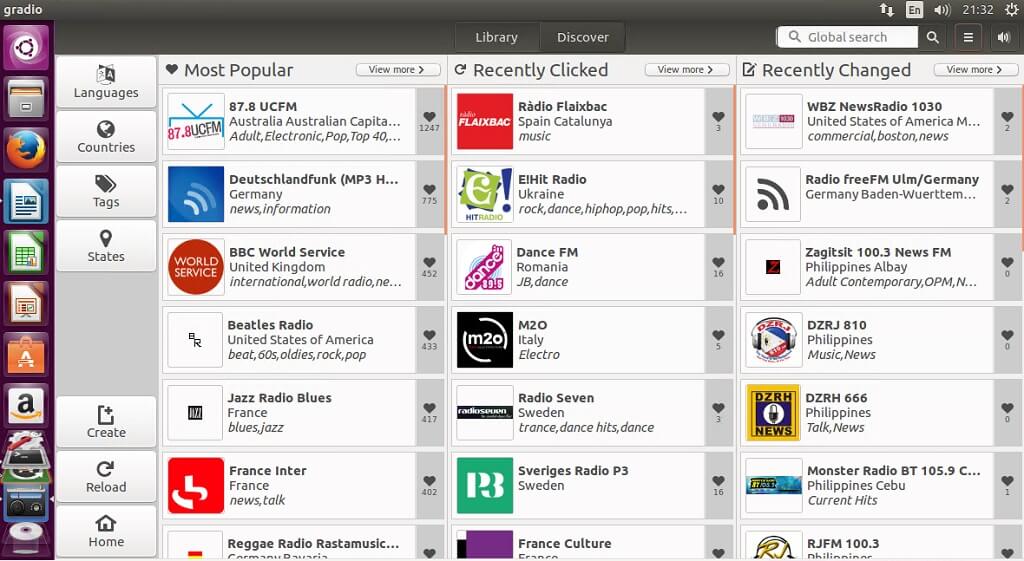 See changelog below for Gradio 5.0.x
New Features / Improvements:
New grid/list view
New right-click menu
Background playback!
"Close-To-Tray-Icon" Feature
Redesigned Discover pages
Optional "Resume playback on startup" Feature
New settings dialog (with more preferences!)
New sidebar
Infinitive scrolling
New connection popover
Moved volume button to the headerbar
Improved backend!
Technical Changes:
No longer gee-0.8 required.
Require GTK 3.14 instead of GTK 3.18
No longer CMake required.
New MPRIS Backend
How to install Gradio 5.0.x on Ubuntu 17.04, Ubuntu 16.10, Ubuntu 16.04, Ubuntu 15.04, Ubuntu 14.04, Debian via PPA
Note: If PPA is not updated to latest, follow the steps down below to install using the DEB package
sudo add-apt-repository ppa:haecker-felix/gradio-daily

sudo apt update

sudo apt install gradio
How to remove the app
sudo add-apt-repository -r ppa:haecker-felix/gradio-daily

sudo apt update

sudo apt remove gradio
How to install Gradio on 
Ubuntu 17.04, Ubuntu 16.10, Ubuntu 16.04, Ubuntu 15.04, Ubuntu 14.04, Debian 
via DEB package
32bit
sudo apt-get install gdebi

wget https://code.launchpad.net/~haecker-felix/+archive/ubuntu/gradio-daily/+files/gradio_5.0.12+r344-0~ubuntu16.10.1_i386.deb

sudo gdebi gradio_5.0.12+r344-0~ubuntu16.10.1_i386.deb
64bit
sudo apt-get install gdebi

wget https://code.launchpad.net/~haecker-felix/+archive/ubuntu/gradio-daily/+files/gradio_5.0.12+r344-0~ubuntu16.10.1_amd64.deb

sudo gdebi gradio_5.0.12+r344-0~ubuntu16.10.1_amd64.deb