Steam is a popular platform for video game distribution and provides a convenient way to purchase and download PC games through a Steam account. Apart from that, it allows users to interact with a huge gaming community. Installing games through Steam gives various advantages like proper management of your purchases, automatic updates, no DVD boxes, re-installing a purchased game with a single click, and much more. These conveniences have made Steam a must-have program by every PC gamer.
There are multiple reasons why someone would want to uninstall Steam. One reason is that having too many games can make your PC slow and games could start behaving abnormally due to the lack of adequate storage. Moreover, the congested disk space may heat up your PC and even make the Steam app crash. Most of the time, a fresh installation of Steam solves many of these issues because it clears out the corrupt files.
Uninstalling an app does not mean it will delete all the related directories or data from your Ubuntu device. We need more steps to completely remove an application and its associated folders. This write-up is a thorough guide to completely remove Steam from Ubuntu. So, let's begin.
How to Completely Remove Steam from Ubuntu:
Note that removing Steam from Ubuntu will also delete all the games, DLCs, and saved data. Steam has a built-in option to backup data. Before going for complete uninstallation, make sure to backup important files. Now, follow the below-mentioned process to fully uninstall Steam from Ubuntu:
Step 1:
Open the terminal either from the context menu, by right-clicking or by pressing "ctrl+alt+t". Type the following command, and press "Enter":
$
sudo
apt remove steam steam-launcher
Step 2:
The "purge" command will delete the configuration files:
$
sudo
apt purge steam steam-launcher
You will be prompted with the following message: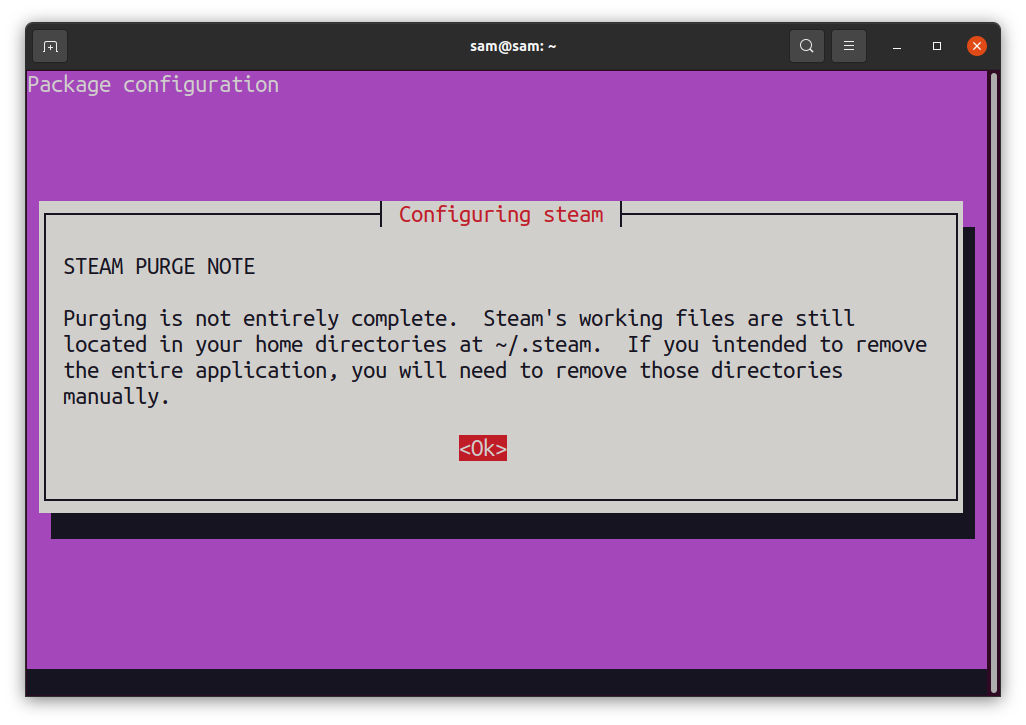 Press "Enter" to proceed.
Step 3:
Now, delete the associated directories from the home folder using:
$
sudo
rm
-rf
~
/
.local
/
share
/
steam

Step 4:
Now, remove the remaining components if they still exist in your system using:
The above output indicates that "steamid" no longer existed.
Step 5:
Even after fully removing Steam, you may find one more Steam folder in the home directory as shown in the image below:
This "Steam" folder contains the log files. To delete the folder, type the below-mentioned command in terminal:
The Steam has successfully been removed from Ubuntu.
Conclusion:
Steam is a well-known digital PC games distribution program developed by Valve. It is a preferred platform for almost every PC gamer to download games, manage DLCs, and other data. But having too many games on PC can cause memory-related issues. Overloaded disk space cannot only seed the lag in games but also crash them. Full uninstallation of Steam app from Ubuntu can solve these problems.
In this guide, we used the "purge" command to erase Steam from Ubuntu and then remove few additional directories because removing an application from ubuntu needs some additional steps. Backing up important data before deleting Steam is very important because the above method will delete all the games and linked data as well.