The mouse is one of the most important accessories in a computer. The importance of the mouse is realized when it's not working. Not only in computers, but the mouse also acts as an important peripheral for laptops as it helps in productivity. Being a PC enthusiast, I know the common problems that computer mice often face and how annoying they are. The issues are simple to fix, but you should know the root cause of the issue to fix it easily on your own. In this article, I will list some common issues in mice and solutions to fix them.
Common Mouse Problems And Solution to Fix Them
Here is the list of problems that users face encounter with their PC mouse. Also, check the solutions to bypass them.
Uneven Behaviour Of Mouse Pointer
The most common issue in mice is the malfunction of the cursor. The main reasons behind this issue are an unsuitable mousepad or sensor area filled with dirt.
This issue can be easily fixed by buying a mousepad and cleaning the mouse's sensor. You can use a soft brush or a clean microfibre cloth to clean the sensor. Since sensors cause this issue, most of the optical mice don't work on glossy surfaces. You need to take care of that. If you are into gaming, then a good mouse pad is a must for you to get optimized performance.
Slow Or Fast Movement Of Cursor
Too fast or too slow cursor movements can be controlled from the control panel of your PC. Simple, go to the control panel, click on the mouse option, and navigate to the pointers option tab.
From here, you can easily set the speed of your cursor. I would suggest you keep it in the middle. Don't forget to click the Ok and Apply button after setting up cursor speed.
Freezing Of Mouse Cursor
Sometimes mouse cursor totally stops working. This issue is also known as a frozen cursor. This usually happens when your PC has an extra load and hangs more often. Wait for some time and refresh your PC by pressing the Fn+f5 keys together. You can try clearing all the programs running in the background and restart the PC.
Faulty Batteries
This issue is encountered in wireless mice as they run on batteries. If you bought a new mouse and the batteries are OK, ensure a neat and clean connection of the batteries. New mice are often on Stand-By mode. To get out of standby mode, just make 2-3 clicks simultaneously, and you are good to go.
Double-Click Issue
If double-clicking of your mouse is too quick or slow, you can adjust it. Same as you adjust the cursor speed, you can also set up the double-click feature of your mouse. Go to the control panel and click on the mouse. Navigate to the buttons tab.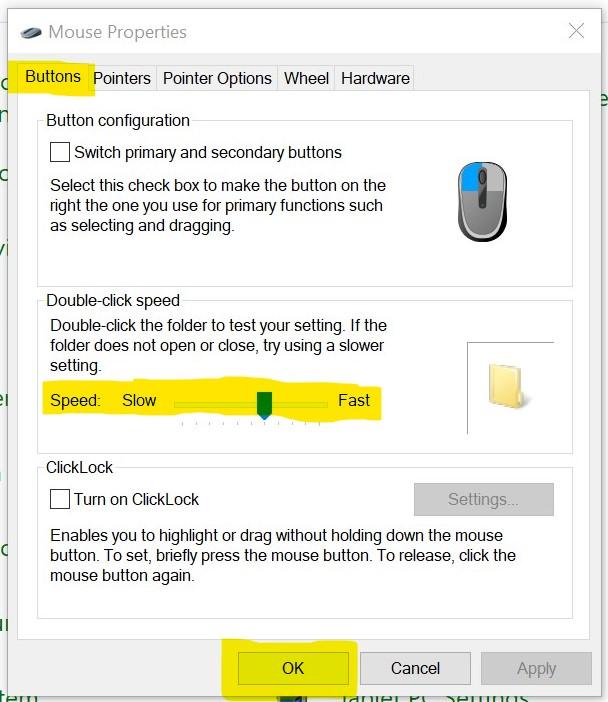 You can adjust your double click speed in this tab. Click the Ok button to save the settings.
Mouse Stops Working At All
This issue is very rare but is not a minor one. The reason might be the outdated driver that is causing the issue. You need to re-install/update your mouse driver to fix the issue. Also, don't download the driver from any third-party website. Visit the manufacturer's site and download the right and latest mouse driver.
Hardware Issues
If your mouse is too older, then you might face this issue due to aged components. The other common hardware issues can be worn-out cables, faulty Ports. The better solution to this issue is to use any other device in ports to check if they are functioning properly. If your ports are working well, then you need to replace your older mouse.
Sometimes mouse also has cursor ghosting issues that have different factors. If you are facing the same issue, then read this article from us. (Please link cursor ghosting issue article).
The Conclusion
These issues in mice are very common for PC enthusiasts and can be resolved easily in simple steps. I have encountered these issues while using a mouse during regular PC works. I hope this article will help you fix common issues with your computer mouse.