Like it or not, Microsoft Office is the de facto standard in most work environments, educational institutions, and government offices. As such, all MS Office alternatives for Linux are automatically measured against it and evaluated based on their compatibility with the file formats created by Word, Excel, and PowerPoint.
As a Linux user in 2020, you can choose from multiple mature alternatives to MS Office. Most MS Office alternatives for Linux can be downloaded and used free of charge to open, edit, and create documents in a variety of file formats, including .docx, .xlsx, and .pptx.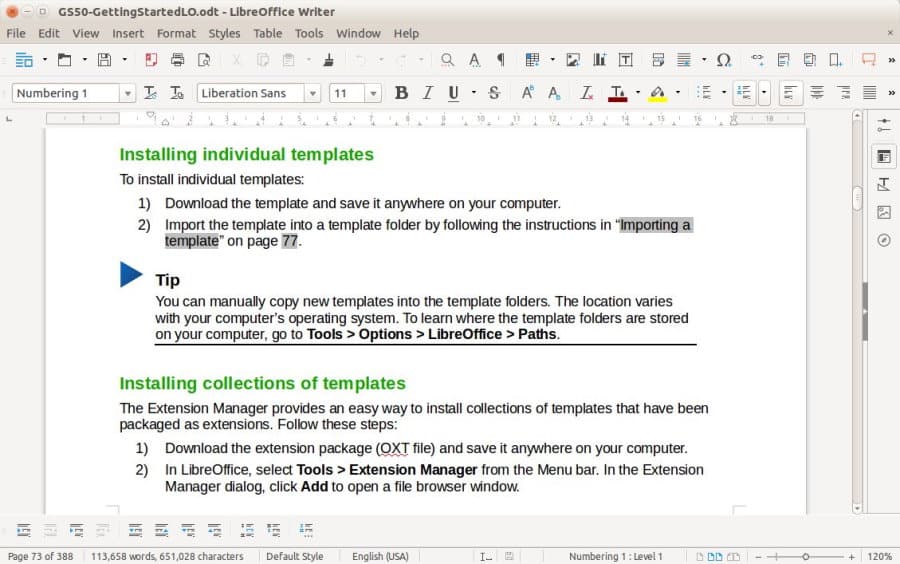 LibreOffice is easily the most popular alternative to MS Office for Linux in 2020. It was first released in 2011 as a fork of OpenOffice.org, another MS Office alternative featured in this article. Because LibreOffice has always embraced a collaborative development process, inviting developers from around the world to join the project and contribute, it quickly gained enormous momentum, and the rest is history.
LibreOffice consists of the following applications:
Writer: A word processor with the ability to create anything from a five-paragraph essay to a novel.
Calc: A spreadsheet software application with professional features, multiple-user support, built-in integrations with corporate databases.
Impress: A presentation program that makes it easy to create slides with text, images, animations, bullet points, drawings, and other elements.
Draw: A diagraming and flowcharting tool with a maximum page size of 300 cm by 300 cm.
Math: A formula editor that integrates with other LibreOffice applications and makes it possible for users to insert perfectly formatted mathematical and scientific formulas into documents, spreadsheets, and presentations.
Base: A desktop database front-end with native support for MySQL/MariaDB, Adabas D, MS Access, and PostgreSQL
All LibreOffice applications should be instantly familiar to all users of Microsoft Office 2003. If you like the ribbon in newer versions of MS Office, LibreOffice will most likely seem somewhat outdated to you, but give it a few days, and you'll get used to it.
What makes absolutely no time is getting used to is the fact that LibreOffice is completely free in both senses of the word.
Pros:
Free and open source.
Complete functionality.
Great compatibility with MS Office file formats.
Cons: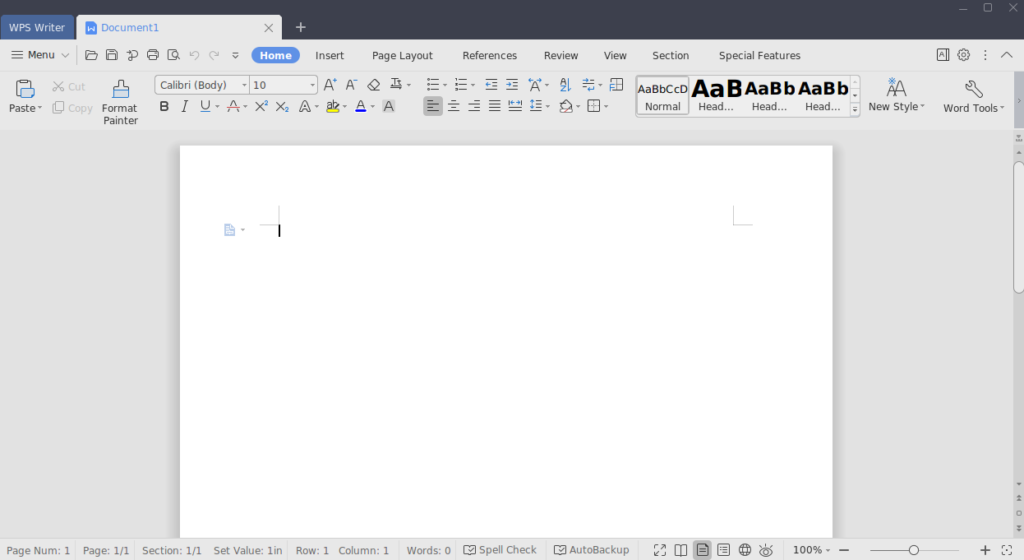 Previously known as Kingsoft Office, this MS Office alternative for Linux is developed by Zhuhai-based Chinese software developer Kingsoft. If you want to use WPS Office for personal purposes, you don't have to pay any money for it. Online business customers are required to purchase a commercial license.
For a free alternative to MS Office, WPS Office delivers an exceptional level of polish. Its user interface leaves LibreOffice in the dust, and many of its features are so innovative that you won't find them anywhere else.
WPS Office 2019 introduced all-in-one mode, which supports opening different types of files within a single application window. This mode is especially great for people who use WPS Office on laptops with limited screen real estate.
The latest version of WPS Office also comes with a comprehensive suite of PDF tools that let you comment, annotate, and edit your PDF files. Just like the rest of WPS Office, you can use these tools free of charge for personal purposes.
Pros:
Beautiful user interface.
Advanced features.
PDF editing tools.
Cons:
The free version of WPS Office has ads.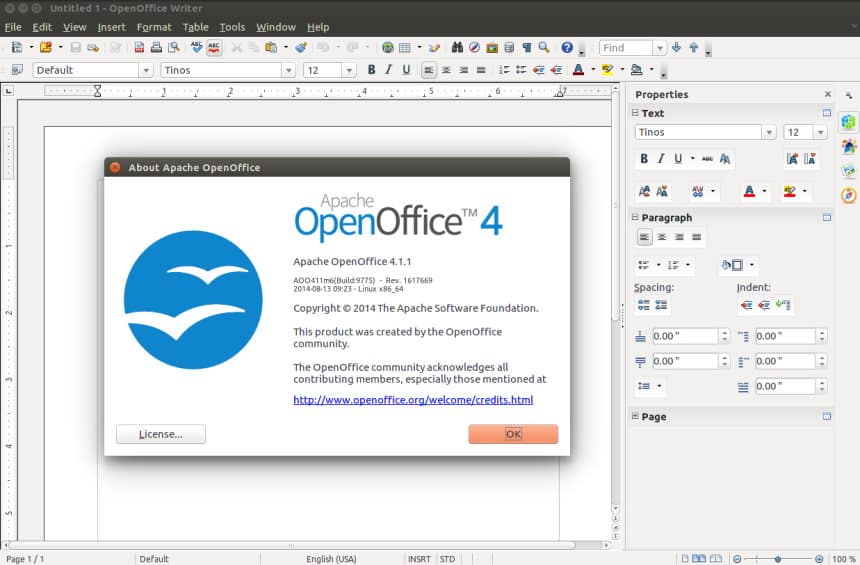 Not long after Oracle Corporation acquired Sun Microsystems in 2010, most developers who worked on OpenOffice.org left the company. A year later, Oracle halted the development of OpenOffice.org and laid off the remaining development team. Fortunately, the company also decided to contribute the source code and relevant trademarks to the Apache Software Foundation, which is how Apache OpenOffice came to life.
Today, Apache OpenOffice is in version 4, available in 41 languages for Linux, Windows, and macOS. It shares many similarities with LibreOffice (after all, they are both forks of the same MS Office alternative), but OpenOffice lacks some important features and capabilities, namely the ability to save .docx Word documents.
It also uses the Apache license, whereas LibreOffice uses a dual LGPLv3 / MPL license. Because Apache OpenOffice uses the Apache license, LibreOffice can freely "borrow" its features, but Apache OpenOffice developers can't do the same.
Even though the popularity of Apache OpenOffice has been steadily declining since 2013, it still remains a great alternative to MS Office for all Linux users who avoid proprietary software like a plague.
Pros:
Familiar user interface.
Uses the Apache license.
Extensive list of supported languages.
Cons:
Limited support for MS Office file formats.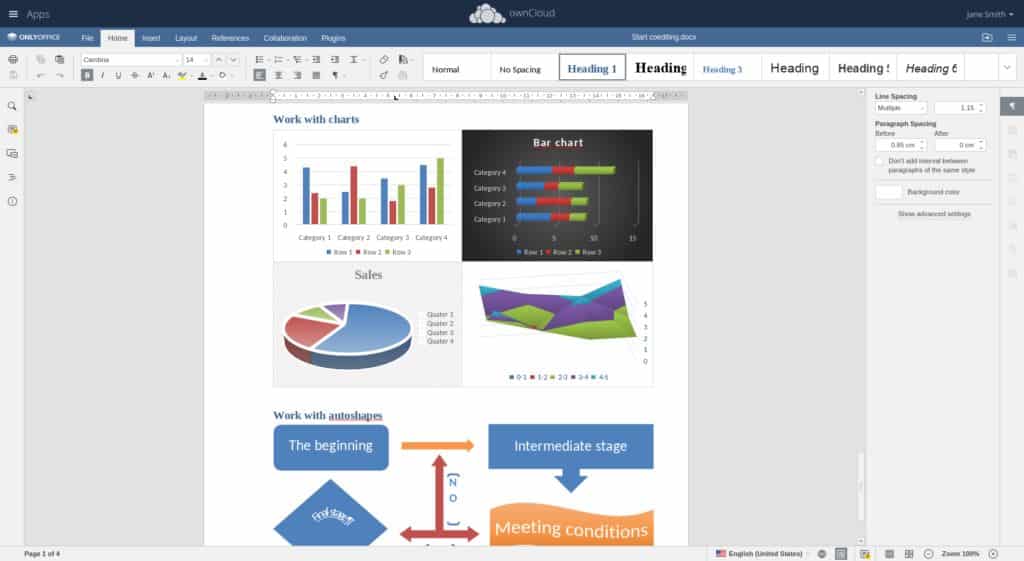 This open source alternative to MS Office is developed by Ascensio System SIA, a company with headquarters in Riga, Latvia. It includes everything home users and small businesses need to be productive and grow.
With its advanced document management capabilities, ONLYOFFICE makes it easy to go paperless and stay highly organized. Users can share documents with a simple click, collaborate on them online, and manage access levels to keep sensitive information under control.
As a complete MS Office alternative, ONLYOFFICE includes an easy-to-use email management tool that you can use to access any email account. There's also a complete toolkit for sales managers, a project management solution, a full-featured calendar app, and a community platform with blogs, forums, and chat.
ONLYOFFICE boasts the highest compatibility with MS Office formats, and you can verify this claim by installing ONLYOFFICE on your own server or desktop computer.
Pros:
Reliably opens/saves .doc and .docx files.
Free and open source.
Can be delivered as SaaS.
Cons: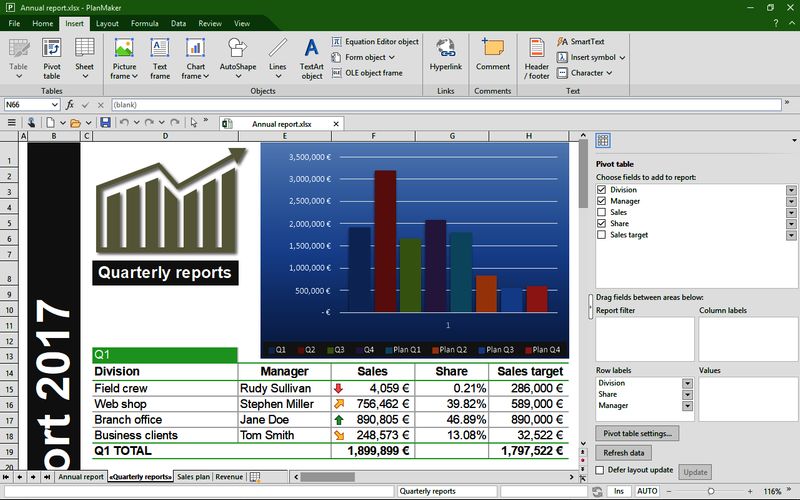 SoftMaker is a German software company, and FreeOffice is its flagship product. The latest version of this multi-platform MS Office alternative consists of the word processor TextMaker, the spreadsheet PlanMaker, the presentation software application SoftMaker Presentations, the scripting language BasicMaker, and a modified version of Thunderbird.
The greatest strength of FreeOffice is its great compatibility with MS Office file formats, but the list of features to enjoy doesn't end there. With FreeOffice, it doesn't matter if you prefer traditional menus and toolbars or modern ribbons because you can switch between them at any time. A dedicated touch mode optimizes the user interface of FreeOffice for touch devices, so you can do more on your 2-in-1 convertible.
Unfortunately, FreeOffice is a proprietary MS Office alternative, and you have to register online to use it. If you're willing to spend some money, you can upgrade to the Professional edition and enjoy a better spell checker with multiple dictionaries and support for Windows Group Policy.
Pros:
Solid compatibility with MS Office file formats.
Feels like an MS Office product.
Special touchscreen mode.
Cons:
Requires an online license activation.
CONCLUSION
With these various options you should be able to find a suitable alternative to MS Office to get your work done on Linux.