There's no need to tug around a desktop or even a laptop when you can get some decent computing power in a stick as small as the Chromecast or a five-inch box. Of course, mini-computers lack the hardware specifications of high-end programming or gaming PCs. Nevertheless, they include all the ports to simultaneously connect multiple devices and get all the basic jobs done.Thanks to Chrome OS and Android, Linux is slowly becoming a prominent force in the consumer space. However, they lack specs to run many applications developed for traditional Linux distros like Fedora, Mint, or Ubuntu. Therefore, when you need the computational power of a Linux-PC but lack the real estate in your home, classroom, or workplace, the best mini-computer compatible with Linux is the answer.
In today's article, we bring you five of the best available options in no particular order. So without further ado, let's begin!
Intel NUC 7 Mainstream Kit (NUC7i5BNK)
Intel has been a great friend of Linux since the start. They open source their drivers and sponsor many Linux projects and events. The NUC family of next-gen kits includes many MAC minis supporting a wide range of memory, storage, and operating systems.
The Intel NUC 7 NUC7i5BNK is powered by the 7th Generation Intel Core i5 processor. It comes fortified with Intel Iris Plus Graphics 640 card, allowing you to watch 4k videos in all their glory. What's more, it supports dual-channel DDR4 SODIMMs up to a 32GB maximum, which means you can increase your device's performance as you need.
Moreover, it has an M.2 slot (for SSD or an Optane module) and a 9.5 mm slot for an HDD (or 8.5 mm SSD). To test its Linux compatibility, we installed Ubuntu 17.04. Needless to say, the mini works like a charm. The drivers for all devices already come included in the installation.
While the higher price may be an issue for some users, Intel NUC 7 is a powerhouse of play and productivity. If you are looking for the best of the best, NUC 7 is the way to go.
Buy Here: Amazon
Azulle Access3
Azulle Access 3 is the next-gen of computing technology. The mini PC stick allows you to transform your tv into a full-fledge computer due to surprisingly powerful specs, a very small form factor, and a fanless design.
Access 3 is driven by a powerful 64-bit Intel Quad-Core Processor. Also, it has 4GB of DDR4 SDRAM, 32GB of onboard storage, two USB 3.0 ports, and an Ethernet port. That's not all; it also has a Micro SDXC card slot, which provides up to 256 GB of storage, making it ideal for streaming or storing content.
The device comes pre-installed with Windows 10, so to boot into a Linux distro like Ubuntu, you will need to change the following settings on the BIOS.
BIOS > Chipset > Common Function > OS Selection > Intel Linux
Our only disappointment is that it cannot handle 4k without dropping frames. However, considering what it can do, Azulle Access 3 is an excellent value for the price. It gives you big power in a small package with enough port support to bring desktop computing within your hands – literally.
Buy Here: Amazon
MintBox Mini 2
Installing Linux on a mini can become a hassle. Therefore if you are looking for a device that comes pre-installed with a popular Linux distro, then MintBox Mini 2 may just be for you. Like Access 3, it has powerful specs, fanless design, and a smaller footprint to transform your TV into a decent mini computer.
Loaded with Intel Celeron J3455 quad-core processor, 8 GB RAM, and 120 GB SATA SSD, the MintBox Mini 2 is a fantastic computer. Moreover, it has a Displayport, 4 USB ports, and an HDMI for monitor connectivity. The Minibox Mini 2 comes pre-installed with Linux Mint 19 "Tara" (or a newer version).
While the built-in graphics are fast, CPU leaves room for improvement. Programs that need additional CPU power noticeably lag. Therefore don't go in for the purchase if you will be running CPU extensive programs.
That said, the MintBox Mini 2 is intended for browsing and programming. Power consumption is very low. Wi-Fi works like a charm, and the device shows no signs of overheating. The video and audio are adequate, which makes it well worth the price.
Buy Here: Amazon
COOFUN Desktop Mini PC
While not a well-known manufacturer, CooFun has developed some amazing mini-computers in recent years. This model, in particular, has garnered quite an attention. It is tiny, portable, and powerful. For us, its biggest draw is upgraded functionality like the dual-screen output, 2.4G+5G dual-band Wi-Fi, and PXE boot.
It houses Intel's Celeron J3455 Processor, which can be upgraded to 2.3 GHz. Besides, it supports 8GB DDR4 along with LPDDR4/SSD 128GB, HDMI&VGA Display, 2.4G+5G Dual Wi-Fi, and USB 3.0/BT 4.2, making it ideal for multi-tasking whether at the office or home. Because of the three USB ports, you can add multiple drives & components when needed.
Further, the ventilation holes on the back of the chassis help keep the temperatures low due to which it doesn't overheat at all. Although it is tiny, you can hook it up on the back of the TV where the wall mounts bolt-on. Although it comes pre-installed with Windows 10, you can install any Linux distro for superior performance.
All in all, this is not a computer, your latest games. However, when it comes to standard office or home entertainment functions, Coofun's mini-computer is mighty.
Buy Here: Amazon
Raspberry SC15184 Pi 4 Model B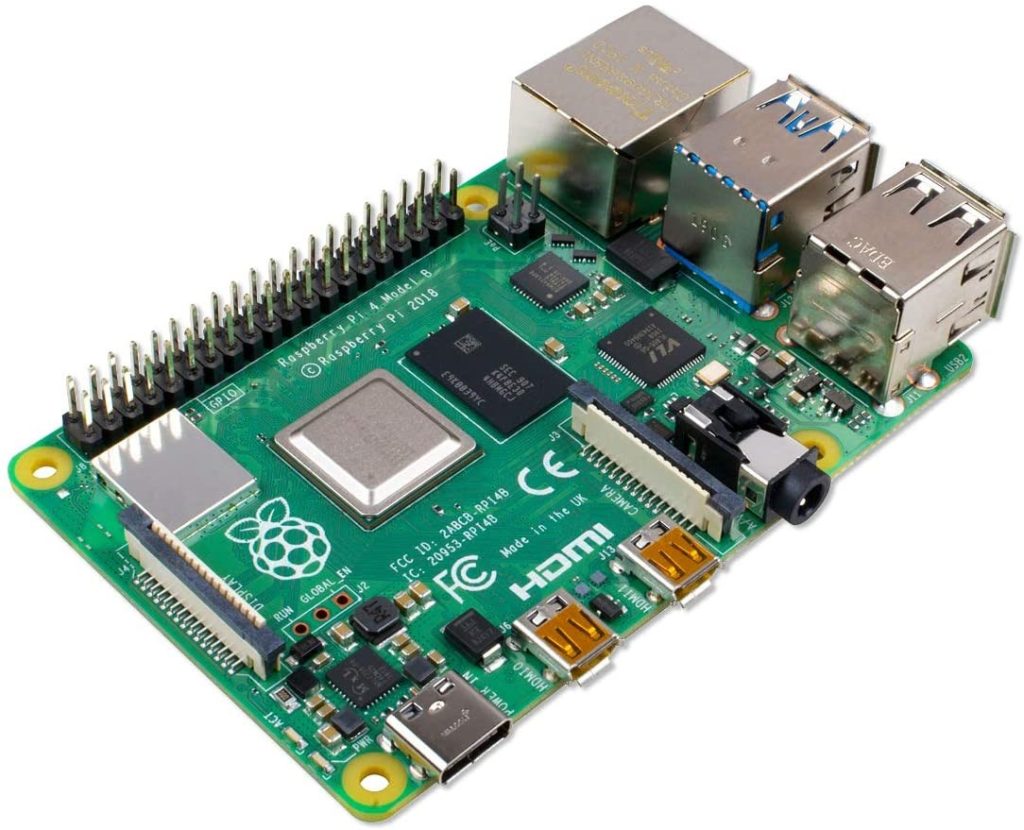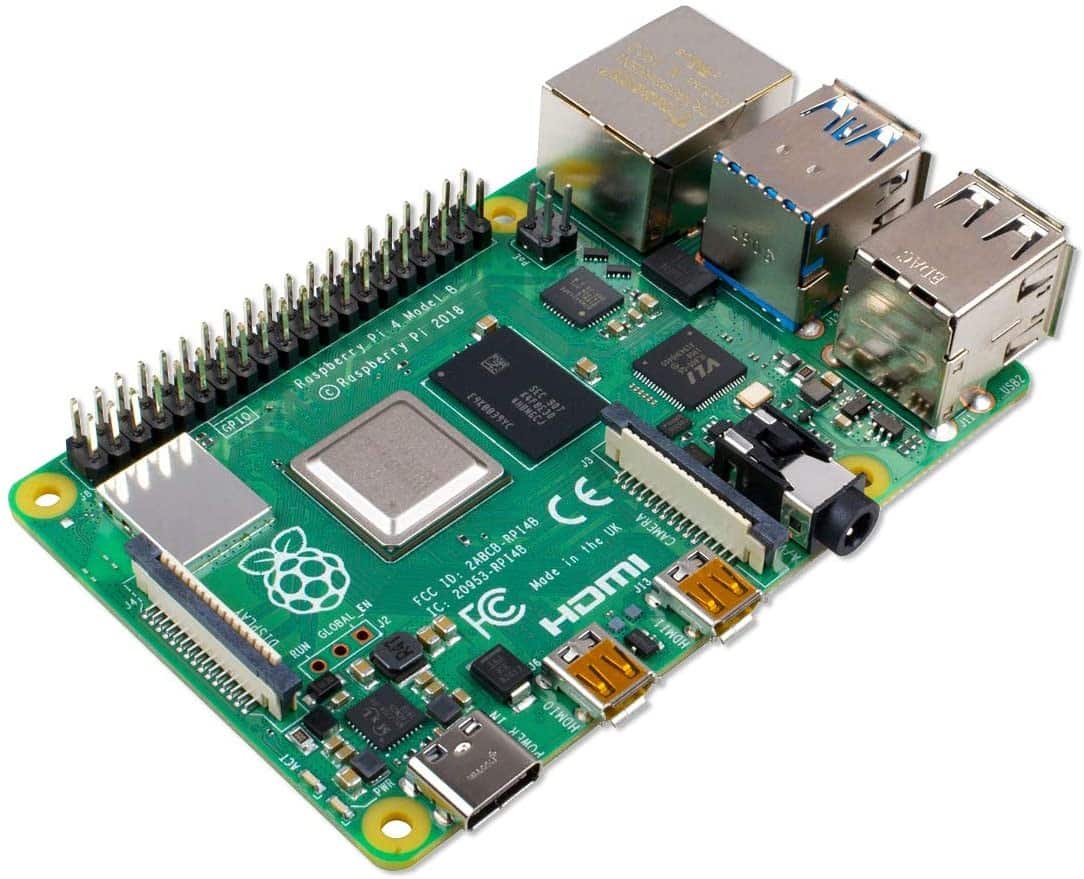 Behold a single board mini computer that offers desktop-level performance comparable to entry-level x86 computer systems. Model B is one of the latest products to come out of the popular Raspberry Pi range of computers. It is fast, reliable, and offers backward compatibility with the prior Raspberry Pi range of computers.
Its key features include a 64-bit quad-core Cortex-A72 (ARM v8) processor, 2 GB RAM, dual-display support up to 4K with a pair of micro-HDMI ports, hardware video decode at up to 4K with p60, dual-band support, 2. 4/5. 0 GHz wireless LAN, USB 3.0, Bluetooth 5.0, Gigabit Ethernet, and PoE ability (with the help of a separate PoE HAT add-on).
Both wireless and Bluetooth are certified for modular compliance, allowing them to be designed and installed into end products without extensive testing. Like all PIs, however, it is prone to overheating and requires a proper heat sink to overcome it.
Therefore, this is not just another PI. It rectifies almost all the major shortcomings of the previous models. This makes it an ideal low-cost option for anyone on the lookout for a budget-friendly mini-computer compatible with Linux.
Buy Here: Amazon
Things to consider before purchasing the best mini-computer compatible with Linux
Below are the five things to consider before you settle on a particular mini-computer:
Know what you look for
Knowing what you are looking for saves your time, as the Mini category of computers is still very broad. Do you want something small like a USB stick or content with a slightly bigger dedicated box that can be mounted on the back of your tv? Or perhaps you need a basic internet browser with just enough graphics capability?
Cost
The cost of mini PCs differs depending on the hardware. Single board Mini computers cost the lowest around the price range of 50 bucks. Stick PCs are the most versatile and cost between 100 to 200 bucks. Compact desktops are the most expensive of the bunch, with costs upwards of $1000.
Farm Factor
Although all mini-computers are small, there is a range of options available within the category. For example, a single-board computer may not slip into your pocket like a stick pc, but it is still compact enough to stow out of sight. A boxed PC like the Intel's NUC series, on the other hand, is not as small as a single board PC, but it can be easily stored in a backpack for computing on the go.
Configuration Options
Also, you need to look into the configuration options. Minis usually offer two to three configuration options. These options allow you to change everything from the graphics card to storage and processors.
Upgradability
Similarly, there's the question of upgradability. As mini-computers are small, there is usually less room for future upgrades. However, you wouldn't want to get stuck with the same hardware. Some mini PCs allow memory, storage upgrades, or even come with ports allowing external GPU for enhanced performance.
Final Words
These are the five best mini-computers compatible with Linux you can purchase today. While not all of them come pre-installed with Linux, you can install any Linux based distro by making minor configuration changes. You can trust any of the above-mentioned products. Nevertheless, to make the most of your purchase, make sure you have thoroughly read our buyer's guide section for the necessary information. Focus on what you really need. Whether you will be streaming videos, just browsing or want to accomplish basic office tasks. Answer these questions, and go from there. We hope you get what you are looking for. Good luck!