Google ecosystem has become an integral part of our daily lives, from Google-powered smartphones to a suite of Google apps like GMAIL are part of our daily lives. In the data-driven world, it is important to keep data secure as well as accessible from everywhere. Well, Google Drive offers that solution in the most efficient way possible. You can securely store all your important data on Google Drive and access it from anywhere by just logging into your google account.Like other apps in Google Suite, Drive has become a very important cloud storage app in our life. It offers free storage up to 15GB which is more than enough and can be used across GMAIL, Google Photos, and other Google services.
So today I am going to share with you Google Drive clients you can use to access your Google Drive account on Linux and other distributions.
1. Insync
Insync is one of the most reliable Google Drive clients you will find for Linux and its distributions such as Ubuntu, Linux Mint, Fedora, and Debian. It comes with a 15-day free trial after that you need to purchase to use it further.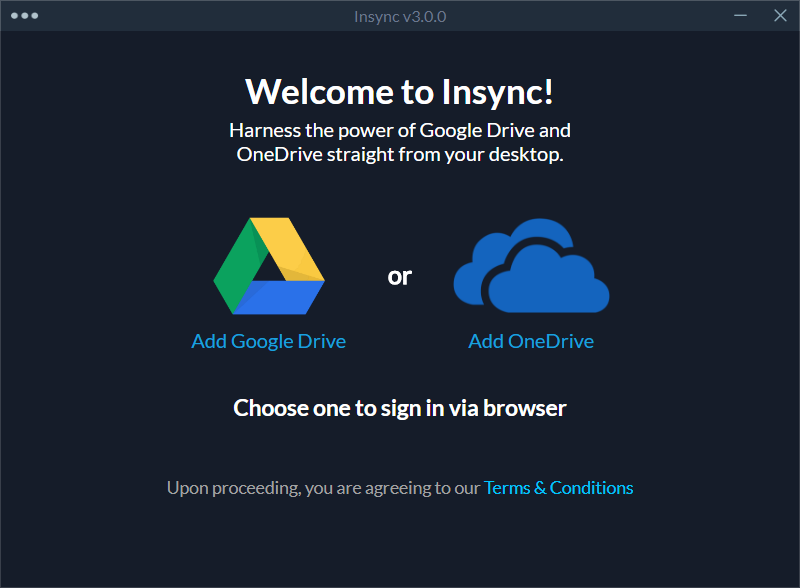 In three simple steps, you can access your Google Drive data on Linux using Insync. Just Download Insync, Install, and login to your Google account you are there. Its Selective sync 2.0 feature helps you sync all your files and folders both locally on the computer or in the cloud storage.
Also, you can access all the files stored on Google Drive locally in the Linux file manager. You can also access multiple Google drive accounts. Google docs automatically get converted to Open Document format for Libre Office compatibility. Insync is great for professional use as you can give offline access to your team to Google's shared drive for a smooth workflow.
2. Rclone
Rclone is a command-line tool that helps you manage and store your data on cloud storage. Rclone is highly capable of with features like sync, transfer, encrypt, cache, union, and mount. It supports over 40 cloud storage services including Google Drive.
Rclone is a reliable tool to securely store your important data on Google Drive and access it from a Linux computer. If somehow data transfer stops due to poor connection it helps you restart the transfer file from the last completed file transfer.
It is a smart tool that uses server-side transfer to transfer data from one provider to another eventually minimizing the use of local bandwidth.
3. OverGrive
OverGrive is another Google Drive client for Linux and its distributions like Ubuntu. Like Insync, OverGrive is also a paid application that comes with a 14-day trial after that you have to purchase to continue using it.
Front-end GUI is provided by OverGrive and Google Drive is in the back, it is an easy to use and feature-rich tool. Features include converting Google Docs to different office file formats.
OverGrive and Insync are quite similar in terms of features and reliability only difference is their pricing. Now it's up to you to decide which one to use.
4. GoSync
GoSync is a Python-based Google Drive client for Linux and its distributions.  It is an open-source client, comes with a clean and easy to use GUI. It is not a perfect Google Drive client but still, it can be useful.
One of the limitations is it syncs all the directories, there is no option to sync a particular directory. But it can very well be fixed in future versions.
Sync is by default turned on and it can be paused/resumed whenever you want. Sync is performed after every 10 minutes. You can also rename, move, or delete a file.
5. Grive2
Grive2 is forked from Grive which discontinued now but Grive2 is an open-source implementation of Google Drive client for Linux users. It supports two-way synchronization between Google Drive and the local directory.
You can limit upload/download speed to match your network quality. It has some limitations but can be neglected as it is a very reliable Google Drive client. It supports Drive REST API and partial sync.
6. CloudCross
CloudCross is a multi-cloud client for Linux and its distribution. You can manage your cloud storage accounts on Dropbox, Yandesk. Disk, OneDrive, and Cloud Mail.ru along with Google Drive.
It is a feature-rich cloud storage client that helps you synchronize files and documents between a local device and Google Drive. It is completely free to use cloud storage client licensed under GNU GPL v2.
Like other clients listed here, it also supports bidirectional document conversion from Google Docs format to MS Office/Open Office file format.
7. Gdrive
Gdrive is a tool that lets you access your Google Drive account from the command line in Linux and its various distros. Don't worry once you get used to commands for each operation after that it's all easy as the commands are simple and easy to remember.
This tool is easy to download and install. Its detailed documentation available on GitHub makes it very easy to use. It is a great tool to save your important files in an encrypted manner on the drive.
8. Google-drive-ocamlfuse
This tool lets you mount Google Drive on Linux and its distributions. It is another command-line tool but very easy to implement and use.
Features include full read/write access to ordinary files/folders, read-only access to Google Docs, Sheets and Slides, duplicate file handling, and multiple account support.
$
sudo
add-apt-repository ppa:alessandro-strada
/
ppa
$
sudo
apt-get update
$
sudo
apt-get install
google-drive-ocamlfuse
9. DriveSync
DriveSync is a command-line client for Google Drive which lets you easily sync file between your local drive and Google Drive cloud storage. It lets you upload, download & share documents, photos, and other important files with anyone from anywhere.
You can also choose whether some files should be synced or not. The tool is developed in Ruby and very easy to use and reliable. Even though it is a command-line tool it is quite easy to use once you get familiar with it.
10. GNOME Online Accounts
GNOME users don't need to install any client to use Google Drive as it provides access to Google Drive by default for Linux users. You just need to go to GNOME online accounts, log on to your Google Account there and that's it, you are ready to use Google Drive on Linux.
So, these are the 10 best Google Drive client for Linux and its various distributions. As we still wait for the official Google Drive client for Linux from Google, tell us which one you pick from the above list and why. @linuxhint and @SwapTirthakar.
Frequently Asked Questions
Is there a Google Drive client for Linux?
You may be pleased to hear that there is in fact a Google Drive client for Linux. In fact, there's more than one.
The cheapest option costs circa $5. However, it's first available with a 14-day free trial. It's called overGrive. All you need to do is download the installer for your Linux distro, and you're good to go. It will run in your notification area and automatically sync offline copies of your files, in very much the same way as the Google Drive tool does on macOS and Windows.
But, just to give you a quick heads up, there have been bugs reported with this Google Drive client.
But, overGrive is not your only option. There's also another commercially available Google Drive client that runs on Linux (and other operating systems) called InSync. It costs a little more money, however. After a 15-day free trial, you will have to pay $30.
The reason they can get away with charging so much for this Google Drive client is because it has a few extra features such as supporting multiple Google Drive accounts.
Although InSync works in a very similar way to overGrive, the company has been around longer, and you won't get as many bugs.
For more information on this, please check out our other article titled 10 Best Google Drive Clients for Linux.
How do I connect Google Drive to Linux?
Although there are several different Google Drive clients for Linux available to take advantage of, as per our article, 10 Best Google Drive Clients for Linux, the method that Google officially recommends for connecting to Google Drive on Linux is to head over to the Google Drive website, which will work on the whole suite of available browsers.
How do I upload to Google Drive from Linux?
You may be pleased to hear that you can upload to Google Drive from the command line. And it's pretty straightforward, too. Here are the steps you need to follow:
Step 1: Secure shell onto your Linux box and download the Linux version of gdrive from GitHub.
Step 2: A new file will show up in your home directory. Simply rename this file to gdrive.
Step 3: Assign this file executable rights. Like this: chmod +x gdrive
Step 4: Install the file to your usr folder 
Step 5: Run the gdrive program with any parameter. Then copy the text it gives you to your browser and paste the response code Google gives you into your secure shell window.
Step 6: Then run gdrive list, and you are done and are ready to upload your files to Google Drive from Linux.