While you are familiar with the standard desktop build of a PC, it's getting a bit redundant. So, why not opt for something a little different? Let's go inverted because best-inverted cases look pretty darn cool. No jokes!
An inverted PC case comes with an inverse layout, which means all the components installed inside it face upside down, which is the opposite of the conventional way of installing hardware. All your I/O ports will be at the bottom in the inverse layout, whereas all the expansion slots are at the top.
Below is a list of the best-inverted PC cases available for you to check out. See if any of the following recommendations catches your eye.
1. DarkFlash V22 White Mid Tower Computer Case
The DarkFlash is an exquisite and functional mid-tower chassis offering great flexibility when it's time to upgrade your PC. The highlights of this bad boy include the classy and functional swinging glass door, featuring a magnetic button for closure along with a front-edge panel mesh for adequate ventilation.
The V22 looks very aesthetic, giving us all the Apple vibes. I loved the minimal design with clean lines and high-end materials. The DarkFlash V22 will go well with a hardcore gamer willing to invest in a minimalist inverted PC case.
This PC chassis isn't just famous for being aesthetically pleasing. It offers plenty of room to accommodate ATX motherboards, PSU, GPUs, and other accessories. Moreover, you can rotate the motherboard at a 90-degree angle for a vertical GPU rotation. This effortlessly eliminates GPU stress, so you will not have to worry about sagging.
Because of the roomy interior, you can fit multiple cooling fans to keep your system from heating up. Also, for better airflow, you can mount the radiator with 240mm and 120mm fans.
Buy Here: Amazon
2. Thermaltake Core P5 Tempered Glass Titanium Computer Case
The Thermaltake Core P5 is one of a kind, open-frame PC inverted case. The chassis is built with four stainless steel pillars to secure three tempered glass panels and a dynamic panoramic view from different angles. Hence it allows you to take your computer presentation to the next level.
This specific Core P5 Tempered Glass Titanium Computer Case is available in different sizes, colors as well as tinted and transparent windows so that you can opt for something according to your requirements.
Once you have decided what sort of an inverted PC case you're opting for, the Core P5 further gives you the option to choose how you would like to keep it. The case can be stored horizontally, vertically and can even be mounted on the wall.
Moreover, this is a fully assorted inverted PC case. It is accompanied by different racks and sections for convenient expansion. As far as the appearance is concerned, you can choose to have the 5mm glass windows removed if you want. All in all, if you are in search of an inverted PC case that allows for viewing your system from different angles, this one will not disappoint.
Buy Here: Amazon
3. Sharkoon Rev200 RGB PC Case Black Mid Tower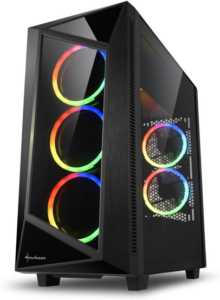 If budget is your primary concern, Sharkoon Rev200 RGB PC Case Mid Tower is undoubtedly one of the best-inverted PC cases you can go for. Aside from having an inverted layout, you can mount the motherboard at a 90-degree angle for vertical installation of the GPU.
Compared to the conventional inverted cases, this new layout will provide you with a ton of benefits. This includes letting the air from the front panel flow directly through the GPU to keep it cool. You can also mount a 240mm radiator at the front panel to let the hot air flow out of the case effectively.
Another added benefit of the Sharkoon Rev200 RGB PC Case Mid Tower is you will have better cable management. There is a separate compartment at the top of the case that lets you hide all of the cables in one place.
The Sharkoon Rev200 RGB PC Case Mid Tower also accommodates ITX and ATX motherboards spaciously. Not to mention, there's a ridiculous amount of space inside. You can add two HDD and SSDs at any time you feel like upgrading your system configuration.
Buy Here: Amazon
4. Cooler Master Cosmos C700M Curved Tempered Glass Panel Case
As soon as you lay your eyes on the Cooler Master Cosmos C700M Tampered Glass Panel Case, you know you're staring at something special. It looks pretty futuristic, don't you think?
The chassis has an incredibly versatile layout that offers maximum customization and the ability to build an out-of-the-box CPU. Several other features include an RGB lighting strip, 8 expansion slots, liquid cooling support, a cable cover mechanism, and a curved tempered glass side panel.
The C700M is Cooler Master's flagship design, and they have labeled it as a premium inverted PC case. So you can expect the price to be relatively high, but so is the quality of this inverted case. Most of the components in this PC case are built out of aluminum and steel, which gives it plenty of weight and makes it durable at the same time.
Aesthetically pleasing and keeping stability and comfort in mind, the Cosmos C700M is a premium case. It features a carrying handle and rubber feet to deliver maximum support and stability. At the same time, the spacious interior can effectively house ATX motherboards along with GPS, PSUs, and cooling fans.
Buy Here: Amazon
5. SilverStone Technology SST-LD01B Micro-ATX Computer Case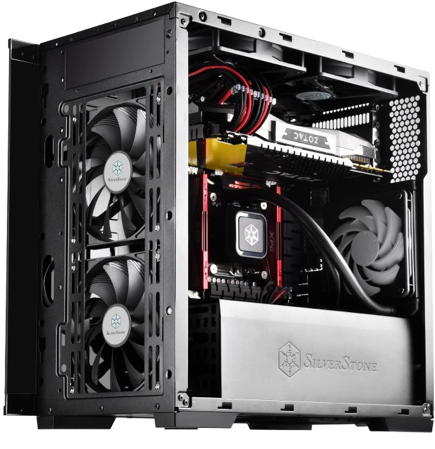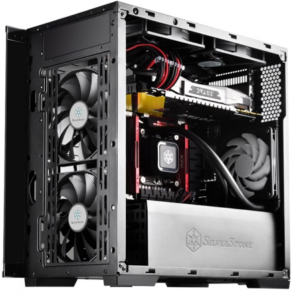 Looking for a micro-ATX chassis that doesn't look like every other inverted PC case available in the market can be difficult. But the SilverStone Technology SST-LD01B indeed changed our perspective, and it will change yours as well.
This is a thoughtfully engineered inverted PC case with three sides manufactured out of tampered glass, fitted in an elegant steel frame. The best part about this PC case is even though it has a compact size, it still offers plenty of internal space to fit all your PC components in one place.
The aesthetic appeal of LD01B is undoubtedly something to consider. The elegantly designed case wraps around the system like a glove and feels almost frameless. You will find two white trims on the top and bottom, and that's about it. As far as the build is concerned, there are loads of space for the motherboard and a 370mm graphics card, 168mm CPU cooler, and 200mms PSU.
One thing that did concern us is that the glass on this inverted case isn't perfect for thermal. However, SilverStone did compensate for this setback by perforating the top of the case and the bottom of the front panel for better ventilation.
Buy Here: Amazon
Buyer's Guide for the Best Inverted PC Cases
It would be best if you made the right choice when buying an inverted PC case. Here are a few things you should keep in perspective when buying an inverted PC case.
Types
There are three main types of inverted cases. These are:
Standard – Typical inverted cases that come with an inverse layout design. In this design, you cannot mount the motherboard in its standard layout.
Modular – Although expensive, Moduler inverted cases are very flexible as they offer multiple layout designs. Depending on the case, you can get a regular, inverse or even a 90 degree rotated layout.
Flipped – You can flip these cases upside down for an inverse layout. Because they have asymmetrical designs, you can place them in either layout, regular or inverted.
Motherboard compatibility
The most crucial point to keep in perspective when buying the best-inverted PC case is whether it is spacious enough to house your motherboard or not. The good news is; most brands manufacture their motherboards according to a standard set by the industry. All you have to do is make sure your motherboard and the inverted case you have chosen to match the exact specifics. If they do, you have a winner.
Space
There are loads of components that need integration in a PC case, such as motherboards, PSUs, GPUs, and so on. And especially if you will be upgrading your system in the future, make sure it is roomy. Moreover, some components have own cooling requirement. If you don't have enough space to accommodate them all, you will break your system down and regret spending your money.
Cooling
An impeccable inverted PC case does a lot more than keeping all your components in one place. It effectively channels air through your PC so all your components stay cool and don't make noise. While every PC case is designed to keep the components cool, some cases feature additional fan mounts that up the level of your PC's performance.
If you can find a PC with additional cooling capabilities, go for it.
Drive compartments
The next thing you need to consider is how many drives do you plan to integrate into your system and if your PC case supports it or not. For instance, most of the latest PC cases don't come with external bays for Blu-ray and DVD drivers. If you want to integrate a DVD driver into your PC, you will have to purchase a compatible case.
Final Thoughts
Inverted PC cases might not be as famous as they should be at the moment, but they do offer a lot of benefits and look pretty cool. These cases allow you to have better access to internal components while ensuring better internal airflow. We hope the article sets many things straight for you, and now you can make a more informed decision. Thank you for reading!